A new €500m development project has been launched for the city of Limerick, with the aim of creating more than 5,000 jobs by 2021.
The Limerick Twenty Thirty Strategic Development DAC is the first such entity created by a local authority to deliver a city and county-wide programme of investment.
The first task of the newly created Special Purpose Vehicle is to deliver over €500m worth of transformational investment infrastructure across four strategic sites in Limerick City.
The Limerick Twenty Thirty company will prioritise the redevelopment of 1.4m sq ft of prime real estate across the four sites into state-of-the-art office, retail, residential, education, and enterprise space.
The sites being prioritised for the project are: the 112,000 sq ft Gardens International Office on Henry Street, the 550,000 sq ft Opera Site at Rutland Street, Cleeves Riverside Campus on the banks of the River Shannon at Fernhill comprising eight acres and 100,000 sq ft of existing space, and the 340,000 sq ft Troy Studios Film Hub in Castletroy – where an €8m fitout is nearing completion ahead of the commencement of production.
Former Kerry Group chairman Denis Brosnan, who has been appointed as Executive Chairman of the new entity, said: "We are sending a message far and wide, and not least in the window of opportunity for FDI post-Brexit investment, that we are open for business and capable of competing with the best for it."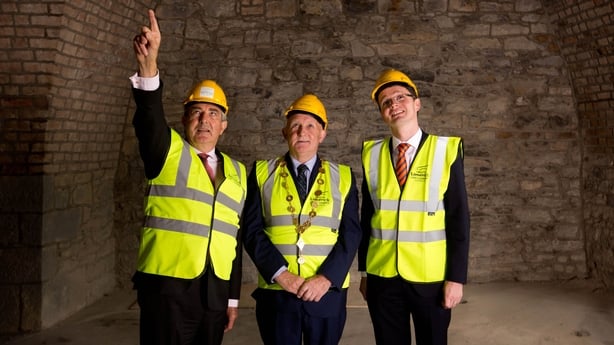 The investment programme aims to put the required infrastructure in place to accelerate inward investment into Limerick, both from the indigenous and FDI sectors.
With regard to the source of funding for the projects, Troy Studios is already nearing completion with a near €8m spend, and that was funded directly by the local authority in Limerick.
The Gardens International Office project is a €23m investment, and the council said money is available for this, but it is a case of choosing the most appropriate financier to get the best deal for Limerick.
Generally, funding is going to come from four sources for these projects: the local authority itself, the Ireland Strategic Investment Fund, as well as the European Investment Bank and the European Central Bank.
Since the launch of 'Limerick 2030: An Economic and Spatial Plan for Limerick' in 2013, 7,800 jobs have been created in Limerick and over €1.3 billion has been invested in the region.
Minister of State for Tourism and Sport Patrick O'Donovan said the establishment of the new SPV "will take Limerick – a city already on the up – to new heights.
"The fact that it is plan-led, as distinct from developer-led, will mean the city and county are planned strategically and that the infrastructure and investment is exactly what Limerick needs,"he added.