US economic growth slowed in the first quarter although not as sharply as initially thought, amid a surge in spending on home building and a steady increase in inventory investment by businesses.
US gross domestic product rose at a 0.8% annual rate as opposed to the 0.5% pace reported last month, the Commerce Department said in its second GDP estimate.
It was the weakest performance since the first quarter of 2015.
The upward revision to the first-quarter GDP growth estimate also reflected a smaller drag from trade than previously reported.
The US government also reported a rebound in after-tax corporate profits, which increased at a 0.6% rate in the first quarter after plunging at a rate of 8.4% in the fourth quarter.
The US economy has been hurt by a strong dollar and sluggish global demand, which have eroded export growth.
It has also been squeezed by lower oil prices, which have undercut profits of oilfield companies like Schlumberger and Halliburton, forcing them to slash spending on equipment.
Economists also believe the model used by the US government to strip out seasonal patterns from data is not fully accomplishing its goal despite steps last year to address the problem.
Residual seasonality has plagued first-quarter GDP data, with growth underperforming in five of the last six years since the economic recovery started in the middle of 2009.
There are signs the US economy regained momentum early in the second quarter, with retail sales, goods exports, industrial production, housing starts and home sales surging in April.
Economists polled by Reuters had expected first-quarter GDP growth would be revised up to a 0.9% rate.
The US economy grew at a 1.4% rate in the fourth quarter.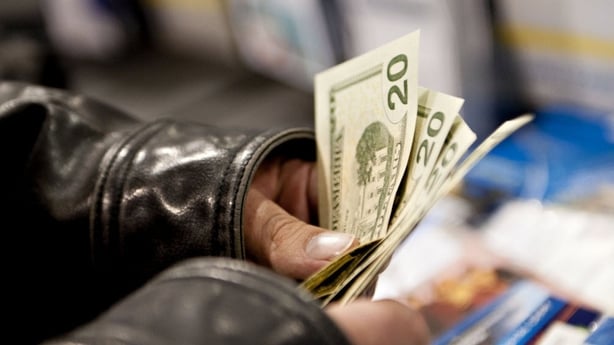 Spending on residential construction increased at a 17.1% rate in the first quarter, the fastest pace since the fourth quarter of 2012. It was previously reported to have increased at a rate of 14.8%.
US businesses accumulated $69.6 billion worth of inventory, instead of the $60.9 billion estimated last month. Inventories cut two-tenths of a percentage point from first-quarter GDP growth instead of the previously reported 0.33 percentage point.
There was no revision to consumer spending, which accounts for more than two-thirds of US economic activity. Spending increased at a pace of 1.9%, a slowdown from the fourth quarter's 2.4% rate.
Today's figures showed that US households were frugal in the first quarter, cutting back on purchases of long-lasting manufactured goods like cars and washing machines.

Income at the disposal of households after accounting for taxes and inflation was revised up to show it surging at a 4% rate in the first quarter instead of the previously reported 2.9%.
Savings were also revised up to $782.6 billion from $712.3 billion.
Meanwhile, US exports were not as weak as initially thought.
That, together with a decline in imports, produced a smaller trade deficit, which subtracted 0.21 percentage point from first-quarter GDP instead of the 0.34 percentage point reported last month.