300 jobs are set to be created in Waterford and Dublin after two separate announcements covering the healthcare and digital marketing sectors.
Healthcare company OPKO plans to create 200 highly skilled jobs over the next five years through the expansion of its EirGen Pharma facility in Westside Business Park in Waterford and the establishment of a new product development centre in the Waterford Business and Technology Park.
The company is locating in the IDA's newly built Advance Technology Building (ATB) in the park.
EirGen Pharma was established in 2005 by two former IVAX Pharmaceuticals executives, Patsy Carney and Tom Brennan.
It focuses on the development and commercial supply of specialised oncology products for global markets.
EirGen was acquired by OPKO Health in May 2015.
OPKO's planned growth of EirGen's presence in Waterford over the next five years involves the expansion of EirGen's existing manufacturing facility in Westside Business Park and the establishment of the R&D Centre with manufacturing capabilities for new sterile fill finish and dry powder inhalation products. 
The construction of 11 ATBs around the country forms part of the Government's Regional Jobs Plan, and today's announcement is supported by the Department of Jobs through IDA Ireland.
Meanwhile, US digital marketing firm Search Optics plans to create over 100 jobs in Dublin over the next two years through the establishment of its EMEA headquarters in the capital.
The HQ is being opened today on Fumbally Square, Dublin 8, while the announcement has been supported by both IDA Ireland and the Department of Jobs, Enterprise and Innovation.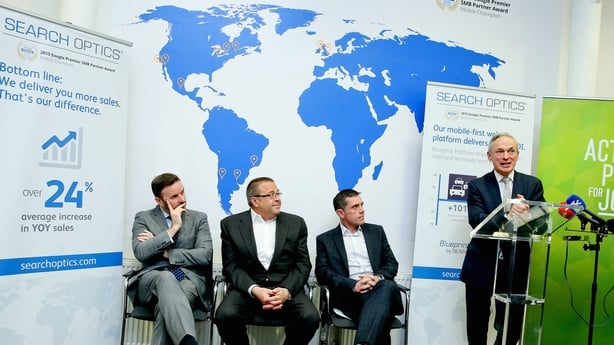 Search Optics provides an integrated digital marketing platform to many of the world's leading blue chip companies.
The new roles will be across a range of digital marketing disciplines, with the company seeking both new graduates and existing industry professionals.
The company – which specialises in custom, integrated digital marketing solutions for businesses – already has corporate offices in Ireland, as well as in Australia, Brazil, Canada, Chile, Mexico, the UK, and the US.
It cited Dublin's reliable and comprehensive technology infrastructure, as well as having access to a skilled and qualified workforce, as reasons for locating in Ireland.
Killarney man Brendan O'Brien has recently been appointed Search Optics' Chief Strategy Officer and EMEA President.
He has worked for leading multi-national companies including Accenture and IBM and has a background in mobile and digital customer experiences.
Commenting on the announcement, Search Optics Global CEO David Ponn said: "EMEA is a region that is ripe for growth. It will benefit extensively from the digital marketing technology and hands-on expertise we bring to the marketplace.
"We are dedicated to providing real results for our clients, backed by local employees in Ireland, and, with our new EMEA home in Dublin supporting us geographically, economically and culturally, we are excited to join the Irish business community."