Sterling fell back towards seven-year lows against the dollar today, dogged by persistent worries about a possible British exit from the European Union that left the currency on track for its biggest weekly loss since 2009.
Sterling fell 0.15% to $1.3940, not far from a seven-year low of $1.3878 plumbed on Wednesday and on course for a 3.2% weekly fall.
It lost ground in afternoon trade in London after data from the US showed the economy grew at a much faster pace than earlier estimated in the fourth quarter.
The euro was also down 0.3% at 78.65, having hit a 14-month high of 79.28 pence yesterday.
The euro came under pressure as rising stock markets made investors less inclined to pile into safe-haven and low-yielding currencies, including the yen and the euro.
British voters will decided on June 23 whether to stay in the EU.
Sterling has been hit by worries that a "Brexit" would threaten the huge foreign investment flows the country needs to balance its current account deficit - one of the biggest in the developed world at around 4% of output.
Selling accelerated this week as companies and investors rushed to protect themselves against that risk.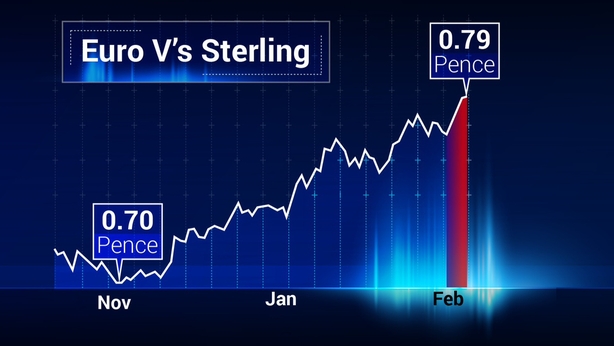 Some sellers are targeting $1.35 and below, levels last seen when the pound sank towards parity with the dollar in the mid-1980s.
The drop has been so dramatic that it prompted a rare comment on economic matters from Foreign Secretary Philip Hammond, a pro-European, who said it offered a "foretaste" of the impact leaving the EU.
Finance minister George Osborne said the currency's decline was a reminder that the outcome of the referendum would have economic consequences.
The pound has also been undermined by expectations that an exit would push back the horizon for a Bank of England interest rate rise.
HSBC, Britain's biggest bank, said the currency could lose up to 20% of its value and growth could be up to 1.5 percentage points lower next year if Britain voted to leave.
Most polls have shown the "In" camp with the upper hand, but the lead is being chipped away by the "Out" camp.