Brent oil fell 3% today, erasing early gains after top producers Russia and Saudi Arabia dashed expectations of an outright supply cut by agreeing only to freeze output if other big exporters joined them.
Benchmark Brent prices jumped briefly through $35 a barrel after Russia and Saudi Arabia agreed to keep output at January levels, in what could be the first joint OPEC and non-OPEC deal in 15 years.
Qatari energy minister Mohammad bin Saleh al-Sada said the step would help to stabilize the oil market, which has experienced price declines not seen since the early 2000s because of a supply glut.
But buying quickly ran out of steam as investors weighed the chances of the agreement being sealed, with Iran absent from the talks and determined to raise production.
"A production freeze dependent upon the involvement of Iran seems a bridge too far at this juncture," said Matt Smith, director of commodity research at New York-based ClipperData, an energy data provider.

While the decision was a move towards bringing supply and demand into balance, analysts also cautioned that global inventories remain near record levels and are likely to dampen any price rallies.
"I'm adding to the short positions I have in U.S. crude spreads as I only expect price declines from here," said Tariq Zahir at New York's Tyche Capital Advisors. "The output freeze will do nothing to alleviate excess supply."
Brent was down $1 at $32.39 a barrel by 5.47pm Irish time after rising earlier to $35.55.
US crude slid by 30 cents to $28.14, down from the day's high of $31.53.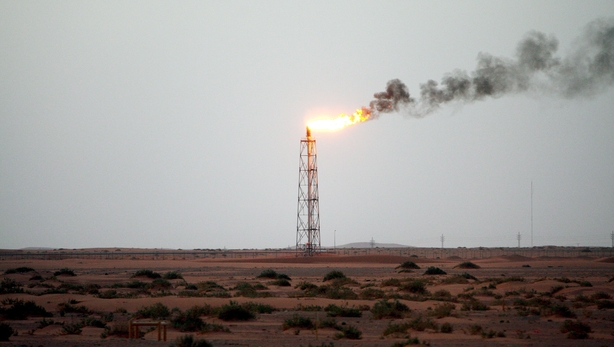 Inventories at the Cushing, Oklahoma delivery point for US crude futures rose by nearly 705,000 barrels during the week to 12 February, traders said, citing data issued by market intelligence firm Genscape.
Oil prices have fallen by more than 70% in the past 20 months, driven lower by near-record production both from the Organization of the Petroleum Exporting Countries and other producers, such as Russia.
But analysts also cautioned of violent price spikes and market volatility in coming weeks should there be indications of serious production or stockpile declines.
On Friday, both Brent and US prices jumped about 12% each, rocketing from 12-year lows, on renewed speculation that OPEC might cut output.
Sources familiar with Iranian thinking on supply said Tehran would be willing to consider a freeze once its output had reached pre-sanctions levels.