Japan's economy shrank more than expected in the final quarter of last year as consumer spending and exports slumped, adding to headaches for policymakers already wary of damage the financial market rout could inflict on a fragile recovery.
Gross domestic product contracted annually by 1.4% in October-December, bigger than a market forecast for a 1.2% decline and matching a fall marked in the second quarter of last year, according to Cabinet Office data.
It follows a revised 1.3% increase in the previous quarter.
The data underscores the challenges Japanese Prime Minister Shinzo Abe faces in dragging the world's third-largest economy out of stagnation, as exports to emerging markets fail to gain enough momentum to make up for soft domestic demand.
Mr Abe sought to reassure markets that Tokyo is ready to stem excessive market volatility that could undermine the wealth effect delivered by his stimulus policies.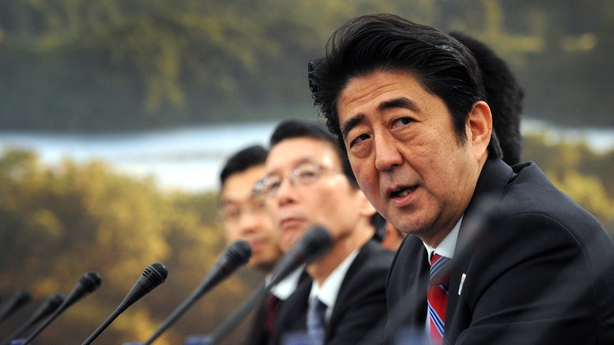 "As we have agreed at G7 and G20, sudden currency moves are undesirable. I want the finance minister to closely monitor the situation and respond with appropriate measures as needed," he told parliament earlier.
Market speculation of additional monetary easing simmers, although the Bank of Japan's policy ammunition appears to be dwindling, analysts say.
"Private consumption is especially weak. The economy is at a standstill," said Junko Nishioka, chief economist at Sumitomo Mitsui Banking.
"It's a matter of time before the BOJ and the government will take additional stimulus measures," she said, predicting the central bank will ease policy again as early as next month.
With his stimulus policies that gave big manufacturers windfall profits, Mr Abe had hoped to generate a positive cycle in which companies raise wages and help boost household spending.
Instead the data showed that private consumption, which makes up 60% of GDP, fell 0.8%, exceeding market forecasts of a 0.6% decline.
Since Mr Abe took power three years ago, private consumption has shrank by roughly 1.5 trillion yen to 306.5 trillion yen (€2.4bn).
The economy grew an average 0.68% since Mr Abe's administration took office in 2013, below a 1.8% increase during the opposition Democratic Party's three-year reign.