European shares closed at their lowest level in more than two years on Monday with investor concerns over the health of the region's banks compounding worries over slowing global growth.
The pan-European FTSEurofirst 300 index closed down 3.4% at 1,239, its lowest since October 2013.
Shares in Deutsche Bank fell 9.5%, leading decliners on Europe's Stoxx 50 index. Elsewhere in the sector, BNP Paribas, ING Santander and Barclays all fell by more than 5%.
The Athens stock index fell 7.9% to its lowest level since at least 1991 due to uncertainty that a bailout review by the country's lenders could drag on.
Concern over the health of the sector, which has prompted comparisons with the early days of the global financial crisis in 2008, has pushed borrowing costs in the eurozone's most indebted countries higher and sent investors to the relative safety of ultra-low-risk government debt.
German and French stocks closed down more than 3%, with Frankfurt's DAX slipping under the 9,000 point mark for the first time since October 2014.
In London the FTSE fell 2.71% to 5,689, while in Dublin the ISEQ ended 5.36% lower at 5,749.
Shares in Bank of Ireland dropped 9.89% to €0.25.
Meanwhile, Greek stocks tumbled 7.9% to close at a 25 year low with bank shares losing nearly a fifth of their value amid that broader European rout.
The gloomy mood in stock markets carried over into US trading hours and on Wall Street the Dow Jones was down 2.2%, while the Nasdaq Composite index dropped 2.9% in afternoon trade.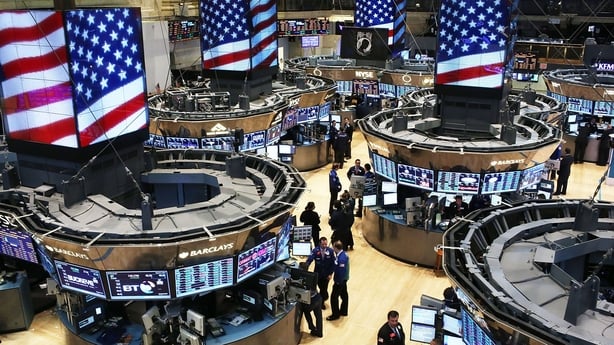 "The fundamental picture is clearly softening," said Owen Callan, senior analyst at Cantor Fitzgerald.
"People are worried about the global economy and particularly now we are beginning to look at the banks.
"You are seeing more and more people saying: is this 2008 again? Maybe not quite as severe, but do we need to be worrying about the banking sector and risk assets on a bigger level?"
The cost of insuring the subordinated debt of European financial firms rose 12% today to its highest since April 2013, Markit's iTraxx index showed.
A similar index for financials' senior debt hit its highest since October 2013. Both indices are up around 40% in the past week.
Worries over the banks pushed up borrowing costs in Portugal, Spain and Italy - three countries that were at the heart of the euro zone sovereign debt crisis.
Yields on Portugal's 10-year debt rose 21 basis points to 3.14%, their highest since July 2015.
At the same time, German 10-year yields, the euro zone benchmark, fell more than 6 basis points to 0.25% and two-year yields hit a record low of -0.506%.
Ten-year US Treasury yields fell 5.5 basis points to 1.79%.