New forecasts from the European Commission show Ireland will continue to remain the fastest growing country in the euro zone this year.
In its latest winter economic forecast, the Commission said the Irish economy will grow by 6.9% for 2015 on the back of improving public finances and sustained employment growth.
For 2016 and 2017, a moderation in GDP growth is expected to continue towards "more sustainable rates" of about 4.5% and 3.5% respectively, the Commission added.
In its latest forecasts, the Commission said that gross general government debt is also set to continue falling.
It is expected to drop to 98.4% of GDP in 2015, down from 107.5% in 2014. By 2017, government debt is projected to fall to 91.5% of GDP.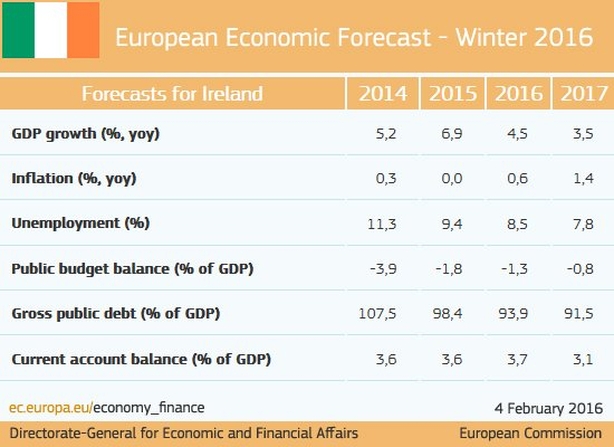 On inflation, the Commission said the very subdued rate of consumer price growth is expected to gradually increase during the year, mainly due to the expected recovery in wages.
It said house prices and rents are forecast to growth at "modest rates", but will contained by the new Central Bank mortgage rules and government plans to address supply shortages.
Unemployment is also set to continue falling with job creation remaining broad-based across all sectors of the economy and across all regions of the country.
In line with the projected moderation to GDP growth in 2016-2017, the unemployment rate is also expected to decline more slowly to 7.5% at the end of 2017," it added.
"Ireland's record GDP growth in 2015 was broad-based and coupled with strong job creation," the Commission said today.
"Economic fundamentals are robust and point to more sustainable but still strong GDP growth rates in 2016 and 2017. Government finances are improving as strong revenue growth more than offsets increases in expenditures," it added.
However, the Commission cautioned that the Irish economy remains vulnerable to shocks in interest rates and changes in the operations of multinationals.
It also noted that while the government debt ration is declining, it remains very high.
Meanwhile, the EU cut its overall euro zone growth forecasts for this year, warning that the slowdown in China and Europe's biggest migrant crisis since World War II posed real risks.