A surprisingly strong payrolls report in the United States today failed to entice investors into stocks even as equities appeared oversold globally following a near 5% drop to start the year.
Brent crude oil extended its weekly slide to more than 10%, pressured by unrelenting oversupply and a bleak demand outlook. US crude remains on track to post its largest weekly drop in more than a year.
Stocks had opened higher on Wall Street after data showed the economy created many more jobs than expected in December and previous months were revised higher.
But the S&P 500 hit its session high, up 0.9% on the day, within five minutes of the open and steadily lost ground since.
Investors fear that China, the second-largest economy in the world, is growing more slowly than expected and could furtherweigh on commodity prices and global economic growth.
Both the Dow Jones and Nasdaq had fallen in early trade but have since recovered. Around 5.30pm Irish time the Dow was up 0.4%, while the Nasdaq was up 0.5%.
Stocks and other risk assets got support from Asian markets after China nudged the yuan higher for the first time in nine days, easing fears that it had lost control of the currency, and as the Chinese stock benchmark rose 2%.
Europe initially followed suit, but the pan-European FTSEurofirst 300 index was down 1.3% at the close of trading.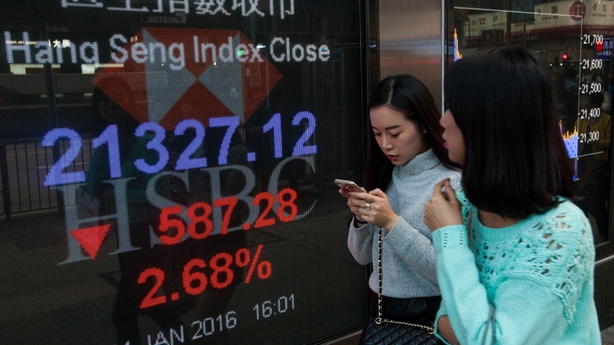 In London the FTSE closed down 0.7%, while the CAC in Paris (-1.6%) and DAX in Frankfurt (-0.75%) also fell.
Earlier, China's main stock markets closed with gains of over 2% after the authorities suspended so-called circuit breakers, introduced to prevent sharp falls on markets.
Global stocks were affected after a massive sell-off resulted in trade being suspended after 30 minutes in China yesterday.
Circuit breakers were introduced as part of measures by the Chinese authorities to prevent massive share sell-offs.
If losses exceeded a certain threshold, the market would automatically close.
The measure came into force on Monday and a rush out of the market by investors saw the circuit breakers kick in on their first day in operation.
Another sell-off yesterday saw exchanges close after just 30 minutes, prompting the authorities to scrap the measure later in the day.
By that time, the sell-off had extended to global markets.
The main European markets shed around 2%, while US markets also closed lower.
After a volatile start to trade overnight, the main Chinese markets settled and closed marginally higher.