A new car company with lofty ambitions to reinvent the automotive industry has unveiled its first electric powered concept car ahead of the opening of this year's Consumer Electronics Show (CES) in Las Vegas.
However, Faraday Future's single-seater high-performance FFZERO1 is unlikely to appear on our roads any time soon.
The 1,000 horsepower vehicle can do 0-60mph in three seconds and can reach a top speed of over 200mph.
The much hyped unveiling of the car was greatly anticipated ahead of the start of this year's CES, which is the world's largest annual consumer electronics trade show.
The Chinese-backed 18-month-old fledgling company had been promising to define the future of mobility through its vehicles.
As well as sporting a futuristic design, glass roof and carbon-fibre interior, the FFZERO1 would have a smartphone dock in its steering wheel, could project information in front of the driver and would feature a helmet that feeds water and oxygen to the driver.
The sports car will not, however, be the company's first production car, which is promised to roll off the production line in 2018.
To produce it, the firm is building a billion-dollar, three-million square foot manufacturing facility near Las Vegas, which will employ 4,500 people.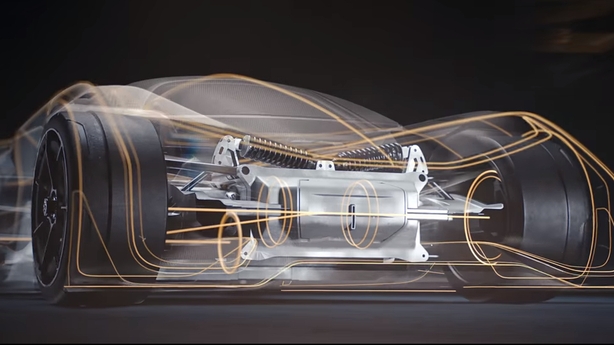 Faraday Future, which is led by a number of former Tesla executives, said it will use a customisable modular platform that can be varied with relative ease to produce different styles of vehicle.
The California-based company is backed by Chinese media company LeTV.
A range of other car companies are expected to make a series of announcements about car technology at this year's CES.
Ford to triple size of self-driving fleet
Ford is to triple the size of its autonomous driving vehicle testing fleet as it ramps up efforts to become a leader in the self driving car market.
Speaking at CES in Las Vegas, Ford CEO Mark Fields said the company had moved from a phase of research and development into autonomous vehicles to one of advanced engineering.
The company's Chief Technology Officer, Raj Nair, said the goal was to achieve vehicles that were fully autonomous within defined environments, leading in time to full autonomy in all conditions.
Ford said it is working with a range of different organisations to achieve its goal, but stopped short of confirming a rumoured tie up with Google's self driving car unit.
However, it did reveal a new sensor system to be used on its autonomous vehicles made by Velodyne.
The company also announced a new partnership with Amazon.
Through it users of the Amazon Echo virtual assistant speaker system will be able to connect to Ford's in car Sync Connect system.
This will enable them to control smart devices in their home from their car, and connected systems in their car from their homes.
Using touch and voice commands, for example, they will be able to open garage doors, turn on lights or adjust thermostats from their cars.
Ford also announced that Google's Android Auto and Apple's Car Play will be supported by the next generation of Sync Connect.
HTC reveals new version of virtual reality headset
HTC has unveiled a new version of its Vive virtual reality headset, ahead of its launch later this year.
The company announced details of the Vive Pre, which has had every component redesigned in an effort to make it more user friendly and perform better.
The headset has been made smaller, given a new more secure and balanced strap, interchangeable foam inserts and an enhanced display, the company says.
It now also has an integrated front facing camera to allow the physical and virtual worlds to be integrated.
The Vive's controllers have been updated, with a new feel, textured buttons, grip pads and haptic feedback.
The controllers have integrated rechargeable lithium polymer batteries with micro-USB charging that provides over 4 hours of runtime on a single charge.
Vive is scheduled to launch in April 2016, but pricing has yet to be revealed.
It was due to launch last year, but was delayed due to what the company said were technological breakthroughs.