The number of people on the Live Register dropped marginally in July, with 2,100 fewer people registering for unemployment assistance when compared with June.
The seasonally adjusted figure for the Live Register stood at 343,100 at the end of last month, representing a 0.6% drop on the previous month.
The figures from the Central Statistics Office show that, in unadjusted terms, there were 363,628 people signing on the Live Register in July - an annual decrease of 40,887 (-10.1%).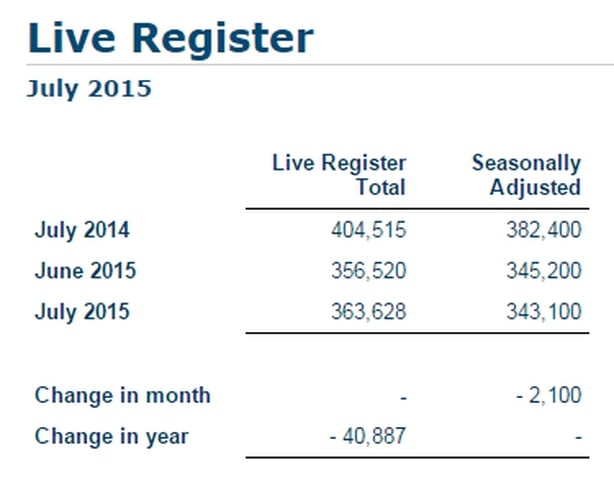 Meanwhile, the number of people on long-term unemployment assistance in July was 165,422, representing an annual decrease of 23,248 (-12.3%).
Statistics show there were 68,799 casual and part-time workers on the Live Register in July, which is 18.9% of the total.
This figure has risen 0.2% on the same period in 2014.
The number of men claiming assistance has decreased by 31,031 (-12.9%) to 210,286 in the year to July 2015, while women claimants have dropped by 9,856 (-6.0%) to 153,342.
Long-term and youth unemployment major issues - ISME
ISME expressed disappointment at the latest Live Register figures from the CSO, attributing a slowdown in job creation to the expectation of increased business costs and wage and pressures.
The organisation also believes Government needs to address the issues of long-term and youth unemployment.
CEO Mark Fielding said: "The issues of long-term and youth unemployment are of particular significance as both these groups run the risk of becoming highly unemployable, due to a lack of recent relevant job experience.
Government activation schemes must be increased to tackle the rising numbers of people in these categories."
---
Explainer: Key terms
What is the Live Register?
The Live Register is used to provide a monthly series of the numbers of people registering for unemployment assistance or for various other statutory entitlements at local offices of the Department of Social and Family Affairs.
What is seasonal adjustment?
Specific movement with regard to figures is affected by many seasonal factors, such as: Summer peaks, one-off strikes, and short-term trading.
The aim of seasonal adjustment is to identify the regular patterns and remove them from a time series leaving only the irregular component. This process is known as filtering and makes comparisons of successive observations more reliable.