Ryanair announced it will move its aircraft, pilots and crews from Billund to alternative bases and cut some routes from the western Danish airport, after trade unions said they would go ahead with industrial action over working conditions.
The budget carrier's move marks the climax of a lengthy dispute that started when unions objected to Ryanair employment contracts before it began operating out of Copenhagen in March.
The unions, which Ryanair points out do not represent its workers, wanted a Danish collective agreement for the airline's staff and last month won a court ruling allowing them to take industrial action.
Ryanair pulled its single aircraft out of Copenhagen on Tuesday and said it would do the same at Billund on Friday if unions failed to call off their proposed action by 4pm today.
After pulling out of Billund, Ryanair will not have any bases in Denmark, rendering any strike action illegal. It will keep most of its routes out of Denmark but will fly with planes and staff based in the UK, Lithuania and here in Ireland.
Earlier, Ryanair declared it would bid for the slots IAG has agreed to release at London's Gatwick airport as a condition of its takeover of Aer Lingus.
IAG, which owns British Airways, gained EU approval for its €1.36 billion bid for yesterday evening after agreeing to improve concessions to ease competition concerns, including giving up five slots at the London airport.
"We welcome the proposals by IAG that they would surrender some slots in Gatwick. We will certainly be bidding for the slots and we would certainly want to expand services we offer at Gatwick," Chief Executive Michael O'Leary told a news conference in Brussels, Reuters said.
Ryanair said it would accept IAG's offer for its 30% stake in Aer Lingus last week. 
The takeover had been conditional on the backing of Ryanair and the Government, which agreed to sell its 25% stake in May. 
Mr O'Leary said Ryanair did not expect to receive the €400m of proceeds for its stake until September, and he said the board would then consider how to spend it. 
"Speaking personally I'll be advocating that we use the proceeds to help us pay down aircraft, but there's clearly some interest among our shareholders that they will get some of the proceeds as well," he said.
"The board I'm sure will be generous and do whatever is in the best interest of Ryanair's shareholders."
Ryanair last year placed an order for up to 200 new Boeing BA.N planes and is targeting 50% growth in passenger numbers by 2019. 
Meanwhile, the UK's Competition Appeal Tribunal has decided to dismiss Ryanair's latest appeal regarding its shareholding in Aer Lingus. 
Welcoming the decision, the UK Competition and Markets Authority also granted Ryanair the necessary approvals to sell its 29.8% stake to IAG. 
Ryanair had appealed against the CMA's decision last month that there was no material change of circumstances for it not to require the airline  to reduce its shareholding in Aer Lingus to 5%. 
Since that decision, however, Ryanair has announced its intention to sell its shareholding to IAG.
Europe approval 'landmark' in IAG-Aer Lingus deal
The Minister for Transport Paschal Donohoe has said the European Commission's approval of IAG's takeover bid for Aer Lingus is a substantial landmark in the process and that the deal should be completed by Autumn.
Minister Donohoe said the State stands to gain €350-370m from the sale.
This funding will go into a connectivity fund that will be used to lend on a commercial basis to projects that will improve access in and out of Ireland.
In relation to the sale of slots at Gatwick, the Minister said this will increase competition in and out of the airport, adding that the key concern for Government was to protect slots at Heathrow Airport.
He said the takeover would allow Aer Lingus to bring more long haul flights into and out of Ireland, as well as increasing the flow of passengers.
IAG said last night it had secured European Union competition approval for its €1.36 billion bid for Aer Lingus after agreeing to make concessions to ease competition worries.
The Commission had said it had concerns that the merged entity would have faced insufficient competition on several routes and that it would have also prevented Aer Lingus from continuing to provide traffic to the long-haul flights of competing airlines.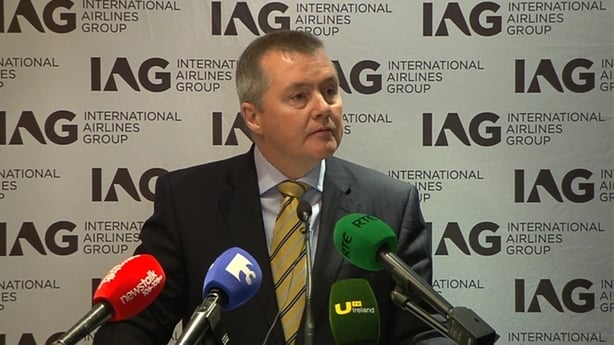 It confirmed yesterday that IAG had submitted commitments to release five daily slots at London's Gatwick airport to facilitate the entry of competing airlines on routes from London to Dublin and Belfast. 
IAG, headed up by former Aer Lingus CEO Willie Walsh,  also made a commitment to enter into agreements with competing airlines which operate long-haul flights out of Britain, the Netherlands and Ireland so that Aer Lingus will continue to provide these airlines with connecting passengers. 
Adding Aer Lingus to its portfolio of airlines - British Airways (BA), Iberia and Spanish budget carrier Vueling - opens a new avenue of growth for IAG, allowing it to expand capacity on lucrative transatlantic routes by using Dublin Airport.