IAG is set to gain European Union competition approval for its €1.36 billion bid for Aer Lingus after improving concessions to ease competition worries, a person familiar with the matter said today.
"The concessions include giving up some airport slots in London and special prorate agreements with rivals," the source said, according to reports on Reuters.
Prorate deals typically allow competing airlines to obtain favourable terms allowing them to carry passengers on connecting flights in order to feed into the rivals' own flights. 
IAG had previously offered only prorate deals but was forced to bump up concessions after the European Commission said these were not sufficient. 
The EU competition authority is scheduled to rule on the IAG takeover bid by July 15.
Earlier, Ryanair said its board had voted unanimously to accept the IAG offer for Ryanair's 29.8% shareholding in Aer Lingus Group. 
The Ryanair board said it believes that the current IAG offer maximises Ryanair shareholder value.
The airline said it will now vote in favour of the motion at the Aer Lingus extraordinary general meeting next Thursday.
"We believe the IAG offer for Aer Lingus is a reasonable one in the current market and we plan to accept it, in the best interests of Ryanair shareholders," commented Ryanair's CEO Michael O'Leary.
He said the price means that Ryanair will make a small profit on its investment in Aer Lingus over the past nine years.
The Ryanair approval comes two months after the Government agreed to sell its 25% holding to British Airways owner IAG, which had launched a €1.4 billion takeover bid for Aer Lingus.
The IAG deal offers Aer Lingus shareholders €2.55 per share - comprising €2.50 plus a five cent cash dividend.
Ryanair had fully written down the value of its Aer Lingus stake, built up during several failed takeover attempts of its own dating back to 2006. That means the proceeds, slightly more than Ryanair spent accumulating its stake, will boost its finances.
              
IAG's proposed offer, its third in a matter of months, was recommended by the Aer Lingus board in January but stalled during months of political wrangling before IAG gave the Government reassurances on jobs, routes and landing slots at Heathrow Airport.
Shares in both Ryanair and Aer Lingus closed higher in Dublin trade today after the news.
The Minister for Transport Paschal Donohoe has welcomed the decision by the Ryanair board to unanimously accept the offer by IAG for shareholding in Aer Lingus. 
Minister Donohoe said it represented an important development in the future of Aer Lingus and points to a more secure future for the airline.
He also said it was another important development in the extraordinary progress that Ryanair is making in European and Irish aviation. 
Speaking in Co Clare this afternoon Fianna Fáil spokesperson on Tourism Timmy Dooley said the decision made by the board to accept the offer poses real long-term concerns held by industrialists about access, which will be born out in due course.
He said the Government had already taken the decision to dispose of its share in the airline, a decision he disagrees with for reasons which he believes will be born out in the long-term.
---
Analysis: Conor Brophy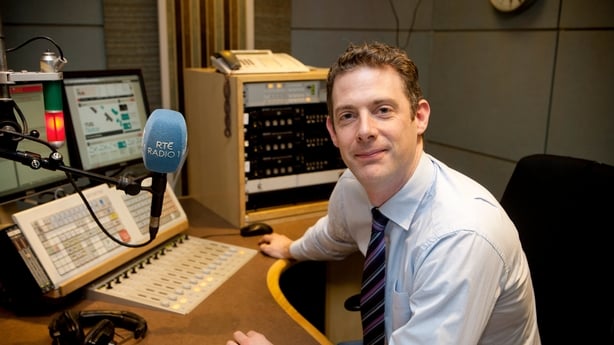 Barring a sensational eleventh-hour development it's almost certain now IAG will seal the Aer Lingus deal following the extraordinary meeting of the airline's shareholders next Thursday.
Officially IAG needs to gain control of 90%, under takeover rules here, to compulsorily acquire the stakes of all remaining shareholders. At 75% it could delist the shares from the stock exchange which, from the point of view of the other investors, would mean their stakes in the airline were less liquid and potentially less attractive as an investment. 
With the Ryanair shares added to the state's 25.2% stake, IAG now has commitments in respect of 55% of the shares plus a further 4% as the Abu Dhabi airline Etihad has indicated it will accept the offer too. So, at this stage, unless a counter-offer emerges from another quarter IAG's bid is likely to prove persuasive even for shareholders who may have considered holding out or rejecting it.
So, was it worth it for Ryanair to buy into Aer Lingus in the first place? In the narrow sense: no. It spent €407m building the stake between 2006 and 2007. Selling out to IAG will bring in €410m. That's a 0.7% return over the guts of eight years. Not a great investment of its shareholders' money.
Strategically, though, buying the stake may have been a smart move. For starters it prevented any rival taking out Aer Lingus and parking a tank on Ryanair's lawn at a time when the UK/Ireland routes represented a much bigger proportion of Ryanair's revenue and profit than they do now. It also, arguably, cemented the dominance of an Aer Lingus/Ryanair axis in this part of the world.
Remember that the European Commission blocked Ryanair from taking over Aer Lingus because of its concerns it would create a dominant carrier on routes between the two countries. The UK's Competition and Markets Authority has gone even further and delivered a ruling that Ryanair must reduce its stake from 29.8% to 5% because, in its view, having such a large stake in its main rival on services between Britain and Ireland is in itself anti-competitive.
Ryanair argued that the CMA was wrong to conclude that it had the power to block another airline from buying Aer Lingus and cited the IAG offer as evidence. But the fact that the IAG takeover can not succeed without Ryanair's support, even if all other shareholders were behind it, suggests there was merit to the CMA's position.
In agreeing to sell to IAG, Ryanair is making the best of what might have been a bad lot. Seeing off the IAG bid would have proven a pyrrhic victory if Ryanair then had to accept a much lower price as a forced seller, disposing of its shares at the CMA's direction.
With the Government supporting IAG and indications from Brussels that IAG would be likely to succeed in clearing the regulatory hurdles at which Ryanair failed in its takeover attempts, the low-cost carrier's best option was to take the money and run.