Greek Finance Minister Yanis Varoufakis is hopeful a deal to release urgently needed bailout funds could be reached at a meeting tomorrow, but expressed frustration with the stance adopted by international creditors.
"I see no reason why we cannot have a deal," he said in an interview with Greece's Antenna TV, shortly before cabinet is due to hold a urgent meeting in Athens to discuss the proposals.
Speaking from Brussels where he will attend a meeting of euro zone finance ministers tomorrow, he said the two sides would try to converge on an agreement that covered both debt and funding issues.
However, in a sign that significant differences remain between the two sides, he said Greece had made concessions but was not prepared to accept a proposal from lenders that would limit funding to Greece to the next five months.
"Over the past days and weeks the Greek government has been making concessions continuously," he said. "Unfortunately, every time we make a concession and we get three quarters of the way, the institutions do the exact opposite, they toughen their stance," he said.
Earlier, Greek Prime Minister Alexis Tsipras accused international creditors of "blackmail" after euro zone partners offered to release billions in frozen aid in a last-minute push to win his acceptance of a cash-for-reform deal.
German Chancellor Angela Merkel and French President Francois Hollande met Mr Tsipras on the sidelines of an EU summit to coax him to accept an offer to fill Athens' empty coffers until November in return for painful pension and tax reforms.
If Greece does not clinch an agreement at the weekend to unlock funds, it is set to default on an International Monetary Fund loan on Tuesday, possibly sparking a bank run, capital controls and raising doubts about its future in the euro zone.
However, Mr Tsipras sounded defiant on leaving the summit, telling reporters Greece would fight for the European principles of democracy, solidarity, equality and mutual respect.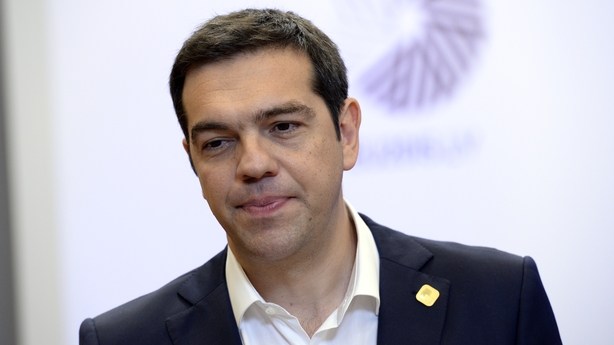 "These principles were not based on blackmail and ultimatums," he said in English. However, he did not rule out accepting a deal and officials said intensive behind-the-scenes contacts were continuing to seek a last-minute compromise.
European Council President Donald Tusk retorted: "It is not political blackmail when we repeat day after day that we are very close to this day (30 June) when the game is over."
Ms Merkel said she and Mr Hollande had urged the Greek PM in a 45-minute private meeting to accept the creditors' "generous" offer.
"We have taken a step towards Greece," she said. "Now it is up to the Greek side to take a similar step."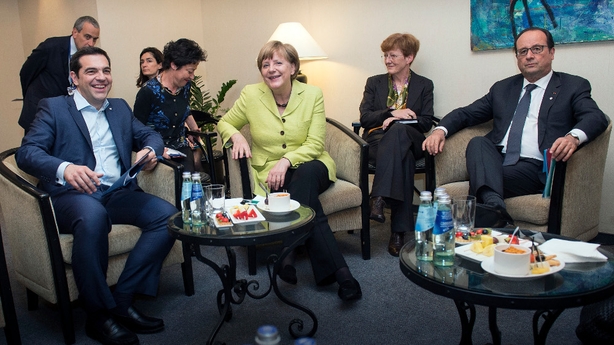 Both she and Mr Hollande said Saturday's meeting of euro zone finance ministers would be the decisive moment for a deal since time was running out to secure German parliamentary approval in time to release funds needed to avert a Greek default.
The creditors laid out terms in a document handed to Greece on Thursday. It said Athens could have €15.5bn in EU and IMF funding in four installments to see it through to the end of November, including €1.8bn by Tuesday as soon as the Greek parliament approved the plan.
The total is slightly more than Greece needs to service its debts over the next six months but contains no new money.
A French official said Ms Merkel and Mr Hollande also discussed with Mr Tsipras outstanding differences on reforms creditors want Greece to accept - centred on pension reform, labour law and increasing VAT - as well as an extension to Athens' bailout programme and financing.
Meanwhile Taoiseach Enda Kenny has dismissed international media reports that he was tough on Greece during the EU leaders summit in Brussels.
Speaking to journalists, Mr Kenny said there was a "great sense of frustration" that eurozone finance ministers "still have not had [discussion] papers they can make decisions on".
He added: "That is not being tough on Greece, that is encouraging, to Greece, to be able to say 'We want to help you here'."
The Financial Times has reported that the prime ministers of Ireland, Portugal and Spain had been 'particularly tough' during the talks last night when the Greek prime minister called for support. 
Greece's commitment to euro zone 'absolute' - Varoufakis
Earlier, Mr Varoufakis said Greece has a moral responsibility to reach agreement not only for his country but for the euro zone also. 
He was speaking to RTÉ's Morning Ireland as talks between the Greek government and international creditors remain deadlocked. 
He said it was not a game of guessing chances and that Greece was obliged to find a viable solution for the benefit of the whole of the euro zone. He said it is up to the institutions to now "come to the party".
Mr Varoufakis said Greece are "debtors, representatives of the social economy in recession for the last seven years."
He said the Irish people knew very well about international creditors.
He said it was important for people to understand that the negotiations were being conducted between the member states and the international creditors - not among the member states themselves.
He said the Government had been kept in the dark about what Greece had offered and that if Taoiseach Enda Kenny and Minister for Finance Michael Noonan knew the details of the offer, they would change their perspective.
"If your finance minister and I were to sit down and I were to explain my proposals....Michael Noonan would agree that they are very reasonable" he said.
Mr Varoufakis described as "absolute" Greece's commitment to remain in the euro zone, adding that Greece had bent over backwards to accommodate what he described as the "strange demands of creditors".
He also said that he will not accept any debt solution he considers to be non-viable.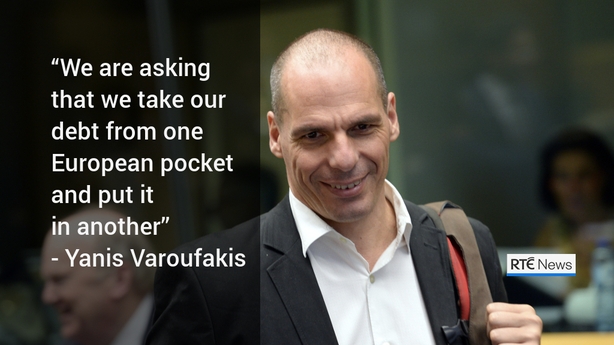 He said Greece was asking to take debt from the pocket of the ECB and put it in the pocket of ESM in order to "even out a very spiky debt repayment schedule, so as to make it easier for us to make the repayments for the benefit of the creditors."
ECB leaves emergency aid unchanged for Greek banks
The European Central Bank left its emergency lifeline for Greek banks unchanged today for a second day, as deposit withdrawals stabilised, a source familiar with the matter said. 
Banking deposit withdrawals - which accelerated sharply last week - have "really calmed down" in recent days, the source added. 
A separate banking source in Greece said the Bank of Greece had "got approval for the ELA it requested", but again omitted the word "increase" that had previously been used. 
On Wednesday, the ECB had increased its Emergency Liquidity Assistance (ELA) fund for Greece's banks for the fifth time in an eight-day period.
Meanwhile, the Bank of Greece revealed data showing that the pace of bank deposit withdrawals fell in May from the previous month. 
Withdrawals totalled €3.87bn last month, compared with €4.67bn in April, the central bank said.
Recent Greek media reports suggested that up to €6bn were withdrawn from the nation's banks last week.