Bank of Ireland has today reported a profit for the first time since the financial crisis in 2008 as new lending grew and it clawed back money set aside previously to cover bad loans.
The bank today posted pre-tax profits of €920m for the year to the end of 2014, compared to a loss of over €0.5 billion in 2013, as it said that all of its divisions were profitable.
A big part of the improved performance was a €1.2 billion fall in the charge the bank had to take for bad loans. Its impairment charge for the year was €840m.
Bank of Ireland, like Ulster Bank which reported yesterday, has also been able to write back some of the charges it took in previous years largely due to rising house prices. It said today it wrote back €280m on its provisions for impaired loans.
The bank also said that more than nine out of ten of its owner occupier mortgage holders who have agreed restructuring arrangements are meeting the new agreed payments.
Total income for the year to the end of December rose by 12% to €2.974 billion.
Shares in the bank rose sharply in Dublin trade, closing 7.6% higher at 34c.
The country's largest lender by assets said its net interest margin, a measure that shows how profitable lending is, rose to 2.11% at the end of 2014.
Its Core Tier 1 capital ratio, a measure of financial strength, stood at 14.8% compared to 14.1% at the end of the third quarter.
It also noted that its Eligible Liabilities Guarantee (ELG) fees fell from €129m in 2013 to €37m last year.
Bank of Ireland said today that its gross new lending to customers in 2014 was €10 billion, a 50% increase, and it said that it is seeing encouraging signs of increased credit demand across its residential mortgage, SME and corporate businesses.
But its loan book is still €2.4 billion lower than in 2013 taking account of €14 billion worth of loan sales, repayments and redemptions.
Bank of Ireland also said its UK mortgage business is seeing continued momentum from 2014.
The lender's chief executive Richie Boucher said that he was confident in the bank's prospects, adding that the outlook for the Irish and UK economies remains favourable.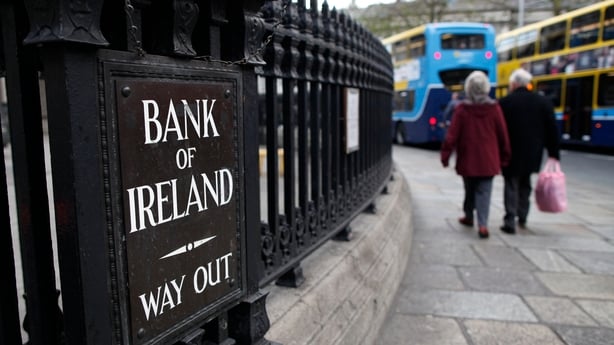 "We have our strong retail and commercial franchises in these markets and we have resilient and professional people, who are motivated and focused and have a proven track record of delivery," he said.
"The combination of these factors gives me confidence in our ability to responsibly deliver attractive and sustainable returns to our shareholders," he added.
Breaking down the bank's various divisions, Bank of Ireland's Retail Ireland division saw underlying pre-tax profits of €328m compare to a loss of €697m in 2013. The improvement was mainly due to a fall of €883m in impairment charges. Customer deposits of €37 billion were up by €1 billion in the year.
Bank of Ireland Life, which is comprised of the life assurer New Ireland Assurance, posted underlying pre-tax profits of €133m, up 24% on 2013 on the back of a 7% rise in new business sales.
The bank's Retail UK division reported an underlying pre-tax profit of £103m for the year compared to a pre-tax loss of £129m in 2013 on the back of reduced impairment charges. This division incorporates the financial services and foreign exchange joint venture with the UK Post Office, the UK residential mortgage business and the group's branch network in Northern Ireland.
Bank of Ireland's Corporate and Treasury division posted an underlying profit of €553m for the year to the end of December, up from the profit of €487m in 2013.
The bank said the improved performance followed gains from the sale of bonds, lower impairment charges and higher lending margins and fee income.
Bank of Ireland 'deeply regretted' mistakes
Speaking at a press conference today, Mr Boucher said he "deeply regret what happened," at the bank. He said Bank of Ireland was naive about what was happening in its competitors.
"We are transparent about what mistakes we made," he said. "The mistakes we made was coming into a downturn with too little capital."
He said the bank had also been too dependent on wholesale capital and there were "flaws" in the bank's understanding of risk.
"What went wrong? Why did it go wrong? These are the questions we are asked by investors" he said.
The Inquiry has asked for a range of documents and the bank has submitted 6,000 documents.
Former Bank of Ireland figures appearing before the Inquiry will also be entitled to see the documents.
Noonan says BoI results 'very encouraging'
Finance Minister Michael Noonan described today's results from Bank of Ireland as "very encouraging".
The Minister said it is significant that the bank has now returned to full year profitability, has an impressive capital build, a growth in new lending, and made significant progress in reducing distressed loan balances.
"Bank of Ireland also made significant progress in restructuring its mortgages arrears with a total of 4,006 defaulted loans subject to restructuring measures," Mr Noonan added.
"As well as providing further evidence of the improving Irish economy, these results underpin the value of the State's almost 14% equity investment in Bank of Ireland which, at today's share price, is worth in the region of €1.5 billion.