Union members have expressed their shock and anger after Mondelez Ireland, the owners of Cadbury and the chewing gum brand Trident, announced over 220 job cuts.
The company said it was to close its chewing gum production plant in Tallaght, Dublin, which will result in the loss of 45 jobs.
A further 17 contracted roles will also be affected.
Meanwhile, a further 160 jobs are to go at its chocolate manufacturing plants in Dublin and Co Kerry.
The majority of these losses are expected to come from its operations in Coolock, Dublin, with the remainder coming from its plant in Rathmore, Co Kerry.
Mondelez Ireland said its Dublin facility would now focus on four of its key Cadbury brands, with a €11.7m investment being made to improve the technology there.
It also said reduced demand would see it cease production of its Time Out and Pink Snack brands by the end of the year.
This refocus, as well as a company-wide efficiency programme, would lead to a reduction in the workforce, the company said.
Mondelez Ireland said it would now begin a consultation process on the proposals with employees and their representatives.
A representative of trade union SIPTU described the scale of the announcement as "a complete shock" and called for an immediate meeting with management on the proposals.
The union claims the company is also planning to shift some of its chocolate production from Dublin to Poland in the near future.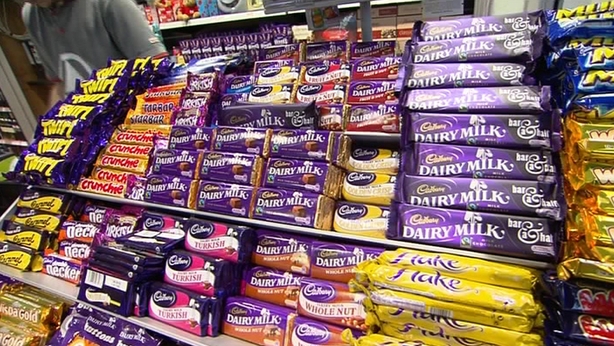 The Rathmore plant was first opened in 1948, while the Coolock facility began operations in 1964.
SIPTU Organiser Colm Casserly said that he does not know whether or not the redundancies will be voluntary.
Speaking on RTÉ's Drivetime, he said that the union had been aware that cost cutting measures were under way.
However, he said that staff members never expected an announcement of this magnitude, describing it as "off the scale".
He said that staff members are shocked and angry and that management have not had any meaningful discussions with the union on the matter.
"We had been in discussions with management over various issues over the years - that's the nature of industrial relations and management had told us that there was cost exercises going on at the site, but again the magnitude of the job losses, as envisaged by management this morning, it's just off the scale," he said. 
Unite trade union, which represents around 400 workers at the plants in Dublin and Rathmore, is seeking a meeting with management to discuss the implications for its members.
Regional Coordinating Officer Richie Browne said today's announcement was unexpected and "our members are both shocked and angry".
Minister for Jobs, Enterprise and Innovation Richard Bruton said that all State supports will be made available to workers as and when they are needed.
Minister Bruton also said he had urged senior management of the company to reconsider their decision.