The Minister for Finance Paschal Donohoe has said that next year, Government borrowing will increasingly be for investment in capital expenditure.
He said the economy is in "a very different place" when it comes to borrowing than had been foreseen and that despite the changes to the performance of the Exchequer, the Government had decided to stick to its spending limits. He said if the Government had gone beyond that, it "would have been very risky".
He also said he expected 400,000 jobs to be created both this year and next year and that employment will return to pre-pandemic levels in 2022.
The Minister for Public Expenditure and Reform Michael McGrath said there has been quite a significant improvement in the Irish economy but the Government is sticking to its spending framework. He said if the deficit can be closed faster, that would be good for the country.
Mr McGrath also said resolving the mica problem for homeowners would be a "multi-annual" process. He also said the Government is considering "revenue-raising measures" in relation to mica as it is expected to be a "big bill" of between €1.8-3.2bn.
He said the Government had a duty to ask if others should make a contribution to solving the mica issue specifically.
Addressing a question on why workers earning above the minimum wage but below the average industrial wage fared less well from income tax changes, Mr Donohoe said tax policy "doesn't have many options" in making people on those wage rates better off.
He said that was why tax credits had been increased and other measures had been introduced for those on lower incomes.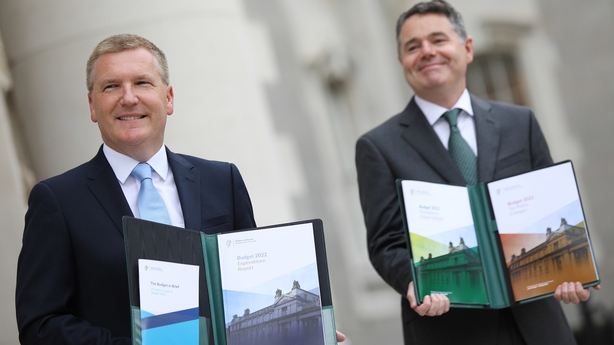 Earlier today, Mr Donohoe said that the Covid pandemic has highlighted the role of Government in supporting both the economy and society.
Speaking in the Dáil as he delivered Budget 2022, the Minister said that over €48bn has been provided for Covid supports over three years, adding that the Government response to the pandemic was unparalleled and fully justified.
Mr Donohoe said that through the PUP, the EWSS and the CRSS, about €17.5bn has been directed to individuals, families and businesses.
In framing today's Budget, the Minister said the Government had been conscious of the cost of living pressures that are currently confronting citizens and businesses.
"Budget 2022 meets the twin goals of investing in our future, of meeting the needs of today, while putting the public finances on a sustainable path," he added.
He said that as the recovery increasingly takes hold, and citizens get back to some level of normality, the Government will remain focused on the higher levels of debt.
The Department of Finance is forecasting that debt will come in at just under €240bn next year.