Taoiseach Enda Kenny has warned that the Brexit negotiations will be "very tough", and said that the issue was "too serious" for it to be dealt with by one dedicated minister.
Responding to opposition claims that he should appoint a Brexit minister, Mr Kenny told reporters at the end of a two day EU summit in Brussels: "The entire Government, all the ministers of state, indeed all the deputies in the House are going to have to be involved in this.
"There's a national challenge here. It's far too serious to have it allocated to some section of some department."
Mr Kenny said that the President of the European Commission Jean-Claude Juncker had asked for a "briefing" on the nature of the challenges facing Ireland.
As such, Mr Kenny said that it was vital that the North-South Ministerial meeting on 18 November, under the auspices of the Good Friday Agreement, give its "combined view" of the issues facing Northern Ireland in particular.
The Taoiseach acknowledged that the British Prime Minister Theresa May had been "a little bit upset" about the EU27 meeting separately in Bratislava in September.
Yesterday, Ms May raised objections about the EU27 meeting without Britain last month, and as they will do in Malta in February.
"That was cleared up for her, that this was a meeting of the 27 to look at the implications of the decision of the [British] referendum," Mr Kenny said.
"That's the way it's got to be."
He described Mrs May as a "practical-minded politician."
Mr Kenny said: "She's taken on a role that was not of her wish when she was campaigning for Britain to stay and she was very clear about the fact that she wants it to be implemented in full and that she wants to take into account the sensitivities of the EU, and that includes Ireland.
We need your consent to load this rte-player contentWe use rte-player to manage extra content that can set cookies on your device and collect data about your activity. Please review their details and accept them to load the content.Manage Preferences
"When we get to the North South ministerial on the 18 November that it will be very important that the assembly - that is the assessed wisdom of the assembly - will be able to give their combined view as to what their request for northern Ireland are.
"This will not be easy. There will be very tough negotiations, I would expect, with the UK government from a European point of view."
Canada walks out of trade talks with "incapable" EU
Canada's trade minister walked out of the talks in Belgium today, declaring that the European Union was incapable of sealing a planned transatlantic free trade deal designed to boost growth in both economies.
All 28 EU governments support the Comprehensive Economic and Trade Agreement (CETA), but Belgium cannot give assent without backing from its five sub-federal administrations, and French-speaking Wallonia has steadfastly opposed it.
The agreement, the EU's first with a G7 country, would increase trade between the partners by up to 20%, boosting the EU economy by €12bn per year and Canada's by C$12bn (€8.2bn).
Wallonia is home to about 3.5 million people, less than 1% of the 507 million Europeans CETA would affect, but the EU's flagship trade project rests on the will of its government.
It continued to have concerns about the threat of surging pork and beef imports from Canada and an independent court system to settle disputes between states and foreign investors, which critics say may be used by multinationals to dictate public policy.
A visibly shaken Chrystia Freeland, Canada's trade minister, emerged after a full day of talks with chief Canadian and EU trade negotiators and Walloon premier Paul Magnette.
"Canada has worked, and I personally have worked, very hard. But it is now evident to me, evident to Canada, that the European Union is incapable of reaching an agreement - even with a country with European values such as Canada," she said.
"Canada is disappointed and I personally am disappointed, but I think it's impossible," she continued, adding she was heading home.
Britain will play a 'full and active role' in EU - May
Earlier, Ms May said Britain will play a full and active role in the EU.
Speaking on the second day of the summit, she said the UK is committed to trading freely with European neighbours and that Britain will remain a close partner of the EU once the measures of Brexit have been rolled out.
Late last night, the British Prime Minister made her first pronouncement on Brexit to the EU leaders gathered around the summit table.
Her intervention lasted five minutes and was given a polite but cool reception.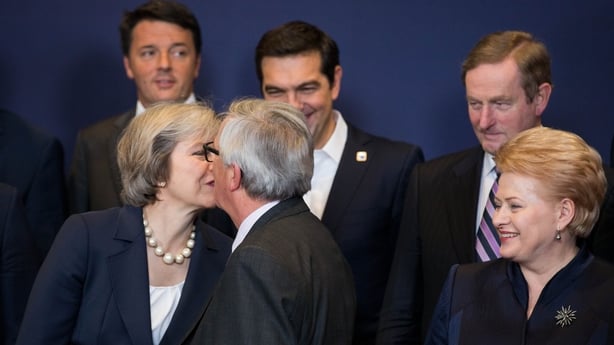 European Council President Donald Tusk had arranged the agenda so that leaders were not invited to respond to the intervention.
Afterwards, German Chancellor Angela Merkel told reporters her remarks were basically a repetition of what had been heard so far, but that it was important to hear them.
Following Ms May's objections to the EU27 meeting last month without Britain, Mr Tusk issued a gentle but undeniable rebuke, saying that there would be two paths from now on, and that it had been Britain who had made the choice to leave.
Ms May did, however, join Germany and France in calling for sanctions against what she called Russian aggression against the civilian population in Aleppo.
However under pressure from Italian Prime Minister Matteo Renzi, leaders stopped short of sanctions, instead promising tough action should atrocities continue.
We need your consent to load this rte-player contentWe use rte-player to manage extra content that can set cookies on your device and collect data about your activity. Please review their details and accept them to load the content.Manage Preferences