The decision of the DUP not to participate in the Northern Ireland Executive runs "counter to democracy and risks undermining the faith" of people in the potential of politics, the Taoiseach has said.
Micheál Martin said there is a "genuine risk" that people in Northern Ireland will become "disengaged from a political process that they do not feel is working for them".
"As John Hume often reminded us, you can't eat a flag; real politics is about the living standards, about social and economic development," Mr Martin said.
"Ultimately, voters in Northern Ireland expect their politicians to deliver for them on these issues."
Mr Martin said the country is entering into a winter where communities and families will face enormous challenges, such as the cost of "putting a decent meal on the table, heating our homes, or getting to work, school, or to visit our family and friends".
"It is incumbent upon us, as elected representatives, to lessen those burdens where we can," he said.
We need your consent to load this rte-player contentWe use rte-player to manage extra content that can set cookies on your device and collect data about your activity. Please review their details and accept them to load the content.Manage Preferences
"In Northern Ireland, the absence of a functioning Executive and Assembly makes a challenging situation all the more difficult.
"This is a moment for politicians to embrace their responsibilities to the voters of Northern Ireland. It is time for the Assembly to function and a new Executive to be established before the 28th of October deadline.
"Failure to do this is a denial of the mandate voters in Northern Ireland gave to their political representatives."
Britain committed to NI Protocol deal with EU – Baker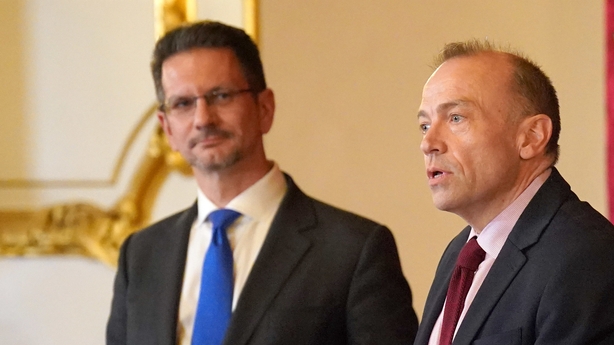 Meanwhile, the Northern Ireland Office minister said that the British government is committed to doing a deal with the EU on the Northern Ireland Protocol that respects the rights of unionists,
Steve Baker was speaking as the question of the next British prime minister was being resolved in London.
Mr Baker was asked whether he expected to remain in office alongside Northern Secretary Chris Heaton-Harris in the wake of any cabinet reshuffle, following the appointment of a successor to Liz Truss.
He said he hoped both of them would be able to continue in office.
Mr Baker was speaking at a meeting of the British Irish Parliamentary Assembly - a meeting of politicians and lawmakers from across the UK and Ireland committed to improving co-operation.
Mr Baker said whoever was in Number 10 by the end of the week, the British government would remain committed to its current position on the protocol.
He said the DUP should accept the UK's bona fires and get back into the Executive on that basis.
Mr Baker also said the British government wanted to be in a position to celebrate the 25th anniversary of the Good Friday Agreement next year.
But he said it was hard to see how world leaders like US President Joe Biden would travel to Northern Ireland if the political institutions remained in cold storage.
Additional reporting: PA