An organisation that represents the vast majority of haulage companies transporting goods between Northern Ireland and Britain has welcomed the reported EU protocol proposals as a leap of faith and a positive step.
However, a senior member of the DUP has said the dispute over the role of the European Court of Justice must be resolved.
Logistics UK represents around 400 operators in Northern Ireland, including hauliers, shipping companies, retailers and manufacturers. They are responsible for transporting around 90% of goods across the Irish Sea Border.
Its policy manager, Seamus Leheny, said the reported proposals will change the way the Northern Ireland Protocol will be implemented and go further than many businesses had expected.
He told RTÉ News that the plans show that the EU has listened to concerns raised by businesses north of the border.
---
Read more: EU to unveil changes on how NI Protocol is implemented
---
"In recent weeks, myself and other representatives have outlined the concerns and the problems around the protocol and what could be done to mitigate those problems, so it's encouraging to see this today, and we hope that the UK and the EU can sit down and come to some agreement," he said.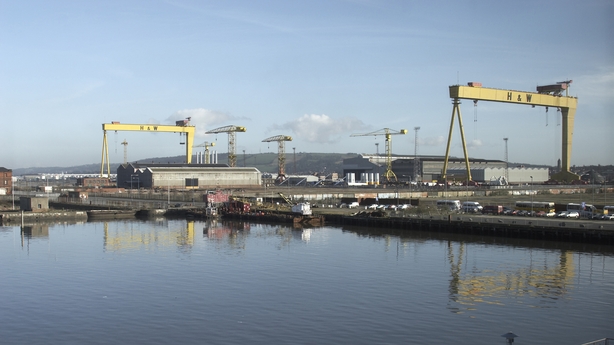 "None of our members have said to bin the protocol. They want to find ways to make it better, because they do see the benefits of the unfettered access Northern Ireland has into the EU and the UK, but there was no secret that there were very distinct problems from the UK to Northern Ireland side of the protocol, and that's what we need to focus on now, fixing those.
Mr Leheny said the organisation would certainly be keen to discuss systems with the UK Government, and want to find middle ground. He added they want both parties to be happy with proposals and move forward.
"Make no mistake about it, this is a big step forward," he said.
"I think it's a leap of faith from the EU in listening to us Northern Ireland businesses and, now, we will be making the case to the UK Government about taking this forward."
Unionist concern
DUP leader Jeffrey Donaldson, who has threatened to collapse the Stormont Assembly unless the dispute is resolved to his party's satisfaction, won't comment until he sees the detail of the EU plans.
But one of the party's Westminster MPs, Sammy Wilson, has said the role of the European Court of Justice is a potential deal breaker.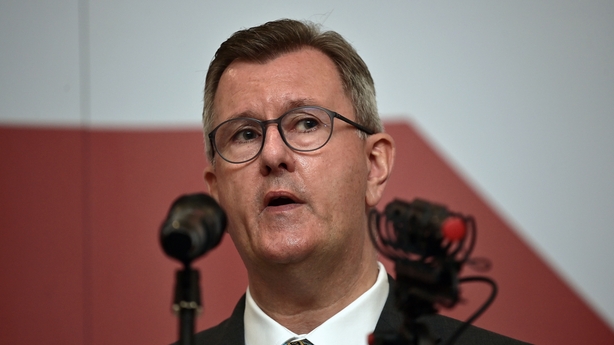 Europe has repeatedly said the court must have the final say in any disputes about matters of EU law in the protocol, but the British government and unionists say this is no acceptable.
"The deal breaker for us will be has sovereignty been fully restored?" Mr Wilson told BBC Radio Ulster.
"Are we fully part of the United Kingdom or are we half in the EU and half out of the United Kingdom when it comes to law making and the adjudication on those laws?
"That's how we will judge this."
---
Read more: NI Protocol - What is it and why is it so controversial?
---
Ulster Unionist Party leader Doug Beattie also expressed concern about the oversight role of the ECJ, but told RTÉ News that the reported proposals "sound very, very positive."
"This can't be one-sided or unbalanced. We have to look at this whole thing in the round," he said.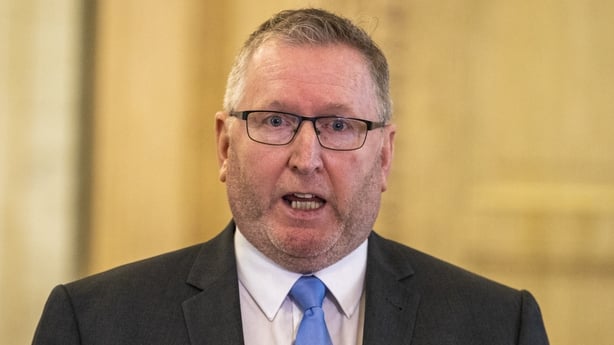 "I will welcome anything that helps deal with the issues that we face. We've got problems and we have to look for solutions, so the Ulster Unionist Party will look at it, and we will give it the time and the space and the consideration and we will continue to engage with everybody to see how we can make this, this work better
"It doesn't look at how we see the relationship with the ECJ. And I accept the ECJ is light touch, but we don't know what that will be in five years or 10 years or 15 years, so we need to understand all of these things."
Mr Beattie added that the party is not saying this is a red line, but rather that this is a fundamental problem that they will have to engage with.
"It's a good start. Anybody who is willing to do something that fixes the problem that we have is a good start," he said.
On RTÉ's Drivetime, Mr Beattie said he believes there is a realistic chance that Stormont could collapse because of the European Court of Justice issues.
"I have a concern because of the democratic deficit," he said.
"Stormont could collapse and if Stormont collapsed there would be a power vacuum and a power vacuum, as we all know, can lead to violence".
Mr Beattie said he is concerned about the Belfast Good Friday Agreement, and is worried about relationships between people on that part of the island and that part of the United Kingdom.
"A brick will turn into a petrol bomb, a petrol bomb will turn into a coffin and I don't want to see that," he said, adding that he wants stability and certainty for the people of Northern Ireland.
He said they need and time and space to negotiate and to ensure this is done right.
Retailers welcome proposals
Aodán Connolly of the Northern Ireland Retail Consortium has said the proposals are ambitious and remove some of the friction.
He told RTÉ's Drivetime that the ECJ was never mentioned by his members.
He said his members need stability, certainty, simplicity and affordability to keep their businesses competitive.