Taoiseach Micheál Martin has spoken by phone to British Prime Minister Boris Johnson and outlined his concerns about the latest developments in London on Brexit, including the possible breach of an international treaty.
Mr Martin also criticised the absence of bilateral engagement and the serious implications for Northern Ireland.
He is understood to have stressed to Mr Johnson that the UK government should urgently re-engage with EU negotiators.
Speaking at a news conference in Dublin earlier today, Mr Martin said the Government is "extremely concerned" at Britain's stated intention not to honour the EU-UK Withdrawal Agreement.
He said the "unilateral" nature of the UK announcement, without any "heads-up" to Dublin, has "the capacity to undermine [Brexit] negotiations".
Mr Martin said that trust is "fundamental" in the conduct of negotiations and Brexit has been and will continue to be bad for Ireland, Britain and the EU.
Announcing a range of business supports for Irish businesses, Mr Martin said the Government is aware of the risks to vulnerable sectors.
"The Government will ensure it has done its own preparations in the ports and airports," Mr Martin added.
"Even with a (trade) agreement there will be substantial challenges for supply chains and trade flows and checks.
"The protocol in Northern Ireland will apply. It is important that meaningful negotiations can only proceed on the basis of mutual trust."
Downing Street issued a statement following the phone conversation and said Prime Minister Boris Johnson had "set out the rationale for the provisions related to the Northern Ireland Protocol in the UK Internal Market Bill".
It said Mr Johnson had confirmed the UK's commitment to implementing the Northern Ireland Protocol and the Joint Committee process and hoped an agreement would be possible within that framework.
"However, if an agreement was not reached, as a responsible government, we had to provide a safety net that removed any ambiguity and ensured that the government would always be able to deliver on its commitments to the people of Northern Ireland.
"The leaders also spoke about the bilateral relationship and the Prime Minister reiterated his desire to strengthen ties and increase dialogue between the countries in the future."
We need your consent to load this rte-player contentWe use rte-player to manage extra content that can set cookies on your device and collect data about your activity. Please review their details and accept them to load the content.Manage Preferences
---
Read More:
Johnson defends govt approach as trade bill published
Explained: What is in Britain's new post-Brexit bill?
Latest Brexit stories
---
This evening, in an interview with Sky News, the Taoiseach said he was not optimistic about a Brexit deal between the UK and the EU.
He also said "trust has been eroded" and "tensions have been created" as result of Boris Johnson's move to override parts of his Brexit deal with the EU.
Get ready for Brexit, businesses urged
Earlier today, Tánaiste and Minister for Enterprise, Trade and Employment Leo Varadkar said the Government was appealing to businesses to take action and prepare for Brexit.
"You need to be prepared for the new normal and you need to be ready now," Mr Varadkar added.
"We are making available a grant of €9,000 per employee hired to enable businesses to build their capacity and manage any custom changes.
"My message to business people is simple - I know you are under a lot of pressure, I know you are being pulled in many directions and you've had a tough year, but Brexit has not gone away and the next stage is happening."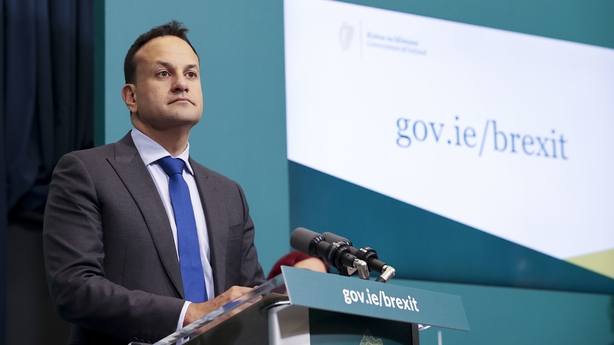 The Minister for Foreign Affairs and Defence, Simon Coveney has described the British government's latest approach to the Brexit negotiations as extraordinary and a really worrying development.
On RTÉ's 6.1 he said he believes that Britain's reputation internationally will be seriously damaged and trust between it and the EU is going to be strained.
He said this week was to be the most sensitive since a deal was done last year to find a way forward on Brexit in terms of a future relationship. It was the eight round of negotiations and there is only one more scheduled round to go.
The Minister said that instead of it being a step forward where both sides try to accommadate each others position and put some momentum into this process.
He said the British government has decided to effectively cause chaos by announcing, without giving any notice, that they are to introduce a piece of legislation which breaches international law and the that the UK government signed up to less than twelve months ago.

Sinn Féin Leader Mary Lou McDonald has said the British political system is now breaking international law with its eyes wide open.
Speaking in the Dáil, she accused the Northern Secretary Brandon Lewis of speaking out of both sides of his mouth, claiming he gave assurances to Michelle O'Neill on Monday that the British Government would not pursue this course.
"Perfidious Albion is alive and well in Downing Street," she said.
Sinn Féin Leader Mary Lou McDonald: 'Perfidious Albion is alive and well and at living at No. 10 Downing Street' | https://t.co/uQ2J5W09to pic.twitter.com/eAM66ZyUdF

— RTÉ News (@rtenews) September 9, 2020
In response, the Taoiseach said the foundation stone of any agreement is mutual trust and no one party can breach that.
He said Britain's approach had breached trust and the Withdrawal Agreement remains the legal position and cannot be resiled from.
Mr Martin said he is very concerned and will tell that to the British Prime Minister later.
"I will be registering our clear opposition to the position that has been taken," he said.
The Taoiseach said Ireland will have to be firm and clear but not become embroiled in whatever political difficulties Britain may be experiencing.
Ms McDonald said the Taoiseach should have contacted the British Prime Minister much, much earlier.
She urged Mr Martin to now dispense with diplomatic niceties.
No deal on trade if UK does not honour Withdrawal Agreement - Varadkar
Earlier, Mr Varadkar said he does not believe a free trade agreement can be reached if the UK does not honour the Withdrawal Agreement.
Speaking on RTÉ's Morning Ireland, he said he hopes that proposed new Brexit-related Westminster legislation is simply "sabre rattling".
He said the strategy and behaviour of the British government a year ago was one of brinkmanship and threatening to crash out of the EU and he hoped this was just another installment of this.
The Tánaiste described comments by Northern Ireland Secretary Brandon Lewis yesterday as "extraordinary", particularly as they were made by a cabinet minister in a respected liberal democracy.
Mr Lewis provoked a furious reaction when he confirmed to MPs in the House of Commons that legislation that would override elements of Mr Johnson's Brexit deal with Brussels, would breach international law in a "very specific and limited way".
Mr Varadkar said that Britain is not a rogue state and these comments set off alarm bells in Dublin.
Tánaiste Leo Varadkar: 'I don't think there can be a free trade agreement in circumstances where the UK govt is not honouring the Withdrawal Agreement' | https://t.co/5BxdA78Wkv pic.twitter.com/rprOpiGLTN

— RTÉ News (@rtenews) September 9, 2020
The Tánaiste said he believes the statements have backfired and governments around the world are now "scratching their heads" and wondering if they should ever enter into treaties or contracts with the British government, if this is their attitude.
He said the Withdrawal Agreement was ratified by the House of Commons and the House of Lords and believes the UK does want a deal but there are sticking points around the fisheries and state aid.
He added that he has faith in EU Chief Negotiator Michel Barnier to "make the right call".
Tánaiste Leo Varadkar says statement made by NI Secretary Brandon Lewis yesterday on new Brexit-related legislation was 'extraordinary' and 'set off alarm bells in Dublin' | https://t.co/5BxdA78Wkv pic.twitter.com/NOSgWhI5Ry

— RTÉ News (@rtenews) September 9, 2020
Northern Ireland First Minister and DUP leader Arlene Foster said that obeying the law does not stop her party from trying to change it.
Speaking in Co Tyrone, Mrs Foster said businesses in Northern Ireland should have access to the UK market without any discrimination.
"In an interview a couple of weeks ago, I said we would obey the law and as ministers it is our legal duty to make sure that we look to the law, but that doesn't stop us from trying to change the law," she added.
"I will be working with all my colleagues in the DUP to try and ensure we listen to the voices of businesses and we make sure that we represent that voice.
"It's important that we have unfettered access and that we have a UK market that we can operate in without any discrimination and make sure our wonderful firms are able to continue to work."
Deputy First Minister Michelle O'Neill accused Mr Lewis of having a "brass neck" and that his comments demonstrate that the "entire Tory Government do not care what happens to the people" in Northern Ireland.
"There was an international agreement painstakingly struck, and we got ourselves some protection in the form of the protocol and what Brandon Lewis openly said was, 'but sure that doesn't matter anymore, we are going to override that'."
Influential Irish-American US Congressman Richard Neal urged the UK to "uphold the rule of law" and warned that any US-UK trade deal would be dependent on protecting the Good Friday Agreement.
Rep Neal, who chairs the country's Ways and Means Committee which oversees trade deals, said in a statement: "The United States is a guarantor of that historic peace accord, which was approved by the people of Ireland, north and south, in an unprecedented referendum."
I urge the EU & UK to uphold the terms of this joint agreement, particularly w/ respect to the treatment of Northern Ireland, in accordance w/ international law. The Good Friday Agreement, which has maintained peace & prosperity for British and European peoples must be preserved. pic.twitter.com/sJgAdAZ0Yz

— Rep. Richard Neal (@RepRichardNeal) September 9, 2020
He added: "Every political party on the island opposes a return of a hard border. I sincerely hope the British government upholds the rule of law and delivers on the commitments it made during Brexit negotiations, particularly in regard to Irish border protocols."
Additional reporting Paul Cunningham
Additional reporting PA