More media than supporters turned out at Stormont Gates in Belfast as unionists held an impromptu celebration to mark the UK leaving the European Union.
Organisers said it was the only Brexit event in Northern Ireland.
They said they felt they should hold something as "the large proportion of unionism is pleased to be out."
44% of the electorate in Northern Ireland voted to leave in the 2016 referendum.
Speaking at the event DUP MLA Jim Wells said he is delighted they are finally getting out of the EU.
"We're hoping that as a result of the negotiations and the promise by the Prime Minister that there won't be a border down the Irish Sea. There's still a long way to go," he added.
---
Read More:
Britain leaves the European Union after 47 years
More Brexit stories
---
In response to EU chief negotiator Michel Barnier's comments, in Belfast this week, that there will be border checks on goods coming from the UK into Northern Ireland, he said: "Boris Johnson has already said there won't be and so has Michael Gove and we're going to hold the Prime Minister to his promise that we are an integral part of the United Kingdom.
"There wouldn't be border checks between Donegal and Sligo so why should there be between Scotland and Northern Ireland.
"So that's the next stage and we're opposed to that but it's still good for our nation that we're free from the bondage of Europe."
One Unionist supporter - Mark - said he thought the mood was a bit subdued.
"There's too much speculation about the border in the Irish Sea and the possibility of the problems we're going to face in 11 short months ahead of us.
"Already today we see the ramifications are ramping up the talks between governments.
"It's a bit of a worrying and concerning time for unionism in large in Northern Ireland."
He also said he believes leaving the EU is a good move and "a democratic move.
"But it was a fantastic move if the politicians in Westminster had kept their word. I think the people in Northern Ireland in this part of the United Kingdom are feeling very disappointed with Boris Johnson and by his betrayal.
"We don't want trouble, we don't want conflict but the people here at the minute are very nervous about the future."
The small crowd of supporters waved flags, following a number of speeches, as they were led in the countdown to 11pm by Mr Wells.
A piper arrived just in time to start playing as the countdown concluded.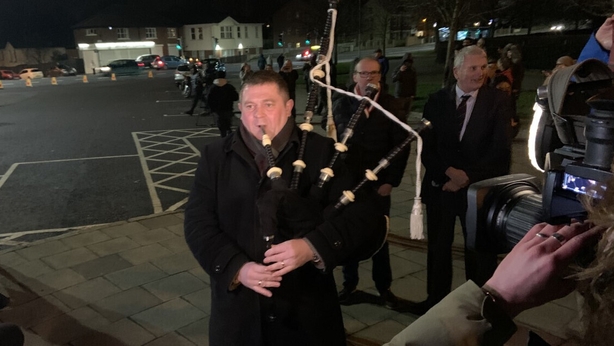 However the recyclable lanterns failed to light or take off in the blustery conditions at the Gates of Stormont.
Instead a solitary sparkler was lit.
The celebration it seemed was over.