It was a week in which everything and nothing was happening.
On Monday, Boris Johnson held a two-hour lunch with Jean-Claude Juncker in Luxembourg. Afterwards, the European Commission said it was up to the UK to bring forward solutions that met the objectives of the Irish backstop. "Such proposals have not yet been made," said the statement.
On Wednesday, the EU's chief negotiator Michel Barnier told the European Parliament: "It is not good enough to explain why the backstop needs to be removed. We need legally operational solutions to reply precisely to each of these problems [which Brexit creates on the island of Ireland]."
Later that day, the Finnish Prime Minister Antti Rinne, whose country currently holds the EU presidency, gave Boris Johnson until 30 September to produce written proposals. "If not by then, then it's over."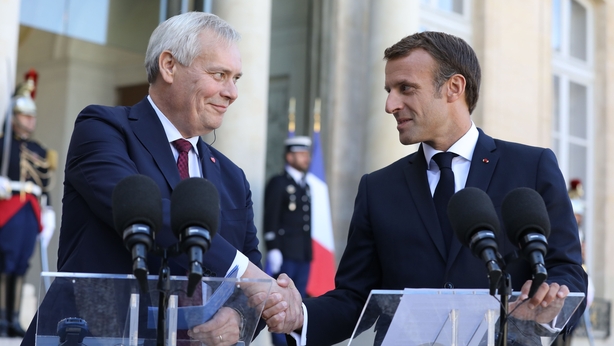 On Thursday, Downing Street issued a blunt response. "We will table formal written solutions when we are ready, not according to an artificial deadline, and when the EU is clear that it will engage constructively on them as a replacement for the backstop."
At midday on Thursday, the European Commission confirmed it had received what the UK called "a series of confidential technical non-papers which reflect the ideas the UK has been putting forward".
Around 5pm, President Juncker recorded an interview with Sophie Ridge on Sky News, to be broadcast on Sunday, in which he suggested a deal could be reached by 31 October.
The interview was seized upon by sections of the UK media as a softening of the EU's position. The Daily Telegraph reported that Juncker had "confirmed that he was prepared to get rid of the backstop".
Fuelling the sense of movement, Leo Varadkar told reporters on Thursday: "If I were to assess the situation, I would say there is a real willingness to find a deal. We were in touch today. I'm going to meet [Mr Johnson] next week in New York and try to get a deal.
"The rhetoric has tempered and the mood music is good."
Less than 24 hours later, however, Simon Coveney told the Today Programme on the BBC: "We need to be honest with people and say we're not close to that deal now."
Then on Friday evening, RTÉ News reported on the details of the UK proposals, as outlined in the "non-papers" and via talks between Steve Barclay, the Brexit Secretary, and Michel Barnier.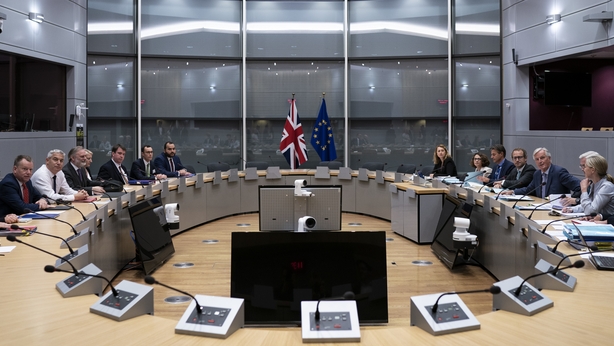 Having proposed an all-island agri-food regime as a way to avoid a degree of border checks, the UK was now insisting that such a regime be selective. In other words, there would not even be wholesale alignment of the rules, north and south. Instead, London was seeking sporadic exemptions, such as on EU labelling rules.
Elsewhere, there would be no alignment on industrial goods or customs. The border that such a set of differentials would give rise to would be "managed" by trusted traders, electronic pre-clearance of goods and wholesale derogations from EU customs rules.
"All of it is quite sobering," said one source. "It's cherry picking on [agri-food] rules, regulatory controls on industrial goods done away from the border, with extensive derogations. None of this legally operable. It is currently only concepts to be worked out during the transition."
One source described the ideas as "totally insane".
What was going on?
A careful reading of comments and positions suggests that there has been very little movement and the surge in positivity, which Dublin suspects was encouraged by Downing Street, was perplexing, especially given the late news on Friday.
"What they're putting forward don't even meet any of the three objectives in the backstop," said one official.
The optimism of Thursday was giving way to pessimism on Friday evening. As so often happens, a British move prompts disproportionate noises of a breakthrough.
Firstly, in his remarks to Sky News, Mr Juncker qualified his optimism by saying that the backstop could only be replaced by something that delivered the same outcome (in fairness to the Telegraph these comments were also carried).
For emphasis his spokesperson Mina Andreeva tweeted what the commission believed was Juncker's key line: "I am doing everything possible to have a deal. #Backstop can only be replaced by alternative arrangements that meet ALL its objectives."
.?@JunckerEU? ?@SkyNews? ???????? "I am convinced that #Brexit will happen. Believe we can have a deal. I am doing everything possible to have a deal. #Backstop can only be replaced by alternative arrangements that meet ALL its objectives." https://t.co/9hscBf6q87

— Mina Andreeva (@Mina_Andreeva) September 19, 2019
An EU official said Juncker was essentially repeating what he had said on Monday, and what Michel Barnier had said on Wednesday. The backstop was designed to avoid a hard border, protect the all-Ireland economy, preserve north-south cooperation and ensure the integrity of the EU's single market and customs union.
Any replacement to the backstop has to meet all those objectives, remains the EU and Irish position.
A counterpoint to the optimism came from Spain, where on Thursday the Brexit Secretary Steve Barclay appeared to threaten Ireland with medicine shortages and Spain with devastation to its fruit and vegetable exports, as well as its tourism and fisheries industries.
In a no-deal scenario, he told his audience: "For example if I take Ireland, two thirds of Irish medicines come through Great Britain, 40% of its exports go through Dover. Its supermarkets are supplied from distribution centres in the Midlands."
A senior EU official said: "The Barclay speech was designed to be provocative, divisive and misleading."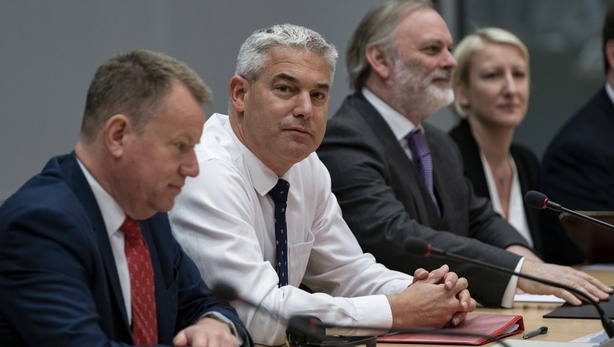 So the EU's worries over the timeline remain.
Firstly, the papers presented by the UK on Thursday were "non-papers". These are discussion papers that do not commit a negotiating party to anything. According to an EU diplomatic note circulated to member states, the non-papers were labelled "HMG property". London had also requested the European Commission "not to do any onward disclosure" to capitals.
The diplomatic note said the papers covered the "regulatory scope of a sanitary and phytosanitary (SPS) zone [on the island of Ireland], Customs and Manufactured goods."
These are the elements Boris Johnson has already been floating: an all-Ireland agri-food zone, with Northern Ireland remaining outside the EU regulatory framework for customs and manufactured goods.
So the EU has yet to see a formal concrete proposal beyond what has been discussed with Johnson's chief negotiator David Frost, and floated in the non-papers.
The chances of a breakthrough at the EU summit on 17 and 18 October, therefore, remain marginal.
"We have four weeks before the European Council and we don't have the slightest concrete element to work on," says a senior EU official.
"At a European Council things never fall from the sky. They need to be prepared up front. You need texts. You need to go through the motions with the member states beforehand. That means Johnson would need to have had very granular discussions not only with the European Commission but also with the Irish.
"And the other member states will not dump a solution on the Irish that will come as a surprise. So you wonder how it can be done in the next four weeks if the point of departure now is zero text. We're not even close. We're miles away."
As always, the difficulty for the EU is divining the UK's clear intentions, given all of the political turmoil in Westminster. This, of course, may be a deliberate strategy.
When Leo Varadkar met Boris Johnson in Dublin on 9 September, the Irish delegation sitting across from their British counterparts had three key concerns: did Boris Johnson really want a deal? Did his negotiating position realistically offer the prospects of a deal being reached?
If the answer to the first two questions was yes, would a deal have any prospect of getting through the House of Commons?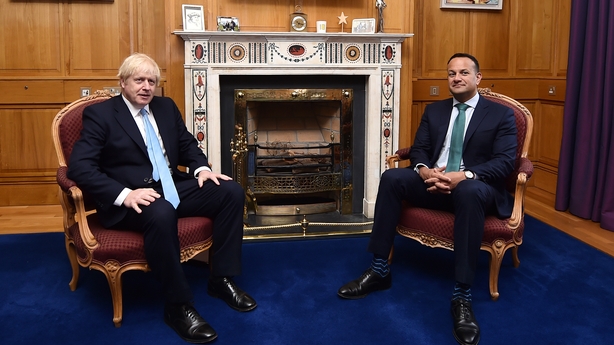 On the first question, Dublin shared the concerns expressed in EU capitals.
"[London] had done such a good job of talking up the idea that, at the very least, they were prepared to live with no deal," says a senior Irish official, "that a lot of people felt that's what they actually want. So what was the point of negotiating?"
On the second, there were grave concerns the UK was simply asking for the impossible. Given nearly two years of gruelling negotiations leading to the Withdrawal Agreement and the subsequent legally binding add-ons and clarifications, the idea that the EU would simply tear up chunks of what had been agreed and replace it with something weaker was not feasible.
"That's just not a remotely credible objective for the EU, even if you think [the UK] have all kinds of aces up their sleeve, real or imaginary," says the official.
On the third question, Dublin was well aware of the possibility that the various tribes in the House of Commons could block it.
"If we got a deal, maybe this group and then that group might come on board. But they would probably only do so if they were sure the other groups did it as well. No-one will move unless they're 100% confident that the deal will pass. They would look stupid if they moved only for the deal to fail."
Despite the reservations, Leo Varadkar was sufficiently convinced that Boris Johnson was serious about getting a deal.
However, what he was proposing was deeply problematic.
Downing Street wants the backstop to be "disaggregated". In other words, bits of it would be salvaged, such as an all-Ireland agri-food zone, while all the other elements such as the treatment of industrial goods, customs, VAT and other provisions designed to support the all-island economy and north-south cooperation would be ditched.
Northern Ireland would therefore remain fully part of the UK's customs territory and would remain aligned with UK rules governing the regulation of industrial goods, state aid, fiscal rules and so on.
The border that would arise as a result would then be "managed" through alternative arrangements or "maximum facilitations" (MaxFac), such as technology, trusted trader schemes, exemptions from customs declarations for SMEs, the use of transit procedures and so on.
These, according to the British view, would be worked out during the transition period. If a MaxFac solution was not ready by the end of the transition, which under the current Withdrawal Agreement expires in just 14 months, then the EU would have to trust the UK to bring forward unspecified contingency measures.
For the all-Ireland agri-food zone, Northern Ireland would remain aligned to the EU's so-called Sanitary and Phytosanitary (SPS) rulebook, but London also wants a Stormont Lock so that the Northern Ireland Assembly would have to give its approval.
Needless to say, Dublin and Brussels regard this approach as politically and legally well short of what is required.
Alignment on agri-food only would mean some trucks being stopped on or near the border and others not. One sector of the economy would be subject to regulatory checks, while other sectors would not. The EU would regard it as leaving a gaping hole in the perimeter of the single market and an invitation to rampant smuggling.
The EU would lose customs revenue and there would be unregulated goods entering the single market.
The other problem is that the EU customs union is intimately bound up with its regulatory union. The Union Customs Code (UCC) is, in fact, the delivery system which facilitates member states in monitoring and controlling goods coming in from a third country to ensure they are safe for EU consumers.
"That makes the all-Ireland SPS thing fairly meaningless," says a senior Irish figure. "Our argument is that the backstop is crafted, not out of deviousness but because it has all those elements. It doesn't really work unless all the elements are in it.
"So this idea, however attractive as a negotiating tactic, of disaggregating and trying to bite the backstop off segment by segment, it just doesn't work in practice."
This point was made to Boris Johnson in Dublin. Irish officials are unsure if it landed. "It's hard to tell, is the honest answer," says one official present. "I think so, and I hope so. I think they understand our position. But it hasn't prompted a change in their negotiating position."
In Luxembourg on Monday, the European Commission had a second opportunity to impress upon the prime minister the complexities of replacing the backstop with something that delivered the same outcomes, and which was legally watertight.
While Johnson's trip to the Grand Duchy will be forever remembered for the empty lectern moment and prime minister Xavier Bettel's scolding of the UK over its handling of Brexit, it was the meeting between Johnson and Commission President Jean-Claude Juncker that was more instructive.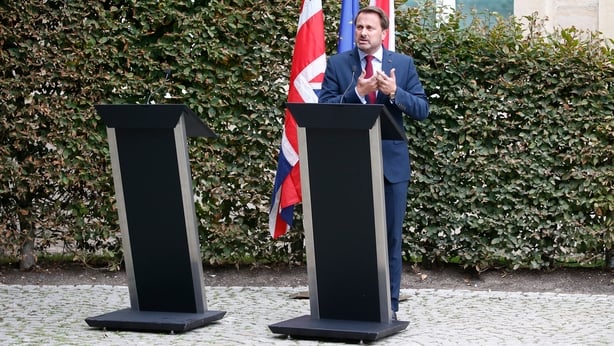 Johnson was accompanied by his Brexit Secretary Steve Barclay, his chief negotiator David Frost and the UK's Permanent Representative to the EU Tim Barrow.
Juncker was joined by Michel Barnier, the EU's chief negotiator, Stéphanie Riso, a senior Brexit Task Force official, as well as Richard Szostak and Paulina Dejmek-Hack, both members of Juncker's cabinet.
According to a source briefed on the two-hour lunch, Boris Johnson did not put forward any concrete proposals. However, the Commission felt that two hours explaining the backstop and the single market was time well spent.
"It was useful for Boris Johnson to sit there and listen to all the things we've been saying publicly and privately," says the source.
"For him to sit for longer than five minutes, and to be explained again as to why we need a backstop, and what is the reasoning behind it, and what the difference is between regulatory alignment and customs alignment, and why SPS is not sufficient in and of itself."
The Financial Times reported that Johnson visibly slumped in his chair when the details were levelled at him by Stéphanie Riso. Downing Street, already on the defensive over the Bettel meeting, dismissed such reports as "nonsense".
"If you ignore the noise [around the Bettel meeting] let's look at what happened during the PM's visit," says a UK source.
"He had a good meeting with Jean-Claude Juncker, where they agreed to intensify talks. We need to start accelerating talks if we're going to make further progress. This is on the back of a positive meeting in Dublin last week. If the EU are prepared to move on the backstop - rejected three times by parliament - then we can see the rough shape of a deal."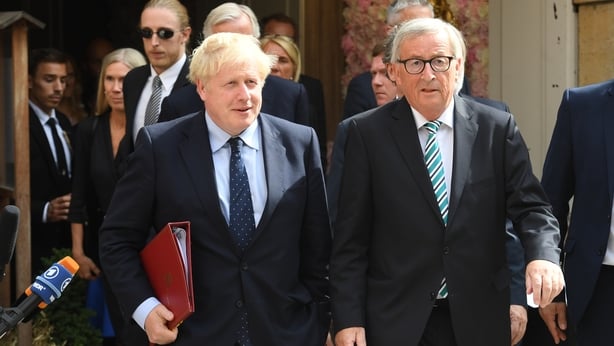 Johnson left the meeting and proceeded to his ill-fated encounter with Xavier Bettel. "Everything was going well until he left the lunch," notes one source wryly.
"He was alright when he left us. We had agreed an intensification of talks. We wanted to show we were open. The intensity of that will depend on whether or not the UK comes forwards with proposals."
At the root of the deadlock is that under Boris Johnson the UK regards the promises of the December 2017 Joint Report - protecting the all-island economy and north-south cooperation, avoiding all checks and controls - as a "conceptual mistake" and wants to nudge the EU towards a minimalist backstop, supported by alternative arrangements that are "to be decided".
The EU in turn wants to nudge Johnson back towards the original Northern Ireland-only backstop because it removes the complaint that the UK as a whole would be (potentially) trapped in the EU's customs sphere, and because it could be revived quickly, certainly in time to avoid a no-deal exit.
Where the two conflicting pressures do overlap is in the whole question of "consent".
Dublin believes that providing constitutional and political reassurances for unionists is the way forward, rather than dumping the backstop in part or in whole.
On Wednesday, Minister for Finance Paschal Donohoe told an audience in Dublin City University (DCU) that he understood unionist concerns.
"The Government has always been prepared to look at modifications, improvements or alternative arrangements that would secure the same outcomes while amplifying the forms of consent and inclusion that underpin the Good Friday Agreement," he said.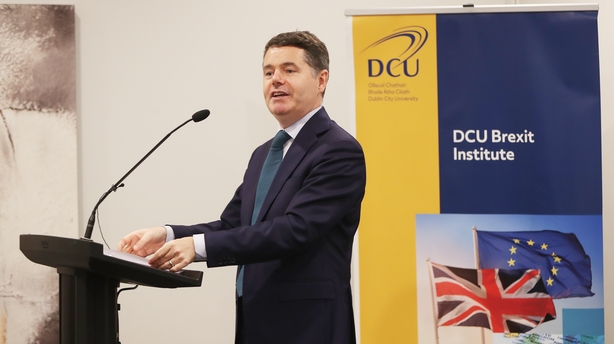 Irish officials acknowledge that shifting back to the Northern Ireland-only backstop makes it a harder sell for Unionists. The UK-wide version, as insisted upon by Theresa May, would have obviated the need for customs controls on goods moving between Great Britain and Northern Ireland.
"It does move the thing backwards for unionists," says one Irish source, "so in that context we would be prepared to look at this idea of some sort of consent mechanism as long as it's democratic and balanced, and as long as it reflects a majority view in Northern Ireland, and is not a single party veto."
But negotiating a layer of consent for the Assembly will be no easy task, not least because there is currently no functioning Northern Ireland Executive.
The EU's position is that consent must not be a veto on the backstop working effectively.
This is because it would give MLAs the privilege of picking and choosing EU single market rules that other member states - never mind regional parliaments - do not enjoy, because it would take away the legal certainty that the backstop is designed to provide, and because it could potentially in the future leave a hole in the single market.
The issue of consent came up during the meeting between Johnson and Juncker in Luxembourg. "There was a discussion about consent," says an EU source, "on how you give Stormont a role in all of this. But the UK needs to reflect further on this. It's a UK thing."
It is also potentially perilous for Dublin. Ireland has long resisted any notion that the UK would have a unilateral exit from the backstop. No serious discussions have yet started on what a consent mechanism might look like. But what if, as part of some overall deal, the Assembly could vote to exit the backstop, and the effect of that was to restore checks and controls at the border?
"That's why the manner of capturing the consent mechanism and having it genuinely democratic and broadly-based is important," says an Irish official.
But Dublin now believes the political calculus for the DUP has changed, given that it has lost its pivotal leverage in the House of Commons, and because of the electoral fallout for the party if there was a no deal that was devastating for the Northern Ireland economy, followed by a general election.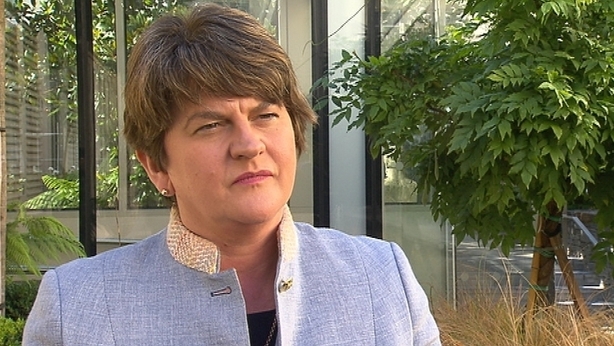 On Wednesday night, party leader Arlene Foster told the Dublin Chamber of Commerce the DUP could accept "special arrangements" for Northern Ireland so long as they didn't affect its constitutional position in the UK and Northern politicians were to give their consent.
But there are two other elements that will militate against a nick-of-time deal.
Boris Johnson's wholesale resiling from the promises of the Joint Report of December 2017 means that trust is now a critical issue for Dublin. And it is on trust that the UK is asking Ireland to accept a significant part of its new proposals.
The other problem relates to the new negotiating team under Boris Johnson.
All of the previous team, led by Theresa May's sherpa and chief Europe advisor Olly Robbins, have gone save for Tim Barrow, the UK's ambassador to the EU. That means a loss in institutional memory, which has frustrated EU negotiators, who feel they have to explain the single market yet again.
Robbins has been replaced by David Frost, an old hand in Brussels but who is of different outlook and temperament.
But more importantly, the reporting structures have changed.
Olly Robbins was given a degree of negotiating leeway by Theresa May. He reported directly to her, and to Number 10. May's cabinet, made up as it was of former Remainers such as Philip Hammond and Greg Clark, was there to endorse what she was putting forward, based on her back and forth with Robbins.
However, David Frost is under much tighter constraints, not from Boris Johnson alone but from the Brexit cabinet subcommittee, known as XS.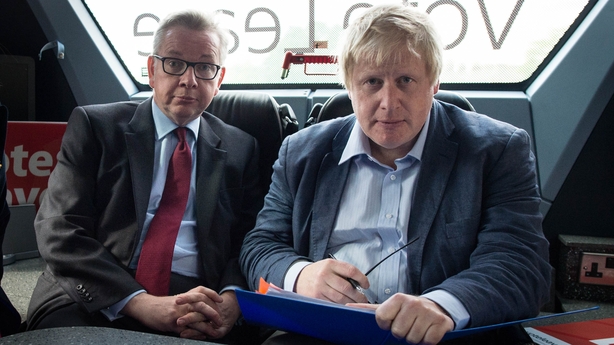 That sub-committee, headed by Johnson but also including hardliners Michael Gove and Dominic Raab, has a greater steering role than the previous cabinet in how the negotiations are conducted.
"You're talking about former Conservative hopefuls," says one EU source. "They all have reputations. They all have to think about what comes next. They all have Brexiteer credentials which matter to them."
That limits the room for manoeuvre for British negotiators, with the parameters being set, according to the source, by the "electoral reality and what the Tory electoral market will bear".