An EU official has said nothing substantive or new has emerged from talks between EU Council President Donald Tusk and British Prime Minister Boris Johnson.
The two met on the margins of the G7 summit in Biarritz in France.
The discussion was described as "cordial".
In a 25-minute bilateral meeting, the two men spent about half the time talking about Brexit.
EU diplomats said the discussion was effectively a restatement by both sides of their publically known positions, with Mr Johnson explaining why the backstop was not acceptable to his parliament.
Mr Tusk explained why it had to be part of the agreement, but the EU was open to new ideas on achieving the commonly-held objective of avoiding a hard border, preserving peace in Ireland and protecting the EU single market.
The sources say there was no detailed discussion at all today, with nothing presented by the UK.
They said the EU stance has not changed and recent statements by Mr Tusk, EU chief Brexit negotiator Michel Barnier, German Chancellor Angela Merkel, and French President Emmanuel Macron all indicate an unchanged EU position on the withdrawal agreement.
Earlier Mr Johnson said that if Britain leaves the European Union without a deal, it will no longer legally owe the £39bn (€41.8bn) divorce bill agreed by his predecessor Theresa May.
The EU sources said public threats to withhold payment of the money the UK owes did not form any part of the discussions today.
Mr Johnson reportedly stressed to Mr Tusk that he does not want a no-deal Brexit, but the EU side said the ball is in the UK side of the court, and it is up to them to come up with new ideas for discussion.
Mr Tusk and Mr Johnson agreed to meet again on the margins of the UN general assembly in New York next month.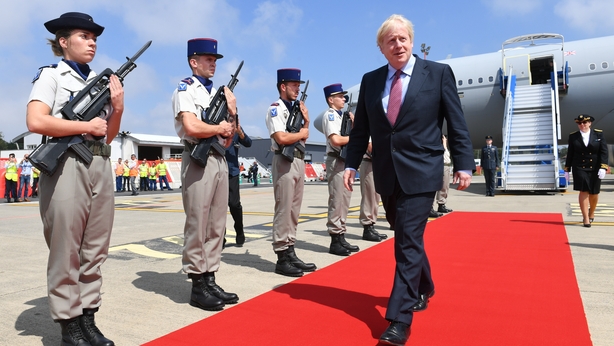 Mr Johnson told Sky News there is a "reasonable chance that we'll get a deal", but told the BBC that the prospect of a Brexit deal is "touch and go".
Speaking to Sky News, he said: "I think at the moment, there's a reasonable chance that we'll get a deal, but in order to get that deal, to repeat my message, we've got to prepare to come out without one.
"I think the chances of a deal are improving. But there's got to be great deal of realism on part of our friend that Withdrawal Agreement is dead, the text that parliament rejected three times cannot now be made to go through.
"People think what's this all about? Fundamentally, the problem with that Withdrawal Agreement is that it would keep us locked in EU's trading ... It would keep us locked in the EU's trading arrangements and in the lunar pull of EU law without being able to have a say. That's why it's totally unacceptable."
Speaking to the BBC, Mr Johnson said the prospect of a Brexit deal was "touch and go".
"It all depends on our EU friends and partners, I think in the last few days there has been a dawning realisation in Brussels and other European capitals what the shape of the problem is for the UK.
"I think it's going to be touch and go but the important thing is to get ready to come out without a deal."
He promised that if there was a no-deal Brexit people would still be able to get their medicine.
He said: "That is certainly a guarantee that we can make."
In June, a source close to Mr Macron said that failing to pay the Brexit bill would amount to a sovereign debt default and on Wednesday an official in his office said that leaving without a deal would not remove Britain's obligation to pay.
"There is no magic world in which the bill no longer exists," the French official said.
The EU has repeatedly said it will not start negotiating a new trade deal with Britain before the issues of money, the Irish border and citizens rights are settled, so it is likely to return to the fore as a precondition for the EU to start trade talks after Brexit if Britain refuses to pay.
Ahead of their meeting, Mr Johnson and Mr Tusk traded barbs over who would be to blame should Britain leave without a deal at the end of October.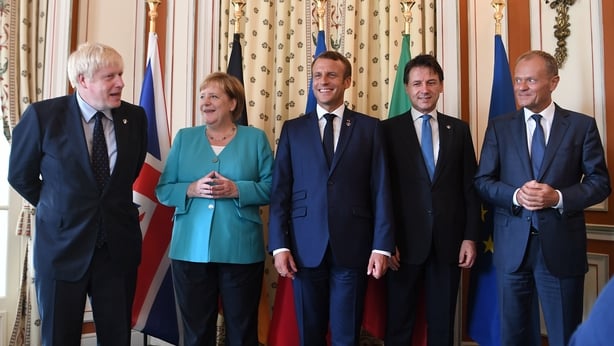 It comes as US President Donald Trump backed Mr Johnson as the "right man" for Brexit as the two leaders held a warm first meeting at the G7 summit.
Mr Johnson and Mr Trump were on obviously friendly terms as they sat down for a working breakfast in Biarritz.
"He's going to be a fantastic prime minster," Mr Trump said in their first face-to-face meeting since Johnson took office last month.
Asked what his advice was for Brexit, Mr Trump replied: "He needs no advice. He's the right man for the job. I've been saying that for a long time. It didn't make your predecessor happy..."
Mr Trump's undiplomatic outbursts often targeted Mrs May. Mr Johnson replied that Mr Trump's backing was "on message there".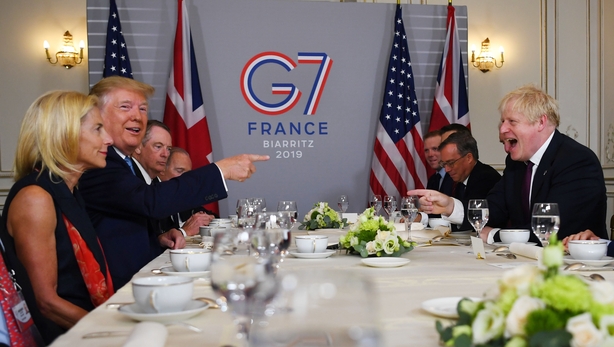 Meanwhile, the British government could be forced to publish the latest assessments of the possible impact of a no-deal Brexit when Parliament returns.
Labour's Brexit spokesperson Keir Starmer said he could use a parliamentary device to compel ministers to release documents linked to the Operation Yellowhammer no-deal preparations.
In a letter to Michael Gove, the cabinet minister in charge of no-deal planning, Mr Starmer indicates Labour could use a humble address to the Queen - a tactic the opposition has used in the past to require the government to disclose Brexit-related documents.
Mr Starmer said Labour would "not hesitate to use all parliamentary devices available" when parliament resumes on 3 September to compel ministers to publish all the Operation Yellowhammer documents if the government does not do so voluntarily, the Sunday Times reported.
Leaked Operation Yellowhammer documents indicated the UK will be hit with a three-month "meltdown" at its ports, a hard Irish border and shortages of food and medicine after it leaves the EU without a deal.
---
Read:
More Brexit stories
---
In his letter, Mr Starmer disputed Mr Gove's claims last week that the leaked documents were out of date and outlined a "worst-case scenario".
He said: "You challenged the claim that these anticipated effects of leaving the EU without a withdrawal agreement represented the Government's understanding of the base 'most likely' scenario and intimated the information was nevertheless out of date.
"However, the government have not provided up-to-date information or explained what their assessment of the most likely effects is."
Mr Johnson has reportedly taken legal advice from Attorney General Geoffrey Cox about temporarily shutting down parliament - known as prorogation - for five weeks from 9 September.
The Observer reported that the move would allow for a Queen's Speech, starting a new parliamentary session, on 14 October.
Such a move would keep MPs away from the Commons until shortly before the European Council summit of EU leaders on 17 October, potentially preventing moves to block a no-deal Brexit.
British government sources said Number 10 officials ask for legal and policy advice every day.
But a source added: "The claim that the government is considering proroguing parliament in September in order to stop MPs debating Brexit is entirely false."
Further details have emerged about the British government's public information campaign about a potential no-deal Brexit.
The Cabinet Office is in the final stages of signing off the major media blitz to support businesses and the public, which will give information about what will be required for any scenario on 31 October.
The campaign will feature TV and radio adverts, billboards, social media and a dedicated website providing advice and information.
A fast and simple "60-second checker" is promised, which will help businesses and UK and EU citizens work out what, if anything, they need to do.
Additional reporting: PA, Reuters