For Europe, anticipating Boris Johnson as prime minister has been defined by the difficulty in reading his intentions.
One can go only so far in divining the strategy of someone with a history of contradictory positioning and flamboyant posturing.
Would he drive the "do or die" bus at speed to the 31 October cliff edge, or was this a blunt negotiating tool? Would he abandon a hard Brexit rhetoric once installed in Number 10 and cajole a weary Tory Party to accept a lightly modified Withdrawal Agreement on the basis that the Conservatives simply must "deliver Brexit" at whatever cost?
"That element of unpredictability," observed a senior Irish official in the hours before Boris Johnson was announced as leader, "and the deliberate do-the-thing-they-least-expect is definitely part of the character. So it does make predicting things even more difficult."
In the latter stages of the campaign Johnson hardened his rhetoric, saying that not even a time limit to the backstop was acceptable – the whole thing had to be ripped out.
"At the end of the campaign everyone was wondering what was happening," says one senior EU official. "Each and every door that could still be opened, or re-opened, even the doors we kept locked – he sealed them. Places we would never go – time limits, codicils, exit clauses – even those he killed."
As Wednesday unfolded Johnson's truer intentions were perhaps being revealed. The appointment of Vote Leave campaign director Dominic Cummings as senior advisor heralded a brutal cull of recalcitrant cabinet ministers - 17 were either sacked or resigned - while cadres of former Vote Leave staffers poured into the new apparatus around Boris Johnson's centre of power. This would be a government of Brexit true-believers. "Anyone who worked on Vote Leave is getting a job somewhere at some point," according to one Whitehall source.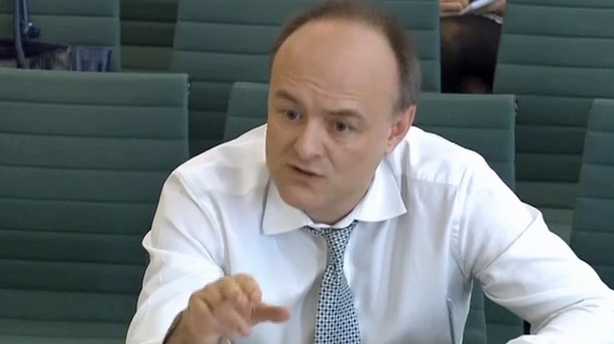 The combination of Cummings, who dramatically and controversially propelled the Leave campaign to an unlikely victory in 2016, with Johnson's door-slamming rhetoric in the final days struck some senior figures in Brussels immediately as the starting gun of a snap poll.
"I smell an election," said one EU diplomat. "If you take such a prominent pro-leaver, who has experience in organising campaigns, then my gut feeling is it's an early election. Labour are at their weakest point. They'll probably get a beating from the stronger profile of the new Lib Dems leader [Jo Swinson]. And the more they are hit by the Lib Dems, the better it is for the Tories."
EU observers wondered how much of Johnson's campaign rhetoric could be relied upon. His Brexit plan had amounted to threatening No Deal, demanding a "standstill" transition period in which the trading arrangements would stay the same after 31 October, withholding the £39 billion exit bill, postponing the Irish border question so that it would be dealt with as part of a future free trade agreement, and do a side deal on EU and UK citizens rights.
None of these options are acceptable to Brussels or Dublin. If Johnson was hell bent on No Deal, he might decide to go through the motions of a tour of EU capitals, returning to London to blame the Europeans for being unreasonable then call a general election in order to overcome parliamentary opposition to No Deal.
"The most likely thing is that he will engage and engage early on Europe," said one Irish official, "whether that means Dublin, Brussels, Paris, Berlin, or some combination or other. There has been speculation that he'll make Washington his first port of call. Who knows? This is the one thing, maybe nobody knows, maybe Boris doesn't know."
But that was before the cabinet clear out and his first signal of intent outside Number 10 after meeting the Queen. In a rallying cry to facedown the "doubters, the doomsters, the gloomsters" Johnson declared the UK would now "do a new deal, a better deal".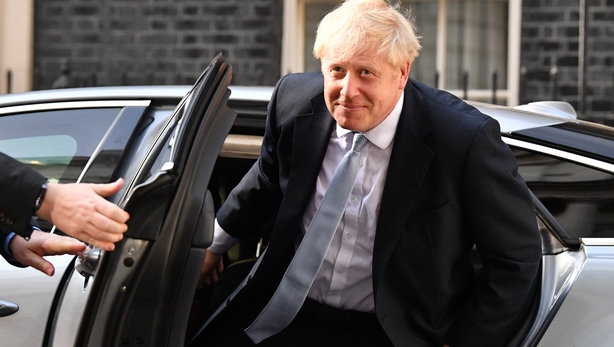 Addressing "our friends in Ireland", the new prime minister was "convinced that we can do a deal without checks at the Irish border, because we refuse under any circumstances to have such checks and yet without that anti-democratic backstop."
He did not want No Deal, but Brussels might "force" the UK into it. But "don't forget," he consoled the nation, No Deal would mean the "extra lubrication" of £39 billion.
One senior Brussels figure watching the speech dismissed that pledge as "rubbish - [the exit bill] is a legal obligation."
And yet the official was circumspect. Johnson had not repeated the campaign demand for a "standstill transition" period after No Deal, nor did he repeat the notorious GATT XXIV notion that both sides could simply maintain zero tariffs after No Deal.
The official also noted that Johnson had carefully couched his rhetoric on No Deal planning. Johnson said "preparations cannot be wasted and that is because under any circumstances we will need to get ready at some point in the near future."
Did that mean he believed that No Deal may not happen, and that such preparations would in any case be useful in the future? If an agreement was reached with Brussels and Britain then headed for a looser "Canada Dry" free trade agreement, there would still be regulatory checks and tariffs that companies would have to prepare for.
"What he said during the campaign is water under the bridge", said the source. "Now we really need to see how the new government wants to play this."
But as Wednesday turned into Thursday and the scale of Johnson's purge became fully apparent, the gloom in Brussels deepened. The appointment of Cummings is seen as the most worrisome, not just for what it will mean for relations with the EU, but for what it will mean an already polarised body politic in London.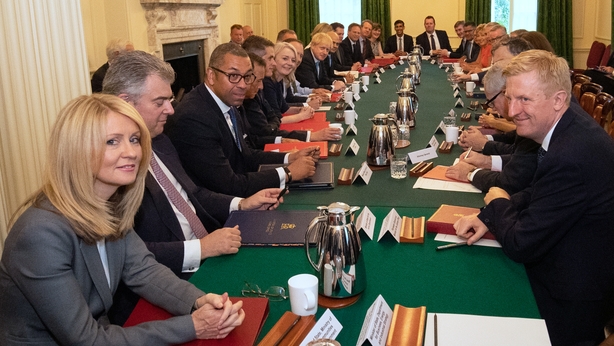 "You couldn't have wished for a more hardline cabinet if you wanted to antagonise the Remain camp," mused one EU official. "But if the EU is being cooled off by Cummings in Number 10, what will that do to MPs, especially Remain MPs? It gives you a sense of how painful and horrible a second referendum would be."
Officials also worry that with Cummings operating such a central and potentially fearful role at the heart of Number 10, it will render non-existent any back-channels between senior figures or ministers and the EU since everything will be so tightly controlled.
After Boris Johnson's maiden speech to the House of Commons as prime minister on Thursday morning, in which he demanded the "abolition" of the backstop as a pre-condition for fresh negotiation, attitudes in Brussels were further hardening.
Michel Barnier, the EU's chief negotiator, circulated a note to member states describing the speech as "combative" and saying that Johnson's idea of "eliminating" the backstop was "unacceptable and not within the mandate of the European Council."
Barnier suggested Johnson's prioritising of No Deal planning was "partly to heap pressure on the unity of the EU27."
Other sources in Brussels go so far as to say that Johnson had just solidified EU unity even further. One diplomat from a large European country said while they were prepared to listen to what "concrete" ideas Johnson would bring, the EU's position had not changed.
"What we will say is unacceptable," the official said, "and what the UK have been trying from the very beginning, is the idea of leaving Ireland as the outstanding issue, to put pressure on Ireland. That is absolutely unacceptable."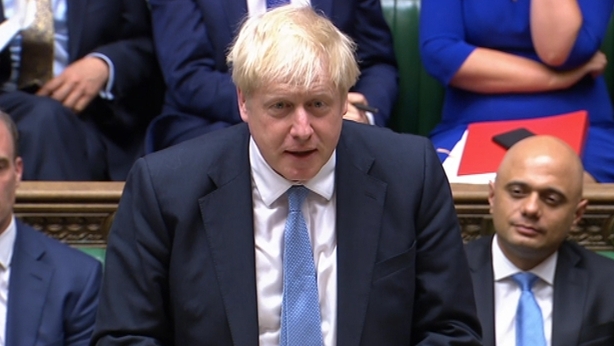 Is this what Boris Johson is attempting?
Within 24 hours of his elevation Johnson had doubled down on the idea of the backstop being eliminated and replaced by alternative arrangements, such as technical solutions and a trusted trader scheme. "The evidence is that other arrangements [to replace the backstop] are perfectly possible," he told the House of Commons.
However, Dublin and Brussels are adamant that technical solutions may only go so far in dealing with the Irish border, and that, in any case, the Withdrawal Agreement commits both sides to exploring them.
Furthermore, the Joint Instrument, agreed in Strasbourg by Theresa May and Jean-Claude Juncker, was a legally binding text committing both the EU and UK to find alternative arrangements to the backstop by the end of 2020, and if they were not found then efforts would be redoubled.
If those alternative arrangements, or a free trade agreement, fail to ensure the continuation of an invisible border - and the maintenance of dozens of areas of cross-border co-operation - then the backstop is there as the final fallback option.
Boris Johnson, however, appears to see technical solutions as nothing less than an "end state" rather than one option that has to be tested.
Dublin and Brussels appear content to hold their nerve until Johnson comes forward with new proposals.
In the meantime, the dramatic restructuring of how Whitehall handles Brexit may provide some clues as to the direction of travel.
Johnson wants to ramp up the rhetoric on the backstop, laying the groundwork for anti-EU recriminations if Brussels does not abolish it, while at the same time boosting preparations for No Deal (This could take the form of a big advertising campaign targetting both the EU and UK from early next week).
Michael Gove has been appointed head of the Cabinet Office with the main task of ensuring all government departments are "turbo-charging" No Deal planning.
This role had up to now been spearheaded by the Department for Exiting the EU (DExEU), set up by Theresa May when she took office, but Johnson wants a much tighter and centralised operation, with DExEU now more in charge of the "Europe relationship", and speculation that it could be brought into the Foreign Office under the new Foreign Secretary Dominic Raab.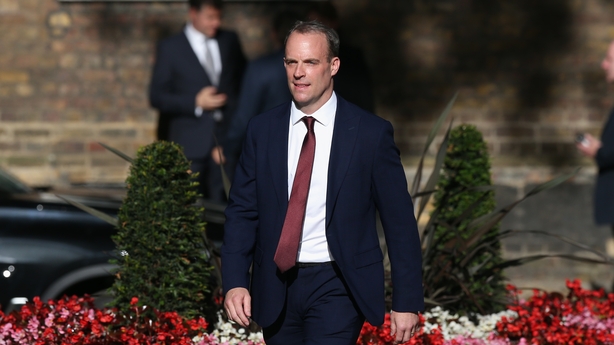 But if negotiations do get under way with the EU, who will lead them?
Under Theresa May, Olly Robbins and a small team of advisors and officials were increasingly in charge of negotiations, with Robbins ultimately becoming vilified by Brexiteers and the right-wing press.
He had worked with May in the Home Office and when she entered Number 10 she appointed him Permanent Secretary of the new DExEU department as well as her Sherpa, or envoy, on all EU meetings.
That meant he was reporting to two bosses: Theresa May and the Brexit Secretary David Davis. As the negotiations got under way, growing differences between May and Davis led to an impossible situation for Robbins. As such, May moved him and his team to the Cabinet Office, where they were to report directly to Number 10. Davis progressively felt out of the loop.
While Robbins was targetted for agreeing the backstop and the UK-wide customs arrangement, he agreed to nothing in the negotiations unless it was approved by May.
How will things under Boris Johnson be different?
Undoubtedly Johnson will want a high degree of political control of the negotiations. Dominic Cummings is likely to play a key role, but he will have a lot on his plate: he has big ideas about reforming Whitehall and has been charged with a more keeping a tight rein on all special advisors (SpAds) to a multitude of cabinet ministers.
The other key figure is David Frost, whom Johnson has appointed as his Sherpa and EU advisor.
Frost is an old EU hand. He was based in the UK's embassy to the EU (UKRep) in the early 1990s and played a key role in the UK's presidency of the EU in 2005 under Tony Blair. After a spell as UK Ambassador to Denmark he left the Foreign Office to become chief executive of the Scottish Whisky Association, but returned to the Foreign Office in 2016 as a special advisor to Johnson when he was Foreign Secretary.
Cummings and Frost may be different creatures with wildly differing views of the EU; while the former has ideological purity on Brexit, the latter knows how the EU works and will be well connected.
However, the early view in Brussels is that Cummings's more priestly role at Johnson's shoulder will eclipse any influence Frost might have, and that ultimately Johnson appears determined to head to No Deal, given the impossibility of his demands that Brussels ditch the backstop.
There is speculation that Johnson could take a more conciliatory path, but it is no more than speculation. The notion that he might revert to the original Northern Ireland specific backstop has crept back into the frame, partly because of Johnson's record on "turning on a sixpence", as one EU diplomat put it, and partly because the Alternative Arrangements Commission (ACC), of which Johnson is a fan, has hinted that it may be the only way to deal with all of the complications of the Irish border while still allowing the UK an independent trade policy.
It would, of course, cost Johnson the support of the DUP and also prompt a backlash from the SNP who would want something similar for Scotland.
For now, the assumption in Brussels is that an early election is on the cards, one so early that Johnson would not require an extension to Article 50, as that would immediately torpedo his fundamental claim that Britain would leave on October 31 "do or die".
Senior EU figures are therefore bracing themselves for a hard September and October. "The problem is," says one EU diplomat, "a lot of Johnson's entourage don't really grasp what No Deal really means, what it will mean to negotiate with the EU afterwards. A lot of these people have founded their views on a belief system - it's not an exact science. When there's a reality check they will simply blame Remainers in the civil service and they will blame Europe. We're really now in risky waters."