Taoiseach Leo Varadkar will travel to Brussels next week to discuss no-deal Brexit preparations with the leaders of the European Commission and Council.
The Taoiseach, European Commission President Jean-Claude Juncker, and European Council President Donald Tusk will meet on Wednesday for a number of Brexit-related meetings.
The leaders are to discuss preparations for a no-deal Brexit in the event that the Withdrawal Agreement is not ratified.
The contingency work for no deal "is intensifying both within the European Commission and across the member states", according to the Government.
The Taoiseach is to outline the work under way in Ireland and the support that may be needed given the potential impact of a hard Brexit on the country.
It was revealed by Minister for Finance Paschal Donohoe this week that a no-deal Brexit could knock an estimated 4.25% off the country's GDP.
Mr Varadkar's office has said that he will also use the opportunity to thank the institutions, and the other member states, for their "continuing support" for Ireland.
They are also expected to discuss the latest developments in London.
Mr Varadkar reiterated the Government's stance on no deal during a phone call with British counterpart Theresa May on Wednesday afternoon.
In a statement following the call, the Government said: "The Taoiseach set out once again the unchanged Irish and EU position on the Withdrawal Agreement and the backstop, noting that the latest developments had reinforced the need for a backstop which is legally robust and workable in practice."
Article 50 delay would need purpose, says McEntee
Meanwhile, Minister for European Affairs Helen McEntee has said Britain must set out its goals if it wants to get an extension to the Brexit timescale to try to reach a deal to leave the European Union.
"If they were to ask for an extension I think it would be approved ... but there is no point in looking for an extension if we end up back to the same place as we are now in three months' time," Ms McEntee told BBC radio.
On Tuesday, MPs instructed British Prime Minister Theresa May to reopen her Brexit treaty with the EU to replace the backstop - an insurance policy to prevent the return of a hard border in Ireland - but promptly received a rejection from Brussels.
Ms McEntee said: "We are 72 hours on and not only do we not have any proposals, but your own secretaries have admitted that they don't have any and that there is no solution here."
She said proposed technological methods for keeping the border open were "not the answer".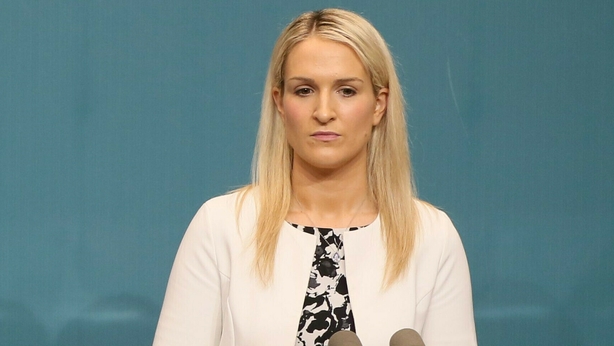 She said the border is over 500km long with around 208 crossings and goes through farms and the backs of people's houses.
She said it is not just about customs and trade, which are important, but it is about "protecting a peace process. This is about peoples' memories and what they have gone through in the past and no amount of technology can address that".
Ms McEntee said: "This was a deal that was negotiated with the UK, by the UK. They weren't bystanders in a separate room, there were discussions, negotiations, there were compromises on both sides.
"The fact that we now have a deal that took that long to be negotiated and that deal has now been voted against by the very Prime Minister that negotiated it is extremely difficult."
Ms McEntee said that Tánaiste and Minister for Foreign Affairs Simon Coveney is expected to discuss Brexit's impact on the Good Friday Agreement with the US government during a visit to Washington next week
Meanwhile, German Justice Minister Katarina Barley said the European Union does not see any solution to resolving the issue of Irish border arrangements after Brexit other than having a backstop.
Speaking on RTÉ's Morning Ireland, she said: "We definitely will not accept a border in the normal sense between Ireland and Northern Ireland, that is something that we've been very clear about from the very beginning.
"Britain has not offered any proposition whatsoever and I think that we (the EU 27) have to stay really, really strong on the backstop".
British Foreign Secretary Jeremy Hunt said yesterday that the government would take a few days to formulate new proposals for the border and also hinted an extension to the Brexit process, beyond exit day on 29 March, might be required.
"I think that is important that we all stay together and don't let time pressure divide us," said Ms Barley.
Additional reporting: Reuters