Taoiseach Leo Varadkar has said the Government is not contemplating a hard border on the island of Ireland in the event of a rejection of the draft Brexit withdrawal deal.
Speaking on RTÉ's The Week in Politics, Mr Varadkar said the focus remained on getting the deal ratified, but he added that a difficult conversation with the EU would have to take place if the UK parliament votes it down.
He said that while the Government will have "a listening ear" towards the UK government with regards to the future relationship declaration, this will not extend to the 585-page withdrawal agreement, which he said has been "agreed already by the UK government and by negotiators".
Varadkar: "We've always had an open ear, open door to requests from the UK govt" pic.twitter.com/H4KvviuxXo

— RTÉ News (@rtenews) November 18, 2018
Speaking later on RTÉ Radio's This Week programme, Mr Varadkar said: "If we get the future relationship right, we may never need to invoke the backstop. Prime Minister Theresa May described it very well this morning as to why an insurance policy couldn't have a unilateral exit clause."
The Taoiseach said it was always going to be difficult for Mrs May to get her deal through.
"Politics in Britain is very divided, the country is still divided roughly 50/50 on whether they want to leave the European Union at all, and even if there was a second referendum what would the question be, would it be on 'remain or leave' or would it be 'deal or no deal'.
"They're in a very difficult situation, sadly it's a situation they've put themselves in."
We need your consent to load this rte-player contentWe use rte-player to manage extra content that can set cookies on your device and collect data about your activity. Please review their details and accept them to load the content.Manage Preferences
Meanwhile, Mrs May has said that the next seven days "are going to be critical" and she will be travelling back to Brussels to talk to figures including Jean-Claude Juncker, the President of the European Commission.
Speaking on Sky News, Mrs May said "nothing's agreed until everything is agreed".
"These next seven days are going to be critical, they are about the future of this country," she added.
Mrs May defended her Brexit deal, saying that the EU originally wanted to offer the UK an "off-the-shelf deal".
"We fought that, we stood our ground, we said no, we're the UK, actually we can have a better more ambitious relationship with you," she said.
"It took time but they have come round to that, they said yes, we'll agree a more ambitious relationship with the UK than we at first thought we could give you."
Mrs May dismissed suggestions that the Irish backstop represented a "Hotel California" Brexit - from which you could never leave.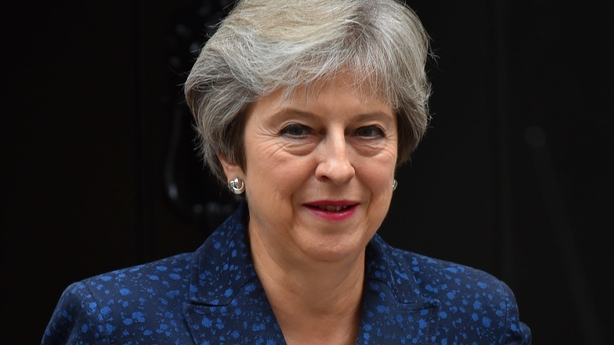 She said the backstop is an "insurance policy", adding: "Both sides can say yes we agree that there are arrangements in place, that a deal that provides for the people of Northern Ireland and therefore that backstop is no longer necessary."
Mrs May said that as far as she was aware, a formal challenge to her leadership had not yet gained enough support to trigger a confidence vote.
"As far as I know, no, it has not," Mrs May told Sky News, when asked if the threshold had been met for a formal leadership contest.
To trigger a contest, 48 MPs from her Conservative Party must submit letter to the chairman of the committee in charge of leadership contests.
Asked whether she had considered quitting, Mrs May said: "No I haven't.
"Of course it has been a tough week, actually these negotiations have been tough right from the start, but they were always going to get even more difficult right toward the end when we are coming to that conclusion."
---
Read more: 
DUP's Dodds says time to work for better Brexit deal
Brexit - can you fix stupid?
Second referendum would be 'seriously undemocratic' - UK minister
---
Meanwhile, speaking on the same programme, British Labour Party leader Jeremy Corbyn said his party cannot support the draft withdrawal agreement.
Mr Corbyn said Mrs May has not got majority support and needs to renegotiate.
He said Mrs May's Brexit deal was a "one-way agreement" in which the EU "calls all the shots".
"We'll vote against this deal because it doesn't meet our tests. We don't believe it serves the interest of this country, therefore the Government have to go back to the EU and renegotiate rapidly.
"There's 500 pages in this document much of which is quite vague, where's the guarantee on environmental protections, where's the guarantee on consumer protections, where's the guarantee on workers' rights?"
The Labour leader also revealed that he believed another referendum was "an option for the future" and "not an option for today".
Asked if he would support Remain in a second referendum, he said: "I don't know how I am going to vote, what the options would be at that time."
Elsewhere, Britain's former Brexit minister Dominic Raab said has said that Mrs May's Brexit deal was fatally flawed but she could still change course.
           
Mr Raab, who resigned on Thursday saying he could not support the deal, said he would back Mrs May if there was a confidence vote and that talk of a leadership challenge was distracting when the government should be focussed on delivering Brexit.