Tánaiste and Minister for Foreign Affairs Simon Coveney has said he does not believe the EU will accept the British proposals on Brexit in full because of concerns that the UK are "picking and choosing" what elements of the single market they want to be a part of.
On Friday, the British cabinet reached agreement on the outline of its future relationship with the EU following marathon talks at Chequers.
Speaking on RTÉ's This Week programme, Mr Coveney said he does not believe that Britain will get everything they are asking for but that the document produced after Friday's meeting was a "move in the right direction" and that it will be "taken seriously" by the EU.
Mr Coveney said that there were some contradictions in the proposals such as there being a common rulebook on agri-food but a desire to leave the Common Agricultural Policy.
He said he does not believe the negotiations will be easy and that there was a long way to go but the document produced a basis for "serious negotiation".
Mr Coveney said he had spoken to the European Commission's chief Brexit negotiator Michel Barnier since the publication and that Mr Barnier has an open mind on the proposals.
But he said people should not be fooled into thinking the two sides were close to an agreement and that it was "far from a done deal".
He said the Government had a contingency plan in the event of 'no-deal' Brexit including plans for customs checks east to west between Ireland the UK.
Mr Coveney said that from an Irish perspective there was some "strong" and "positive" language about Britain's commitments to the backstop and their assertion that they hope it will not be necessary, but he admitted that there was no detail on how such a backstop would operate.
He added that, overall, the document was a significant political development out of London that pointed to a softer Brexit than expected and that had to be welcomed.
No detail surrounding backstop, says Fianna Fáil
Lisa Chambers, Fianna Fail's spokesperson on Brexit, said she does not feel Ireland is prepared for a soft Brexit let alone a hard one.
Speaking on RTÉ's This Week programme, she described the "alarmingly low and slow" uptake of Government support packages in response to Brexit.
"The number of businesses availing of Government support packages is so low it shows how ill-prepared we are," she said.
She said her main concern from the Chequers Brexit meeting is that there was no detail surrounding the backstop.
She believes that it is unlikely to be part of the White Paper that is due to be published this week and described this as "very alarming".
She said this has to be a focus for the Irish Government ahead of the October meeting.
UK plan honours the Leave vote, says Gove
Earlier today, British Environment Secretary Michael Gove said the UK government's Brexit plan "honours" the Leave vote.
Speaking on The Andrew Marr Show on BBC1, Brexiteer Mr Gove said it means they will be outside the Freedom of Movement which was a critical promise.
"Over a huge swathe of our economy, we will have autonomy to decide what is in our best interests," said Mr Gove.
He said they have made a balanced decision which gives Britain more control.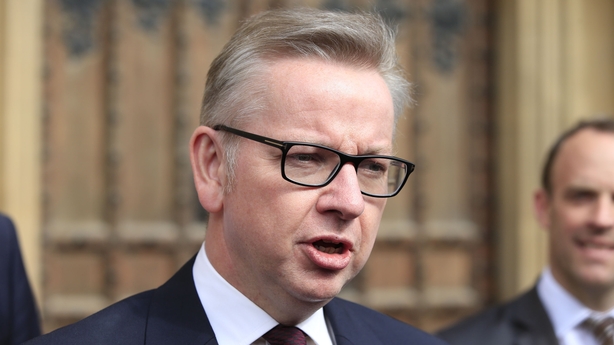 "We will also have a free trade agreement between the EU and the UK that will work in the interest of business. We will also be outside the formal legal structures of the European Union.
"We will no longer have the European Court of Justice having direct control of what happens in this country. And we will no longer have membership of the Common Foreign and Security Policy. So all of these structures, we are outside, that is what people voted for. This honours that vote," said Mr Gove.
He said for 20% of their economy, Britain will agree a common rulebook with the EU, but should the EU develop or introduce new laws in their area, Britain has the power to accept or reject them.
"That is wholly different from being in the European Union, where new laws are formed at a European level and every member state has to accept them."
He said for 80% of the British economy that will be outside the EU's regulatory orbit, "it provides the perfect balance".
Mr Gove said post-Brexit they will decide who has special EU rights, on their terms.
"It will be up to us to decide what our immigration policy is. It is a matter for this government to decide what our future immigration policy will be. That is what taking back control means.
"At the moment any citizen of the EU has a right to come here entirely freely as a matter of EU law. As a result of being outside the EU we will be able to say 'No'. We decide who comes here and on what terms," said Mr Gove.
Mr Gove admitted the plan, which will see the UK tied to EU rules on goods, was not everything he had hoped for but he was a "realist" and Prime Minister Theresa May's lack of a Commons majority meant the "parliamentary arithmetic" was a factor in deciding what could be adopted.
All members of the British cabinet have signed up to the proposals, but backbench Brexiteers have hit out at the plans, with speculation at Westminster that some could be prepared to submit formal letters calling for a leadership contest.
Meanwhile, it emerged that British Foreign Secretary Boris Johnson backed the proposals at Chequers despite claiming that defending the plans was like "polishing a turd" during the meeting.
Mr Gove said Mrs May "allowed us, during the course of a day, to share views, to share analyses and to look at this proposal in detail but at the end of it collective responsibility reigns".
Mr Gove said the compromise plan was a "perfect balance" between the need for close access to Europe and the ability for the services industry to diverge.