Brexit minister David Davis has said the British government has not carried out an assessment of what effect leaving the European Union without a new trade deal would have on the economy.
Prime Minister Theresa May, who is due to begin the formal exit process this month, has said she is prepared to walk away from negotiations with the EU without a deal if she is dissatisfied with the terms on offer.
In the absence of an agreement, trade between Britain and the other 27 EU members would default to World Trade Organisation rules and tariffs, in contrast with the free access the UK has enjoyed as a member of the EU's single market.
Some proponents of a so-called 'hard Brexit' are relaxed about that scenario, while critics see it as potentially disastrous for the economy.
Mr Davis said he did not think that leaving with no deal would be as good an outcome as the free trade agreement Britain is seeking with the bloc, but he agreed with Mrs May it could be better than a bad deal.
"I can't quantify it for you in detail yet. I may well be able to do so in about a year's time. It is certainly the case that it is not as frightening frankly as some people think," he said.
"You don't have to have a piece of paper with a number on it to have an economic assessment. I spent ... most of my working life before coming into politics dealing with business.
"You often knew what was a good deal even though you didn't have the numbers."
He told a parliamentary committee hearing the last available analysis on the 'no deal' scenario dated back to the campaign for the 2016 referendum in which Britons voted to leave the EU.
"One of the issues that's arisen is that those forecasts don't appear to have been very robust," said Mr Davis, who became a minister in July after the vote.
Pressed whether any work had been done since then, he said: "If you mean under my time, no."
Mr Davis said this was because there were too many variables and uncertainties involved, including in areas such as customs procedures.
"Until we have worked out all the mitigation procedures we could not quantify the outcome," he said.
Mr Davis said he expected legislation giving Mrs May the power to trigger Article 50 of the EU's Lisbon Treaty, launching divorce talks, would be formally approved by Queen Elizabeth tomorrow.
The opposition Labour Party's Brexit spokesman Keir Starmer said the government was "recklessly talking up the idea of crashing out of the EU with no deal".
"No deal would be the worst possible deal. The government should rule out this dangerous and counter-productive threat before Article 50 is triggered," he said in a statement.
EU not intimidated by British threats, says Tusk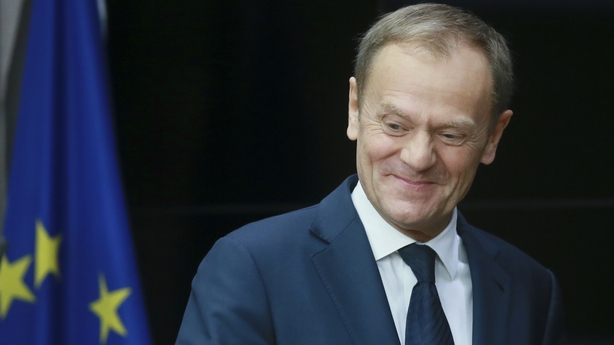 European Council president Donald Tusk earlier said Europe will not be "intimidated" by British threats to walk away from trade talks if it cannot get a good deal, has said.
In a statement to the European Parliament, Mr Tusk dismissed suggestions that a failure to reach agreement in Brexit talks would be worse for the EU than for Britain, telling MEPs: "A 'no-deal scenario' would be bad for everyone, but above all for the UK."
Mrs May and Chancellor Philip Hammond have indicated that if a favourable trade deal cannot be reached, Britain is ready to transform itself into a low-tax, low-regulation zone off the shore of Europe to lure international business away from its former partners.
Reporting back on last week's Council summit, Mr Tusk told the European Parliament the EU wanted Brexit talks to be "constructive and conducted in an orderly manner".
But he added: "The claims, increasingly taking the form of threats, that no agreement will be good for the UK, and bad for the EU, need to be addressed.
"I want to be clear that a 'no-deal scenario' would be bad for everyone, but above all for the UK, because it would leave a number of issues unresolved.
"We will not be intimidated by threats, and I can assure you they simply will not work.
"Our goal is to have a smooth divorce and a good framework for the future. And it is good to know that Prime Minister Theresa May shares this view."
Mr Tusk echoed European Commission president Jean-Claude Juncker's recent suggestion that the UK may be able to rejoin the EU if opinions change following Brexit.
"I will do everything in my power to make sure that the EU and the UK will be close friends in the future," said Mr Tusk.
"Britain will be dearly missed as an EU member state. At the same time, I would like to stress again that the EU's door will always remain open for our British friends."
He added: "When it comes to negotiations, we will have no choice but to start the withdrawal talks once the UK notifies. We are carefully preparing for these negotiations, in close consultation with member states and the European Parliament."