The most common query Ireland's Higher Education Authority is receiving in relation to Brexit comes from school students who hope to study in the UK after their Leaving Certificate exams. These students want to know will this still be possible.
Around 14,000 Irish students travel to Great Britain and Northern Ireland each year to study.
Around 2,500 UK students come here. In the short-term at least a no-deal Brexit will not disrupt this flow. The Common Travel Area between Britain and Ireland will continue to apply for existing and for future students.
Students will also continue to pay the same fees and access the same kinds of loans and grants that are currently available to them. But there's a caveat; this is the scenario for the immediate future only.
For families living on either side of the border, the continuation of Common Travel Area arrangements provides one other important educational reassurance. Children living on either side of the border can continue to attend school in either jurisdiction, as they do now.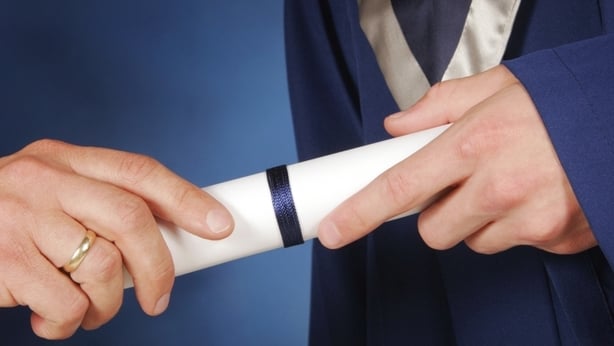 But will the creation of a hard border create physical difficulties to this daily flow? This is one of many questions that cannot as yet be answered.
A hard brexit will lead to certain change in other areas, and these present challenges and some opportunities for Ireland. Under the EU's Erasmus programme, tens of thousands of EU students spend a year studying in a different country.
A no-deal Brexit means the UK will definitely no longer participate in Erasmus (future participation is unlikely under a soft Brexit too). Around 25,000 students from all over the EU currently spend a year in the UK under Erasmus.
If the UK is no longer accessible to students then it is likely that more will consider Ireland instead - as the only remaining English-speaking EU country. But receiving more Erasmus students here presents a challenge. For one thing, given the current housing crisis, where would they live?
---
---
There are serious challenges when it comes to research carried out in our third-level institutions. There are close links between the third-level systems in Ireland and the UK, and institutions in both countries often come together in joint research programmes to draw down European funding.
If and when the UK leaves the EU then this will come to an end. No new UK partnerships will be possible for the purposes of EU-funded projects. Ireland will lose valuable partners and will have to look for collaborators elsewhere.
When it comes to the lucrative international student market there are opportunities for Ireland.
Irish third-level institutions are desperate to attract students from countries like China. They pay big money. If the UK is no longer a member of the EU then Ireland can market itself as its only English-speaking member.
Irish institutions may also hope to capitalise on any perception that the UK may not be as welcoming to foreigners.
While some agreement has been reached to mitigate damaging upheaval in the short-term, the long-term consequences of a no-deal Brexit are extremely uncertain.
The educational connections on these two islands are deep and longstanding ones, and have been hugely beneficial to Ireland.