The past year has been a very trying year for gyms with all the restrictions put in place. They've had opportunities to open their doors in between the lockdowns but under strict guidelines and social distancing. At no point during the pandemic have they been back to business as usual.
As part of our Boost My Business initiative, Fiona Alston spoke to two gyms owners about their business journey through Covid and an outdoor gym company on the rise of outdoor workout spots in Ireland.
Nikafit Studios first opened its doors in December 2016. Owned by Niall Mullen and Katy Tanham, their first personal training studio was located in Kilcoole, Co Wicklow and they have also opened a second studio in neighbouring town Greystones.
Thanks to their business model, Nikafit has been able to continue training their clients throughout the pandemic by adapting their service to online delivery.
"We specialise in small group personal training, essentially it's two to four clients per coach," says Mullen."
They were looking to make personal training more affordable to everyone over a longer period of time.
"Our clients get the best of both worlds. They can still access high quality personal training at a fraction of the cost of a one-on-one session, and then they had the added benefits of the small group dynamics," he says.
This small group dynamic was what made things easier for the business to move online when the time came. They closed the studio just before the March lockdown arrived and began plotting their online offering, so they were prepared when the country retreated into their homes.
They offered eight online sessions daily and they also ordered enough resistance bands to cover their client base so they could offer them out as part of their home training workouts.
"Sometimes the coaches will be training and the people at home will be following along with them," explains Mullen, "and we had another style where we have one of our coaches coaching another coach and then the clients follow along."
"What we found the most success with was our small group personal training model but in an online format. We can have four to six people per class online and our coach will take the guys through the workout of the day, based on the equipment that they have," he adds.
Due to the restrictions put in place, when the gyms have been allowed to re-open, their model suits the pod training perfectly so it causes little disruption to the service they are providing their clients.
"Since Covid everyone now has their own rack, their own cardio machine and access to their own dumbbells and they are in their own little space so it's like they have their own mini gym inside a gym," explains Mullen.
"And that's what allowed us to continue to grow in that in between period of the lockdowns where we were allowed to open but still had to train people as individuals."
"Our model actually kind of lends itself to that, we were in a good position really, we didn't have to change things too much," he adds.
As they provide a consultation and accountability service with their training Nikafit have been ringing their clients weekly to keep them on track.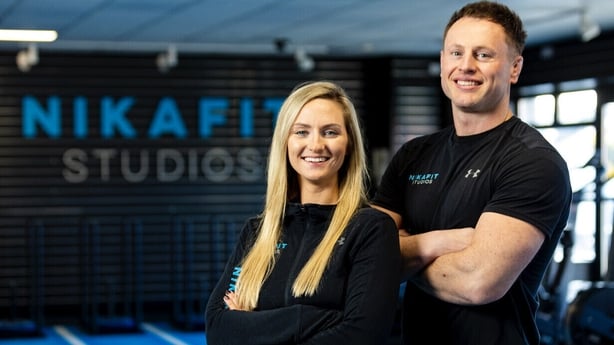 "We call every one of our clients for 15-20 minutes every week to help them with their goal setting process and keep them accountable along the way, and also just for someone to talk to," says Mullen.
Nikafit have secured space at Greystones Rugby Club to begin training their clients outdoors when outdoor training resumes on May 10. The studios will re-open for personal training when restrictions allow in June.
Adjusting to an online business may have been a natural progression for some gym owners who offer classes or training services to their clients, but spare a thought for the gyms who have had to close completely during lockdown.
Westside Gym in Blanchardstown is a large-scale gym facility which prides itself on having among the best ranges of gym equipment in Ireland.
They provide the gym facilities for their clients and while they don't have classes or group training sessions, they have a wide range to personal trainers associated with the gym to provide individual training sessions.
This gym model meant that they could not adapt their offering to clients online, so the business has been closed during every lockdown.
"We've a really broad membership base," explains owner Simon Murphy. "Our niche is providing the best equipment and best facility that people can train in - it's not something that can be adapted."
"Our members wouldn't naturally cross over to doing classes or online stuff. Some of our personal trainers have provided days where they take over social media and give tips on home workouts and to fill their week but at the same time it's not adaptable to our business," he says.
While some gyms around the country hired out their equipment to their members for home use, this was also something that Westside was unable to provide.
"Our equipment is really expensive, and I didn't want it to end in a situation where something gets broken or doesn't work the way it did when you handed it out and then you end up in problematic scenarios so no, it wasn't something I engaged in," he says.
"I know some gyms did and fair play to them, but we wouldn't be in a situation where that would be possible," he adds.
During the periods where, under the Government restrictions, gyms were allowed to open Westside Gym operated under a 50-person restriction.
"How we managed that was we handed a bottle of sanitiser, numbered, to each entrant into the door," he explains, "so we knew that we had only 50 people in the door at any one stage."
"We didn't operate under a broken system, however, our membership management system allowed us to know when people were in the premises and off the premises at any one time so we had the ability to track, should we have the need to, if an issue arose," he says.
With the news that gyms are due to reopen on June 7th Westside Gym are beginning to prepare to welcome clients back through their doors, but preparations have been limited for now as Murphy says there has been no clear guidelines on the re-opening of gyms.
"There is zero guidance, there's no guidelines which is a real frustration," he says. "I think it's something that needs to be looked at as an industry. I think there's 485 registered gyms in Ireland - possibly could be more. We don't have an elected official; we don't have a trade union. We don't have a member of government that speaks directly to us or essentially manages us as an industry."
"There's a massive difference as a business if they're going to let us open under a 50 person restriction, whether it will be less, whether it will have to be operated under a booking system, whether it will have to be operated with people coming into the gym with masks, it is all stuff that we could be getting prepared for now, considering we are less than a month away from opening, but we don't have that information," he explains.
In order to see the business through the pandemic, Westside Gym have had to let go their staff until the gym re-opens but have reassured them their jobs will be waiting for them in June.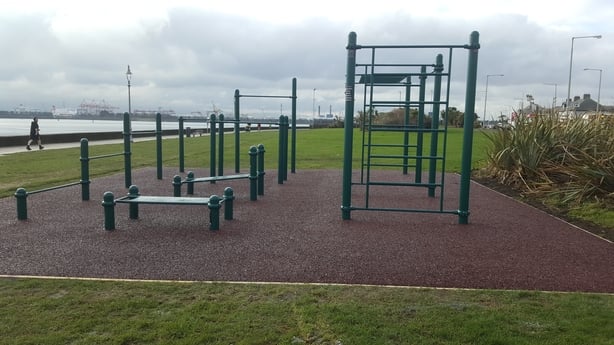 One company who has seen a huge increase in business in the past few months is outdoor gym equipment suppliers Outfit. The Mayo based business has been experiencing peaks and troughs throughout the past year.
Outfit began after Chris and Marian Glynn returned from a trip to Turkey. Outdoor gyms had become popular there at the time and could be found all along the beaches and promenades.
"My father never wants to miss a business opportunity," says Ryan Glynn, Marketing Director at Outfit, "so he basically said they could sell well in Ireland, they could be really useful."
"He hadn't seen them in the country before so he looked into the application of them, the functionality and the theory behind them and when he saw how useful they could be, and the benefits that they can have, it was a no brainer that we wanted to start bringing them into this country," he says.
Outfit design the site for the outdoor gym, advise on the machines best suited to the local demographic or facility, they prepare the site, and install and maintain the equipment.
"We concentrate solely on outdoor gyms so in order to be the best at what we do, we don't get involved in playgrounds or do anything beyond that. Outdoor gyms, that's our sole focus," says Glynn. "We have 230 gyms across the country now having started thirteen years ago. We've supplied prisons, caravan sites, schools, county councils and private companies."
The business was initially a side business, starting a business in 2008 was a risk but around 2011 they began getting interest from county councils and they moved from 'ticking over' to employing a team.
And then March 2020 happened and it stopped them in their tracks. Classed as a construction company they couldn't do any installation work and projects were put on hold. The quotations dried up too.
"It was actually almost a thankful break because it had been so hectic for the few years before that it kind of gave us a bit of a chance to take stock of ourselves a little bit and get things like warehousing sorted and some inhouse work that we would have been putting off," says Glynn.
"We've managed to get a lot of things like that in order over the past few months which has been handy," he adds.
As the country starts to re-open Outfit have found themselves very busy again, so much so they have had to make some adjustments to their team.
"We're just so busy in the office getting quotations or following up with people," explains Glynn. "We have two teams on the road this week doing installations. Normally, we have one installation team, who go from job to job, but we've had to actually split up and take new people on to get all the installations done, because there's a bit of a backlog."
"There's just so many inquiries that even once we get the backlog cleared, the amount of new work that's coming in, is just going to create an ongoing backlog," he says. "It's fantastic. It's a great problem to have."
One trend that they have seen in outdoor gyms is the rise in the number of calisthenics gyms they have been requested for.
"In the past two years we have started to see more of a demand for them and I think that is going to continue," he says. "I think most places putting in an outdoor gym over the next few months and years, we'll be recommending to them that calisthenics should form a part of that."
"They offer a different level of functionality to the other equipment. They are probably a level up from the other equipment and they offer more variation in terms of the workouts you can do, with a bit of imagination," he adds.
On a sunny day Clontarf Promenade could look just like Santa Monica's muscle beach.