To celebrate Earth Day this week, Boost My Business looks at three companies with sustainable personal hygiene products making an environment impact in the bathroom.
Fiona Alston caught up with three founders making a difference while building their new brands.
Ben Breslin has his girlfriend Marie to thank for sending him on the path to sustainable deodorant, she alerted him to the chemicals in the spray deodorant he was using.
This then led to Breslin researching the harmful chemicals in deodorant and the impact the packaging had on the environment. There was only one thing for him to do - make his own.
Level five lockdown provided the perfect back drop for the project. Vico Deodorant got off the ground.
"I did a lot of research on the different ingredients that were in deodorant," says Breslin. "I looked at the bigger and the smaller brands and created a massive Excel spreadsheet and compared the key ingredients and the deodorants which had the best reviews and that people say actually work."
"I tried to reach out to people but didn't read any responses because I was obviously starting my own brand," he continues. "I found a lot of guidance online, to be honest - it was a lot of trial and error. We actually tried seventeen different recipes before we finally found one that worked."
"We gave it out to 50 random people, friends and family got feedback, and kept iterating it, then gave it out to 100 people and everyone came back saying this works really, really well, the texture is perfect, and the packaging is perfect," he says.
All the ingredients are sourced within Ireland even the packaging which is compostable. The deodorant is made at home in Cork.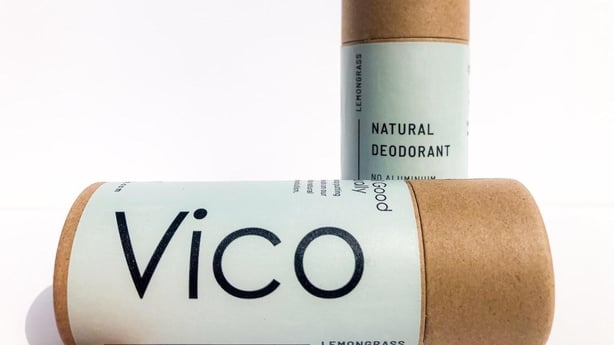 Now that he has his product perfected, it is a family effort to make the bigger batches bringing his mum, brother, sister, and girlfriend into help. "It's very much a family thing, they all help me, and Maria has been hugely involved."
This method was working well while they were in the pilot stage of the project but now the word is out, and the orders are flooding in it is time to start considering other manufacturing options.
"We've had such an amazing response, I'm actually quite overwhelmed with how many people have supported us," he says.
"So we will have to think about either renting somewhere out to do it by ourselves on a larger scale or find someone who will manufacture it for us, because at the moment we are getting in so many orders it's hard to keep up with them which is a really good complaint," he adds.
Over in Mayo another company making an impact on the environment with their shaving oil is family run business Pamex with their De Facto product.
Tom Murphy knows a bit about adversity. He was once the general manager of a pharmaceutical company until a take over and then he found himself on the dole. This was the event which prompted him to set up a company with his wife called Pamex Limited, in 1995.
Pamex sources niche products from around the world which 'will have a positive impact on people's lives.'
One of those products was an American shaving oil which Murphy himself found imperative to his personal hygiene routine.
"Shaving was a major challenge for me every single day, I had very bad skin. Sometimes I'd finish shaving and look like I'd gone ten rounds in a ring with Mike Tyson," explains Murphy.
Keen on the oil, he flew to the States to meet with its inventor to strike up a deal.
"I had the marketing rights to the product, which at the time was called Total Shaving Solution, for the world except for the United States so I said I'm going to make a business out of this and that's what I did," he says.
"A number of years later I realised from an expense point of view, from a climate point of view and from a sustainability point of view," he continues, "I thought it was ridiculous bringing this product over from the States, why not make out own formula here?"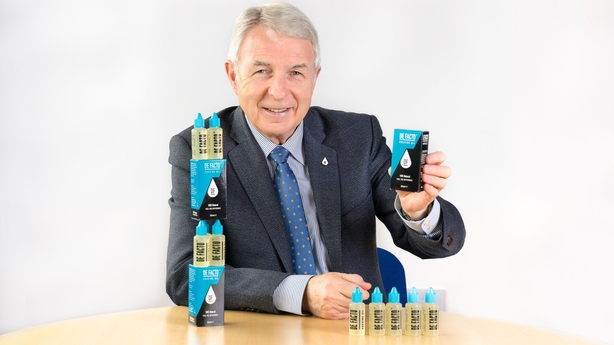 "That's exactly what we did and that's how De Facto Shaving Oil came about," he says.
Working together with fellow Mayo company Cosmetic Creations (now Lynoslife) they created a formula with would suit the Irish skin in particular. All ingredients are locally sourced.
"All of the packaging can be fully recycled, and the bottle is made of HDPE plastic, all you do is rinse it out and put it in the recycling bin," explains Murphy. "People do not realise that if they are using foams and gels from a pressurised can, because of them being pressurised they can not be recycled. They go to landfill.
It's now available in most Irish pharmacies and is also sold through their own website. "Last year alone we sold to customers in 34 countries throughout the world."
On the East coast in Arklow, in Co Wicklow, new company Archie and Izzy are reducing plastic waste in the environment with their own brand of toilet tissue and kitchen rolls.
"In early 2019 myself and my partner Lauren were looking for ways to reduce the amount of plastic packaging that our family was going through," explains Gary Coyne. "We felt we were making trips to the bin daily with so much waste and we realised plastic packaging was on everything and it was absolutely everywhere."
When they did a little research on the impact plastic was having on the planet, they were shocked to learn that the plastic packaging around their toilet rolls and kitchen rolls can take up to 500 years to break down.
"It was at that stage that we went online and bought kitchen rolls and toilet paper from one of the leading eco-friendly brands but unfortunately once it came to our house it was completely wrapped in plastic," says Coyne. "It was such a bad experience, we felt like they didn't really care and that's when we thought we could do a better job ourselves."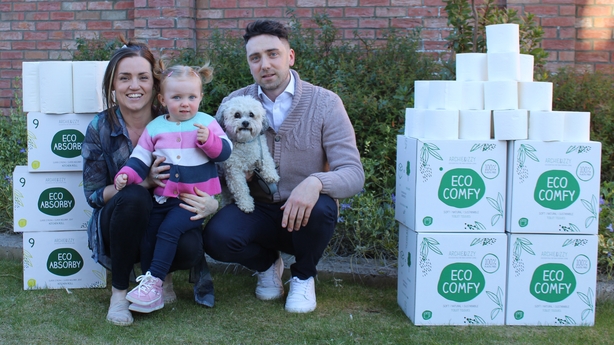 By early 2020 they had their products tried and tests and good to go, until Covid struck.
"We missed out on the biggest surge in toilet paper sales history by about one month," he says. "It was very hard to take. Pretty much instantly all the guys we were lined up to work with were out of stock instantly."
"We decided to finally launch on Amazon on November 11th and then about eight weeks later we were hit with Brexit. Our shipping costs were too expensive, so we had to pause that," he explains.
"Third time lucky we started selling on our website on January 7th, 2021 and we were stocked in our first store mid-February," he says. "It's been an absolute whirlwind for the last few months, we are since stocked in 14 independent retailers."
Archie and Izzy, named after the couple's dog and first daughter, package their rolls in boxes removing all any plastic from their business. Through their partnership with Eden Projects, they plant one tree for every box ordered.
"Seeing people trying to cut back on their plastic waste and now actually buying our products is just the most amazing thing ever," he adds.