Mobile food businesses have really taken off in the last few years, there are popping up all over Ireland treating their customers to fayre they might normally only find in urban areas.
As part of our Boost My Business initiative Fiona Alston caught up with two businesses to find out what's involved in taking your business on the road.
Eric Maher and Conor Heneghan were living in New Zealand when they first had the idea of starting a mobile food business. Influenced by what they were witnessing around the city of Wellington they decided to move home and go into business together.
"We wanted to bring that kind of speciality, a high grade range, outside of the greater urban areas so they have a better selection," says Eric Maher. "And we wanted it to stand out as well, to give it a good atmosphere, a good vibe and somewhere people could feel comfortable around."
"We started operating in October 2019. We came home during the summer and we did our plans and Conor built it from scratch. He's the carpenter side of it. We bought a flatbed trailer and built the unit and then dropped it onto the trailer," he explains.
The unit they made was created using pre-loved items and second hand materials where possible.
Being new to the mobile food business game, the pair reached out to their local HSE health inspector to get advice what they would need to build a viable food truck.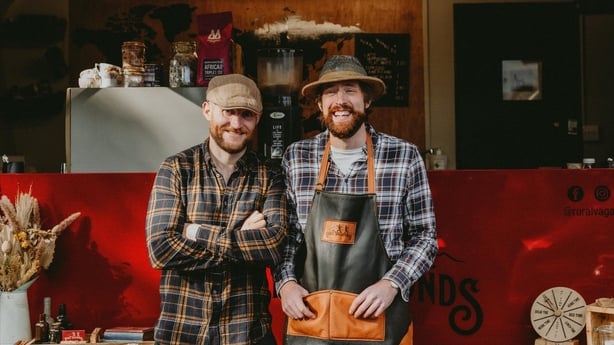 One of the things they did have to consider was where would they get their power from.
"We have a dual fuel coffee machine so it can run off electricity and it can run easily off gas so you are less dependent on lugging stuff around," he says. "We have a generator as well that's 6,000 watts to heat the water as well. These are all things we had no idea about at the start, the logistics of it all."
Through their own experience of starting up a mobile coffee business, Eric has given us some other tips to share to anyone looking to hitch up their own trailer.
Make sure you have a water filter to make sure limescale isn't an issue and the quality of the water is clean and is not impacting the quality of your coffee.
Have a good water pump
A good grinder is as important as your coffee machine. With the wrong grinder you can have too bitter a coffee or too sour a coffee which is a shame if you are spending good money on quality beans.
Know where you are going to set up. Are you going to have enough footfall or are you going to be accessible enough for people to visit? We were lucky enough to get a spot at Hazelhatch station in Celbridge and we filled up the rest of the year with events, festivals and weddings.
Unfortunately for Rural Vagabonds Freewheeling Cafe, Covid-19 destroyed the footfall they were getting at the train station and all their event bookings too.
"I remember the morning, I went in on the Friday and the carpark was empty and I knew we were in trouble," explains Maher. "Slowly people that were getting married rang us and said they didn't know what was happening, then obviously, the festivals and markets disappeared."
"We lost our customer base pretty quick. We kind of had to rethink and it took about three months maybe to get set up again. That was a bit of a shock at the time."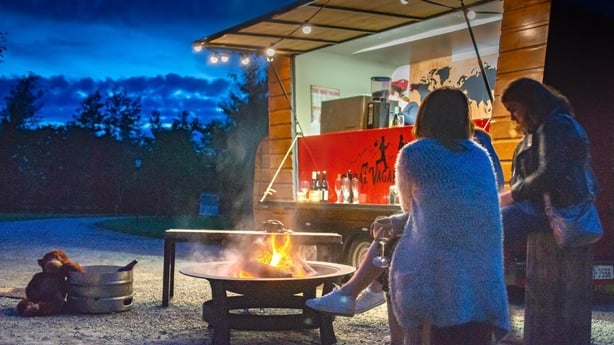 Luckily Rural Vagabonds Freewheeling Cafe pitched up in Naas Retail Park.
"What we've done here is actually quite lovely. It's nice where we've setup and we kind of have regulars now coming in five, six days a week," he adds.
Rural Vagabonds will be looking for a new home though as there is a flagship coffee shop moving in. It is handy to have your business on a trailer so you can roll on to the next spot in these situations.
Another business getting on the road soon is new Tipperary food business Fetch Coffee. In the throes of development new business owners Rachel Purcell and Kevin McKeigue are keen to get their business up and running by the end of May.
"This has been something we've wanted to do for years and never thought we would get to do it and now that we can we really want to put everything into it. We really want to give it 100% of a chance as well to succeed," explains Purcell.
The pair have recently moved from to Tipperary, back to Purcell's home place and the change in lifestyle, especially cutting out Dublin rent prices, has given them the opportunity to open their dream business.
"It didn't really ever cross our minds that we would leave Dublin," says Purcell.
"But when Covid hit we were working from home, and we were renting and had just moved to Sandymount. And even though we loved, it just didn't make financial sense to stay up there and keep paying crazy high rent, when we will be working from home for the foreseeable."
"We were really, really lucky that my grandparents' house, which is right beside my mum and dad, was free and so we could live in there and have our own space - we haven't looked back since."
"It's funny, because we never would have considered moving down to the country, it's just the way things kind of worked out," she says.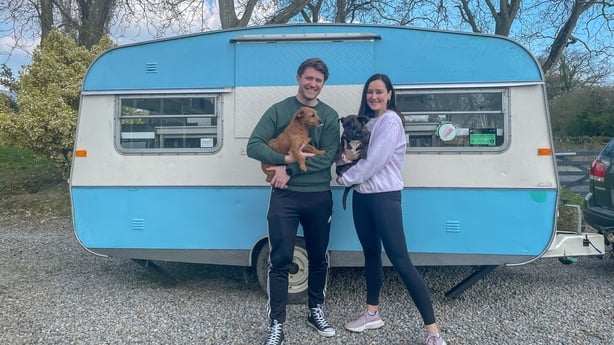 A lot of regeneration in the area was also another good selling point to help get their business dreams off the ground.
"The Blue Way has opened now, that's from Cahir to Clonmel to Kilsheelan to Carrick-on-Suir and we just thought that's such a great spot as well," she says. "If we're lucky enough to get a location on it to trade that would be ideal for the coffee truck."
"Everything is just kind of falling into place and we'd be fools not to take the opportunity," she adds.
After a lot of thorough research and advice from their friends in the business they located a food truck/caravan conversion in the UK.
Covid certainly hindered the process and they had to buy blind but fortunately they have a friend in the UK who knew what he was looking at and could confirm its viability for them.
"Eventually we found a way of getting it back home to us and the first time we saw it was when a guy drove in with it to our house here. It was a process trying to get it over here," says Purcell.
They are now in the process of deciding what fayre they going to sell from the hatch in their caravan. Not surprisingly, they will be diving into the recipes of Natural Born Feeder, created by Rachel's sister Roz.
"In terms of the coffee, our friends are actually setting up a new coffee roast, so we're hoping to use them - that's kind of in the making at the moment and we're hoping to get samples next week. But that would be our number one preference," says Purcell.
"We are obviously going to be having an amazing hot chocolate and then we are going to be doing toasties and sausage rolls," she adds.
They will have vegan and non-vegan options on the menu so if you are in Tipperary look out for a caravan coming to feed you. Location TBD.