As part of our Boost My Business initiative, Fiona Alston speaks to two artists who are creating their work using homegrown supplies.
Diane Carton's love affair with bending willow into useful and beautiful pieces began around 15 years ago when she attended a basket making class - her first experience had her hooked.
"I would grab anything that I could out the hedgerows and anything that looked remotely bendable and keep practicing," says Carton, owner of Saille Baskets. "I bought myself books and a few tools and stuff, it was just a hobby to me, like Sudoku or crossword."
"I just loved it, it had to be something hands on, it gave me plenty of blisters and every time I made something, it ended up being somebody's birthday present or a Christmas present."
It's not surprising Carton was drawn to an art which is so hands on, she is a plumber by trade. She found it difficult to get a job in the profession when she first landed in Ireland from the UK 23 years ago, but she has worked in it ever since until she decided to make a full-time business out of her basket weaving.
"I'd have a shed full of baskets made, then I would just have a look and see if there was a craft fair on anywhere, load them all up into the car and head off and hopefully sell my wares," she explains.
"I brought the willow and my tools with me and a little table and I sat and made one while I was there," she says. "That's really what inspired people because people just don't see it done anymore. There's so much rich heritage in Ireland for basketry and the children had never seen anything like it before. It was lovely to say this is from the willow tree, I grow this in my back garden."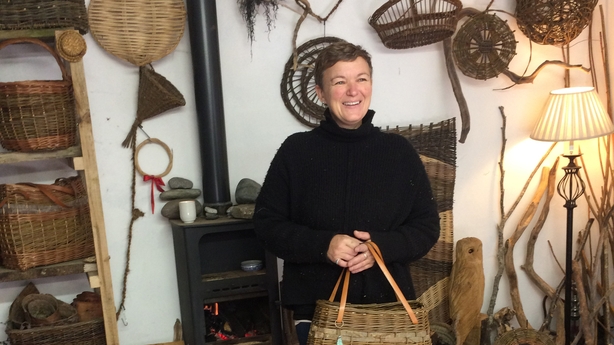 Carton contacted her local enterprise office in 2019 to see if they thought she could make a business out of her craft.
"I did Showcase in January 2020 as research, which was fabulous, but terrifying," she says. "I'd done LEO's start your own business course but trying to do branding, marketing, all this was completely new to me.
"I had no idea where I was going. I obviously had a good product, I had a good range of products, and the quality of my products was already good, I suppose from 15 years of practicing but I needed to be mentored to put a business edge on it."
"That's where the local enterprise office really came in and helped. That was fast learning. Terrifying, but fast learning," she adds.
"I've created a small range of baskets that I can do at a wholesale price that galleries and boutique shops are taking and the orders even during Covid were really very good and then the shops actually closed so things kind of dried up. It wasn't the greatest of years to go full time for the first time," explains Carton.
All was not lost as Carton was quick to make the necessary adjustments to her stock and adapt to people's needs during Covid. The tote fashion bags were not a necessary item, but shopping baskets could be useful.
"I developed some lovely contemporary styling and colours of shopping baskets and put those out on Facebook and Instagram. At that stage I still didn't have a website but the response was absolutely incredible. The direct customers came straight to me and asked 'Can you make one of those for my mother? And can you put a nice little note into it because I can't see her?'," she says. "That's how I survived Covid really."
Carton grows her own Willow supply on the land at her home in West Cork.
"It's 100% natural. I've watched it from when I planted it through each season. I watch the colours change slightly depending on the sunshine or the amount of rain, or the conditions of the land," she says. "The harvesting is done during the winter, and it has to be dried out thoroughly then and graded. It's a year-round process of producing this, and every year is very slightly different from last year. It's something that never stops teaching you."
"There are no dyes, there's no chemicals used, it is literally soil, soft rain and sunshine, and just the skill of your hands that produces this. It's not carbon neutral, it's carbon positive, because every year is absorbing carbon from the atmosphere in the growing process, and then that is harvested and locked up in the basket," she adds.
Up in Co Carlow, another artist with an unusual craft is also growing their own supplies.
Nicola Brown, owner of Nicola Brown Fine Art Textiles, uses the leaves from the trees she planted for eco-printing, where fabrics are dyed and printed naturally using leaves and other vegetation.
Brown planted 13,500 trees on her land in 2009 but sadly it has not been smooth sailing because some of the trees succumbed to ash dieback disease so unfortunately there was a cull.
"To have seen the trees that were nearly 20 feet tall, just getting all chopped down in one go. It was shocking," says Brown.
"I wanted biodiversity for the first time I planted trees, and I didn't get permission," she says. "And then the second time I did, which is just fantastic."
Brown's first move into artistic endeavours was not through eco-printing, it was through felting.
"I've always loved arts, my grandfather painted, and my mother was very good, but I have no ability with a pen. I can't draw, I can't paint with oils - I've tried," says Brown. "But once I had wool in my hands, I really felt it was easier for me to sort of do things with the wool than it is with a pen or a pencil. I just love the tactile nature of it."
Brown began teaching felt making in 2009 and pretty quickly became popular and started to get invited to teach the craft worldwide.
"I became involved with the local enterprise office in Carlow in 2013 and they gave me a priming business expansion grant," she explains. "They were forming a high-end craft group in Carlow."
"It wasn't really until I availed of mentoring and really knuckled down that I saw the direction I was going in," she adds.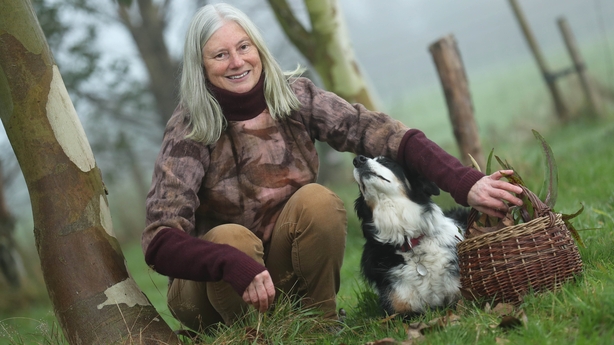 Online teaching is something that had become common place during the pandemic but for Brown it was a decision she made a few years ago, something that has given her the edge to her business during Covid.
"Five years ago, I started teaching online and that has really been fantastic because that's been the backbone of my business," she says. "And I'm now helping mentor other people. I can now work from home, earn a proper income and do what I love doing, which is great."
Last year Brown should have been teaching in Australia and Portugal but unfortunately that did not happen for her but more time at home has given her the time to develop her courses and workshops.
"I really had to push myself to write the workshops and it's been phenomenal," she says. "I'm just completing one at the moment. I have 206 students internationally. For the first time ever I have money in my bank account at any given time, you know, I wasn't worried about a bill coming in, it's just incredible."
"Lockdown has given me that total focus and I know now I will never work in the same way as I did before," she continues. "That doesn't mean I won't accept invitations to teach where I want to, but I'm not going to actively look for anything, I'll really pick and choose where I go."
Now that the new trees have grown and created the biodiversity Brown was looking for, she dyes and prints the textiles she makes, or pieces she upcycles, from her own supply.
"With my textile practice I really like being as environmentally friendly as possible, without being pious about it, and health conscious," she explains. "A lot of the textile industry use harsh chemicals for example for fixing colour on fabrics. I just try and use what's around me."
"I boil up a big brew of leaves and bark and that's where I dye my pieces," she adds.