Feeling like you might have lost control of your diet over the Christmas? Well spare a thought for those with year-round digestive issues, getting in control of their diet is so much harder than just going for the healthy option, they need to work out what is the most agreeable option for them.
Thanks to a handy device by FoodMarble, finding the wrong foods has been made more accessible over the last couple of years and due to a 2021 roll out in one of Stateside's consumer electrical stores, digestive comfort is going to be in the palm of everyone's hands.
As part of our Boost My Business initiative, Fiona Alston caught up with Aonghus Shortt, FoodMarble's co-founder and CEO to find out where their desire for good digestive health came from.
Shortt first became aware of the issues people have with digestive health when he could see his fiancé Grace's struggle with IBS (irritable bowel syndrome) and all the trial and error that surrounded her trying to find a system to manage it.
"I found out about breath analysis, a technology that has been available in the clinical environment for some time," explains Shortt.  "It's really where you've got a big device on a bench in a hospital but it's not something that's readily accessible to people."
"I come from an engineering background, so I could see that you could make one of these devices in a much smaller size and at a much lower cost so everyone could have their own device and be able to devise what foods they can digest and what foods they can't," he says.
"They are effectively crafting a diet that's personal to them - that's specific to what they're able to digest," he continues, "because it's measuring basically when food isn't being digested – it measures certain gases on the breath that are produced when food is not properly digested."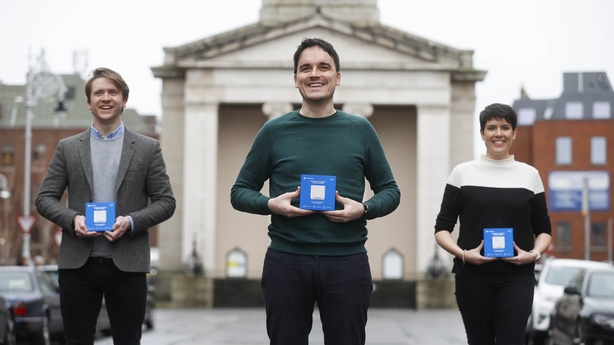 The FoodMarble AIRE is the world's first personal digestive tracker. It's a handheld device which connects via Bluetooth to a tracking app where you can log your food intake, and combined with the data from the device, track your digestive health.
"It's really just about making the technology accessible to help people feel a little more empowered to be able to overcome these sorts of problems themselves," says Shortt.
"If you see an increase in the gas levels and the fermentation levels, the app will show you what you ate, it'll show you what's in that in the foods that is most likely causing a problem," he adds.
In December 2020 FoodMarble closed a seed investment round of $2.6 million and have opted to raise further funding through an equity crowdfunding campaign on Seedrs.
They have to date sold over 20,000 devices, the majority through their own website but they are now available on Amazon UK, Amazon US and 2021 sees them listed with Best Buy in Canada.
"We're starting to make the device available through clinicians as well, mostly in the UK and the US," says Shortt.  "The recent spikes with Covid have put a pause on all sorts of non-essential things within healthcare, but a big part of next year is building that up further and making them more broadly available in healthcare."