Sport has proved its importance this year, whether it's watching it, playing it or practicing it, the lockdowns and curtailment of sports had a huge impact.
It has also seen an increase of people taking up new sports this year, or rekindling their love for a sport, in their need to keep active or sane throughout 2020.
As part of our Boost My Business initiative Fiona Alston spoke to four companies in the business of ensuring we are all well equipped to meet our sporting needs.
Kevin D'Arcy owner of WolfTennis is launching Ireland's first tennis ball subscription service this week with his first load of balls due to drop on doorsteps on the first of the month.
Ireland was once known as large manufacturers of tennis balls but within the last fifteen years all the manufacturing has been moved eastwards which is something D'Arcy hopes to change in the coming years. He's also hoping to change the face of tennis on the island too.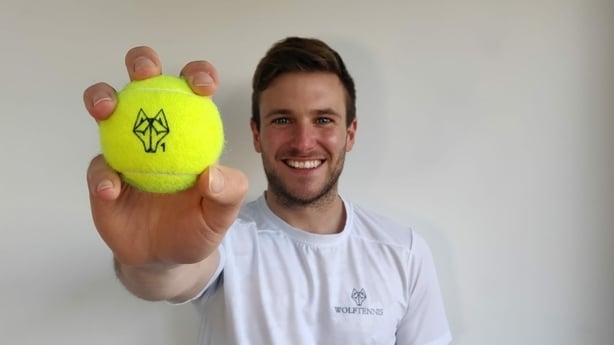 "The reason behind setting it up was to try and grow Irish tennis," says D'Arcy, "and if we can get buy in from the Irish tennis community then we can commit a portion of our profits back to sponsoring players and give them the best chance of becoming pro, and also sponsoring events to encourage participation."
Creating the right tennis ball for Irish conditions was a challenge and the business has been a year in the making. Tennis balls are a perishable item and are kept in a pressurised can so once you pop their bounce starts to drop.
"Once that can is opened, kind of like a soft drink can, the balls start to lose their pressure and therefore they start to lose their bounce," he explains.
"Everyone who plays tennis needs to buy balls regularly and I guess to become a champion tennis player, it's very expensive," he says.
The subscription service has the option of choosing two or four cans of balls per month but he also has individual can sales on his site and has developed a pressure less ball specifically for coaches which will be arriving in the new year.
"With the name [WolfTennis], we wanted something that was a nod to Irish history and Ireland used to have a lot of wolves, similar to how we used to have good tennis players and how we used to have a lot of tennis ball manufacturing in Ireland," he says.
"The wolves are extinct in Ireland but hopefully, we can bring back some of the manufacturing and hopefully some of the good times as well."
"One of the things I really want to do is introduce Irish wool on to these balls," he continues, "they're manufactured abroad, because unfortunately that's the way things have gone in the tennis ball industry but I'm really eager to try get some of that back into Ireland - even if we finished the balls in Ireland with the Irish wool."
D'Arcy is hoping that he can give back to the tennis community through the sale of his balls, at grass roots level and the dream is to bring them through to professional sponsorship.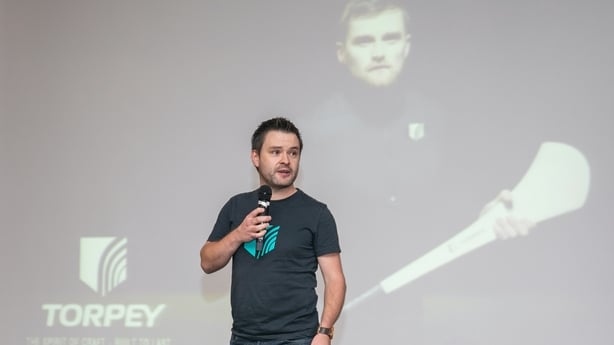 Over in Co Clare there is another shake up going on in sport. Torpey hurleys have been synonymous with the sport of hurling for generations as has ash, the only wood hurleys have every been produced from, until now.
Torpey's have been trying out a more sustainable material over the last few years and this year launched their bamboo hurleys to the market.
"Torpey started in 1981 and it was set up by my father John Torpy," says Sean Torpey, "and I suppose he had been making hurleys for a number of years before that, even during his playing career."
"It started out at something very small and grew up to where we are now producing anything up to 30 – 40,000 hurleys a year," he says.
The sourcing of ash has become increasingly limited especially through the introduction of ash dieback disease in the last ten years.
"The business has been limited in terms of how much market we can target," explains Torpey, "but with Torpey Bambú it really means we can be spread across all areas of the sport - we see the game growing abroad and it has been hard for us to target different markets because of limited ash."
The forces and impacts a hurley endures on a daily basis made for a challenge to find a material that could work as well as ash has for over 100 years. John Torpey had been researching bamboo and its capabilities in engineering, so they decided to trial it as an alternative material.
"It's very hard to explain the feeling of the ball hitting off ash hurley," explains Torpey, but you know when it's wrong and you definitely know when it's right."
"We felt that there wasn't any real difference between the strike off a bamboo hurley that we had made in early prototypes, compared to an ash hurley," he continues. "It was just about how could we engineer it to get the strength built into it, get the flexibility built into it, and get the balance built into it?."
With the help of rigorous testing and research done at Loughborough University in the UK they tested a number of materials for the next generation hurley and found that bamboo in fact came out top of the class.
"We found that with the bamboo, the ball was coming off the hurley a little bit better than all other materials, including ash," he explains.
"Players are getting used to it now and feeling the benefits of that because it has been used in the intercounty championships already this year," he says, "which is something beyond our dreams as well.
"We would have felt even while going through the project that this was going to take a bit of energy to actually convince people they could move away from ash and still have the same performance or even a better performance," he adds.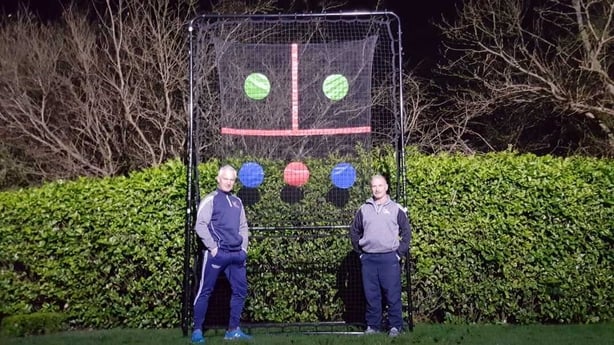 Up in Monaghan there is a new company who are also keen on helping improve players performance in all ball sports and they've had a successful year themselves as they are consistently having to replenish stock since they launched.
The Kick Company was founded but ex GAA players Mark Kelly and Gerry McElligot and their first product the SkillMaster is a rebounder to enable individuals to practice or play all ball sports.
It was through their kids coaching they discovered the need for the SkillMaster and they were finding kids were unable or discouraged from practicing or playing sports at home.
"I used to kick a ball at the wall when I was younger but maybe today our houses are too expensive to do that, maybe the house doesn't facilitate that or maybe it annoys the occupants with noise pollution inside and it starts to create rows," says Kelly.
"Gerry said he'd been looking at an old trampoline and he was trying to make something out of it," he says "I thought it's the same idea as kicking a ball off a wall if we could format it."
"We went to work from early 2018 and we got very real about it and created various prototypes - it was all speculation, it was just having a go," he says. "We had no idea about forming a company."
"We created something that was eight-foot-wide by twelve-foot-tall, which effectively is the tallest rebounder you can bring to the back door, outside of a pro level organisation."
They worked with their local enterprise office and with a feasibility grant refined the product to what it is now sourcing manufacturers to keep the cost within the budget of the market they were targeting.
"We are trying to do this to equalise activity across getting kids active," says Kelly. "We didn't want to be discriminatory in terms of socio economic standings, abled or disabled, or in terms of gender - this had to be something that everybody had the chance to do."
"That was the biggest remit in terms of costing, identifying style, design and performance - it wasn't because who you were, it was because you wanted to do it - you wanted to play," he says.
A stand at the national ploughing championships generated interest in the product for Christmas sales last year. March this year saw them sell out and supply delays due to the pandemic meant they had to wait until August before they were back in stock only to sell out again within six weeks.
"At that time, we anticipated what was happening and had another container on the way in – we sold out of that by the beginning of November," says Kelly.
"There are a lot of probable things that we don't know in our short timeframe of being in business as a start-up," he says, "there was no textbook for the eventualities of Covid."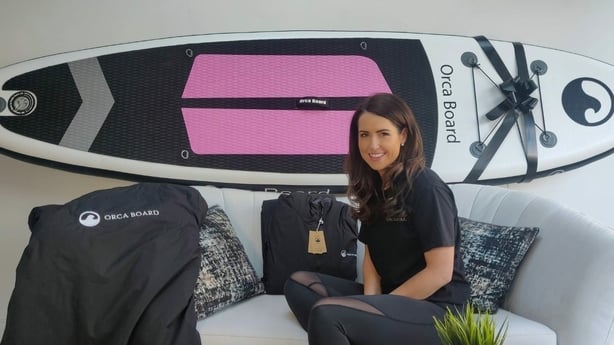 In Dublin someone else reeling from the success of their new business during the pandemic is Alana Prior owner of Orca Board, a paddle boarding equipment company.
Prior has been paddle boarding for the last ten years and had recently noticed that the price for beginners to get into the sport was rather expensive and wondered if she could do something about that.
"I just thought, why not look into creating a paddle board company and get more people involved by reducing those barriers to entry and come up with a really cost effective way of getting into paddle boarding, so that's what we did," she says.
With a background in biomedical biological science, and a masters in business management, it was a perhaps written in the stars that Prior would end up heading up her own company so close to nature.
With the sale of every Orca board €40 is donated to The Whale Sanctuary and ENDCAP charities, and she is currently working on a new board named after a beloved character from our own Irish waters.
"I design every aspect of the board such as the board length, width, thickness, finbox, fin configuration, and graphic design," explains Prior. "Each board is actually named after a European captive whale to raise awareness as it's something I am super passionate about."
"I am also currently working on designing a new board for our range, a celebration of someone a little closer to home, with proceeds going to the Irish Whale and Dolphin Group. It's Fungie - a green and gold paddleboard, with a nod to Kerry," she says.
"It's been difficult this year because of Covid but we have great companies in Ireland in terms of packaging, all our packaging comes from a Donegal company and then we outsource our manufacturing to different places in Europe and China as well," she adds.
Prior was keen to target the entry level market so decided to go with an all-rounder board.
"We also wanted to make sure that they get a life jacket with every board to make sure they are super safe on the water so there is one supplied with every board," she says.
This year will be remembered for, amongst other things, the rise of the Dry Robe, a popular changing robe amongst the sea swimming community. Prior has designed a product to rival the popular brand with a little bit of Ireland sewn in.
"We're really excited for this product," she says, "because all the embroidery is done in Ireland. We're really trying to bring in Irish companies where possible while also trying to be cost effective to bring more people into the sport of paddle boarding."
"This year we brought the Orca Robes to market and they have sold out, it's been amazing. We have more coming back in January, they've been a huge success," she adds.