One particular industry which has grown significantly in Ireland in recent years is the coffee industry and thanks to the country being forced to work from home it has grown its importance in households across the nation.
As part of our Boost My Business initiative Fiona Alston spoke to four coffee businesses who are capitalising on their newfound importance.
The Coffee Exchange is an online coffee marketplace which sells coffee and brewing equipment to the public.
"Pre Covid we didn't exist, and then during Covid, myself, Cronan Gleeson and Ciaran Gaffney set The Coffee Exchange up together as a project trying to promote Irish Coffee because there's some incredible roasters in Ireland - they're just on top of their game," says co-founder Ben Burns.
"We were the first of a coffee marketplace in Ireland," he explains, "it was quite a novel idea and it also gave an alternative revenue stream for our roasters."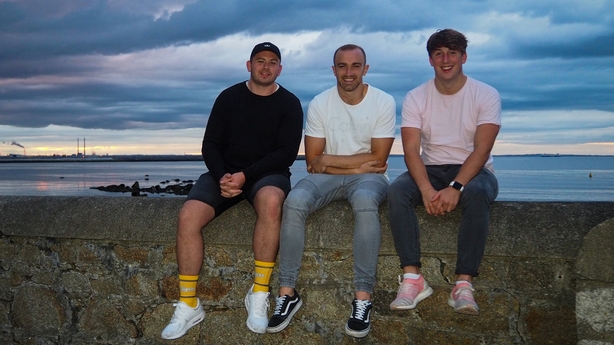 "It was something that we saw was a way that we could help everyone help get coffee to consumers, help brands to sell their coffee and promote their business through our website. And it gave us something to do which was great and we've gone from strength to strength - we're loving it," he says.
"We want to become a household name for people if they're ordering roasted Irish coffee," he adds.
They are trying to make buying coffee, and trying new coffee, more accessible and have created a quiz on their site which will recommend a coffee depending on your likes and home brewing method.
"We may well pursue setting up a mobile coffee truck and either a warehouse or premises so people can collect but as of now it's kind of just keeping doing what we're doing, take each hurdle as it comes and grow our consumer base," says Burns.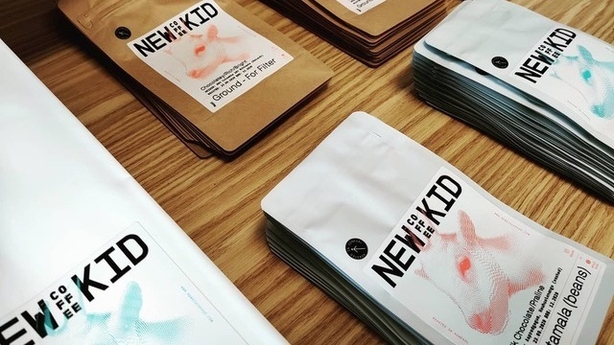 Richard Finney owner of The Counter Deli knows a thing of two about new ventures, especially during an uncertain economic time. He left a corporate job in 2008 and opened a wine shop the weekend before the bank guarantee, so starting New Kid Coffee Roasters during a pandemic is just him following suit.
The wine shop was a success and soon after his wife Oliva joined him in their new venture, it progressed into a deli and café in Letterkenny, Co Donegal.
Coffee became a slight obsession of Finney in the latter years and he enlisted the help of a Californian coffee roasting expert and began learning his trade remotely.
"We spent a year and a half on a sort of scaled down version of our industrial roaster in my mother in law's garage," he says. "We always want to try to do things as best we can so we thought we would make all our mistakes on a small machine rather than wasting tonnes of coffee."
"I would go there early mornings before anyone was out of bed and then email off results to California, he would then make comments send it back to me," he continues. "We did this for the guts of the year and a half before we even opened the roastery, so we hit the ground running making make sure the quality was right."
Initially they were to launch the roastery in February but then the lockdown came in March, their online sales got so busy it pulled them away from the roastery for a while as the demand for beer and wine grew.
They did use this time to sell a small amount of their coffee on retail to test the waters as they were still roasting on a smaller scale.
"Thankfully, we are a few months down the line now and we've a few cafe accounts on board now and the online sales of the coffee are flying thank goodness," he says.
"We are doing a huge amount of quantity, but it would be slightly more in terms of online than it would be selling to cafes so it's a bit more work as individual bags are going out rather than 20 or 30 kilos to one location for a café," he explains. "But the demand has been phenomenal - I think all our homework is paying off."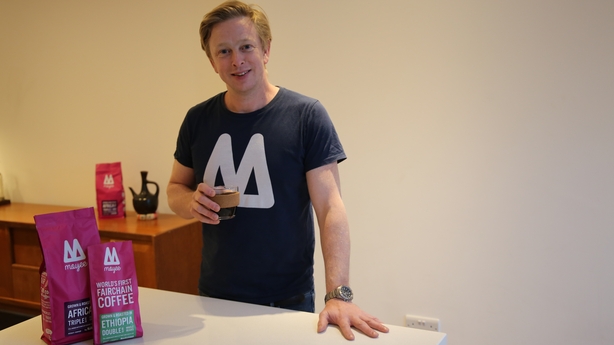 Someone else who did his homework on coffee before getting involved in the business is Killian Stokes and his business partner Shane Reilly. They wanted to learn about the origins of coffee and the supply chain.
"90% of coffee farmers live on less than $2 a day," explains Stokes, "so there is huge poverty and huge inequality in the coffee industry and that's where Moyee fits."
"We set up Moyee to combat that, our mission is to fix the broken coffee industry," he adds.
Moyee Coffee is a Dutch – Ethiopian collaboration which Stokes and Reilly came across on their Ethiopian adventures and decided to bring back to Ireland and the UK.
Moyee helps coffee growers by paying them 20% above the market value and by keeping the actual roasting of the coffee in its country of origin which creates more jobs.
They are also keen to show transparency through the supply chain so every bag of coffee will have a QR code on it and, using blockchain technology, the customer will be able to see the costs, payments and travel of that coffee bean before it arrives in their possession.
"We were supplying coffee machines and coffee into offices across Ireland and the UK because we realised early on in our coffee journey that most of us drink coffee when we are in the office," he explains.
"Then when COVID came along, our business pretty much fell off a cliff, he says, "we rapidly had to figure out our next move, so we decided to go online."
"Where in the past, online sales have been a tiny percentage it has become our main channel and our lifeline if you like," he adds.
During March, April and May they donated 1kg of coffee to frontline workers with every equivalent purchase made on their website. During that time, they donated 12,000 cups of coffee.
The initiative boosted awareness of the brand's mission and over the summer they have significantly grown their online sales of coffee and coffee machines. They have also set up an impact coffee club where club members get monthly boxes containing coffee, gifts, postcards, maps, and information.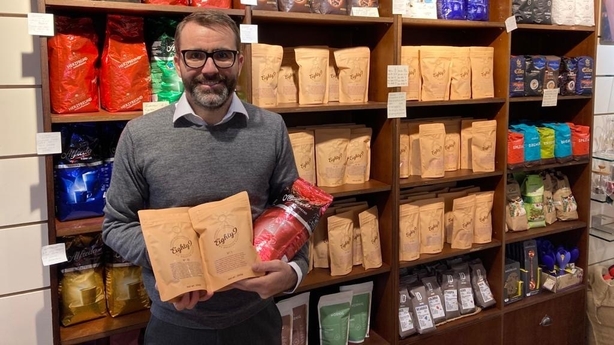 Another business immediately impacted by Covid was JJ Darboven, the company which does everything in the manner of coffee and other hot beverages.
"First and foremost, we are a coffee roaster," explains owner Graham Mongey, "we roast coffee and supply coffee, tea, hot chocolate, and all the associated machinery to the hospitality sector in Ireland."
"We have our own machinery sales division, where we sell and rent coffee machines, both fully automatic and traditional machines with grinder and filter equipment, and then we also have our own inhouse service team, where we look after all that equipment as well," he says.
They also have a team of baristas, train baristas and have a retail store in Dun Laoghaire which also includes a brew bar selling hot drinks and treats.
As the initial impact of Covid closed all of their client's businesses Mongey says that as a company they decided not to panic.
"We didn't make any knee jerk reactions, we just wanted to see what would happen," he explains.
"At the time, the level of support that businesses in Ireland have received was unheard of," he continues. "We're all used to it now so we take it for granted but at the time, I don't think many businesses would have expected that the Government would step in the way they did."
"Of course, some people can say it wasn't enough, and hasn't been enough, but I was shocked in a positive way," he adds.
They managed to keep a hold of all their staff and just sat out the quiet period, waiting for their clients to re-surface again.
"The middle of May right until I suppose September, we actually got back to being very, very busy, almost exactly like 2019." he says. "Coffee has been quite important to get through this Covid disaster, for people it's been a source of pleasure to go out and have a coffee and a walk and so we're very, very lucky in the industry we're in in that regard."
"Obviously, some things have closed down again, it has gotten a little bit quiet but we're still winning quite a considerable amount of new customers - with people getting ready to reopen, please God, on the 1st of December."
"We supply the hospitality industry and the people who work in the industry, the owners and the managers, they're actually quite optimistic people by their nature so they're not giving up, they're just trying new things," he says.
"While we are a little bit quieter than we are used to, we're trying to stay positive, we are trying to stay optimistic and we are certainly not giving up, just hoping that this will go away soon," he adds.