One industry we saw shut down during this year's initial lockdown was film and tv production. Big productions were put on hold and those involved just had to wait it out.
March was a tricky time for the business and an even trickier time if you'd just started your own business in the business.
As part of our Boost My Business initiative Fiona Alston spoke to a stunt performer who's biggest challenge to date has been tackling business in 2020.
Lauterio Zamparelli is used to taking difficult and dangerous situations in his stride, often seen throwing himself from the side of a mountain in Spain, or dodging arrows in the valleys of Wicklow.
But even he'll admit starting his own company, Kickass Productions Limited, at the onset of a global pandemic was one of his most challenging moves.
The stunt performer, coordinator and actor has been involved in productions over the last decade and this year decided to start up his own business as a stunt coordinator.
His business is making film stunts look more dangerous than they actually are, or at least he controls the level of danger – taking nothing away from the work stunt performers do, there is a reason they double for actors.
"I suppose stunt coordinating comes along with getting to know writers and directors," says Zamparelli. "It's like any business really - people liking you and wanting to work with you and asking if you would be able to coordinate their movie or a programme."
"I was working heavily with Cormac Fox, a producer who produced Cold Courage and The Young Offenders amongst lots other things," he says. "We got on quite well and he was asking me if I could coordinate Bridget and Eamon, which I did."
"It's kind of rolled from there - you do a good job on that, and then you get on to the next job," he adds.
As a stunt performer, Zamparelli was a PAYE employee but the move into stunt coordination was what urged him to start his own business.
"As a stunt performer it's hard, if you're a PAYE worker, you're paying for your qualifications or any training courses yourself, that all comes out your own pocket - you can't actually claim back any of your expenses," he explains. "At least if it's a business it's coming out of your business."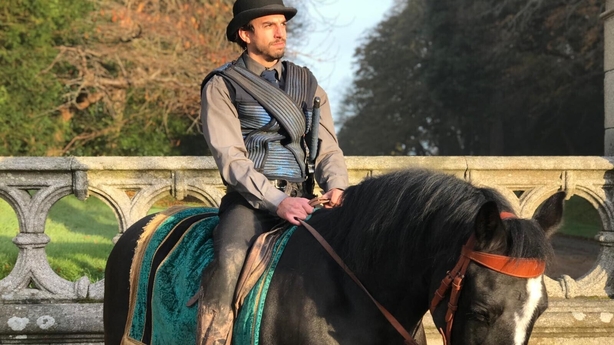 "So this year after cracking into the coordinator side and then looking to still do my training side it was the right idea to set up my own business, maybe just the wrong time," he says. "I had a couple of gigs I was working on which were kind of on the back burner and ready to start, it just seemed like the right time to start."
But no sooner had Kickass Productions taken off in March the whole of production in Ireland closed down.
"It was just like a light switch, it just all kind of turned off and it just disappeared," he explains.
"We were set to do a rigging rehearsal with all the rigs and also all the stunts that we had planned on the Friday but on the Wednesday it all started to shut down."
"We didn't know things were going to keep going and we thought Valhalla might keep going to keep us afloat, but that soon followed suit as well - full lockdown," he says.
"At least for myself it wasn't as bad as some other people's businesses where they just totally shut down and they don't know if people are going to come back to their shop or business," he says.
"Luckily, we knew that it was going to be hard for a couple of months but when it all kicks back off the gigs, were still there."
"But I had bought a lot of gear because I was anticipating that obviously, all that money was going to be coming in, so I had to juggle around that a little bit - but that's all good," he says.
Keeping himself in shape for the stunt world wasn't much of a challenge during lockdown - it's part of the job.
He got in plenty of long walks to entertain the kids while leaving his wife Jennifer some quiet in the house as she was broadcasting her radio show from home.
The down time also gave him plenty of time to work and improve other parts of the business.
"We did loads of our theory prep which we have to do on set, basically set up all our risk assessments," he says. "Each year, I like to look at the risk assessments and improve them or make them better. We came up with a new format of how we wanted to move forward, all via Zoom."
Luckily despite the latest restrictions film productions are able to continue and Zamparelli is currently working on the set for Valhalla.
"They're very good on set with the masks and we get tested three times a week. They are very strict on how they keep everyone safe," he explains.
Zamparelli's credits as a stunt coordinator can be seen in action on films Wolf and Let The Wrong One In, and tv series' Cold Courage and Bridget and Eamon.