As part of our Boost My Business initiative Fiona Alston spoke to five businesswomen who are keeping their customers in style during the Covid period.
Ali Gibbons runs her online boutique from her home in Delgany, Co Wicklow.
"It's an online luxury gifting boutique for babies and children and we stock a range of sustainable ethically sourced clothing, toys and keepsakes," say Gibbons.
She began sourcing products five years ago when she had her first daughter. At that time she was working as the head of Innocent Ireland's marketing department and she spent the next four years researching all the brands she had discovered through her girls and decided to open her boutique Lou & Belle and bring the brands to Ireland.
"My daughters are Lilly and Stella and my mum calls them Lilly Lou and Stella Belle so that's where Lou & Belle comes from, they're my little inspirations," she says.
Lou & Belle launched online in September last year.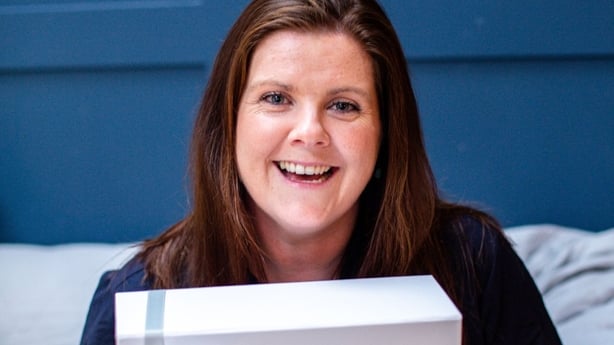 "I had a nice run from September to Christmas, I was just building the business and driving awareness," says Gibbons. "I had lots of things planned for this year and I'd actually booked out my local theatre in Greystones, the Whale Theatre, to host a Mummy Morning, I was trying to bring my online community to a physical event."
The event was cancelled due to the lockdown and the worry of the Covid impact started to kick in but as it happens, Gibbon's business took an unexpected turn.
"I had just revamped all my gift boxes and gift cards, so I have a beautiful gift box service. That really took off during COVID. Grandparents and godparents were welcoming babies from afar over a Zoom call, they couldn't actually get to see the babies so people used my service to send either pre-packaged or create your own gift boxes," explains Gibbons.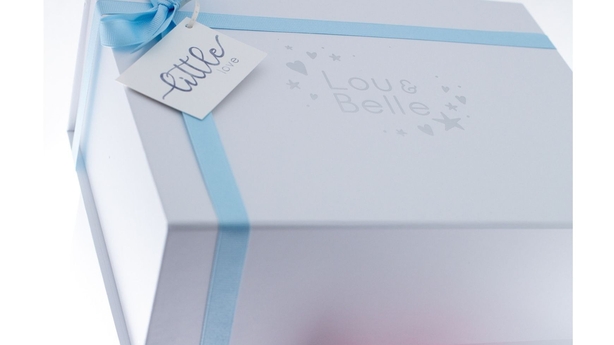 "I was really lucky my business tripled over Covid, I saw massive growth and the challenges for me were managing that growth as it all happened quite quickly - my business is now in a different place to where it was and where it would have been had Covid not hit."
One boutique which did not flourish so well during the lockdown period was Florence Lingerie. Owned by Ruth Adams the Dún Laoghaire store has been long standing in the town for 40 years, Adams took over the reins 18 years ago and continued running it as a lingerie specialist.
"We specialise in bra fittings, nightwear, hosiery and shapewear but bra fittings are the main thing people come to us for, and our personal service," explains Adams.
The shop saw out the last recession but the Covid crisis has again proved very challenging.
"We don't have an online presence because our bra fitting just can't be done online. People have to be measured and fitted because every size in every bra is different - no two bras are the same – you have to know your stock and how the shapes and sizes all fit so it doesn't work online really," she says.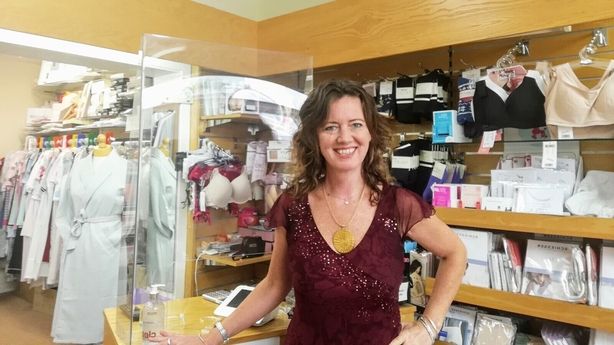 Closing came during the buying season for Autumn/Winter so when Adams closed her doors, she hadn't her next season quite in order.
"Now that we're back open, and it's coming into autumn/winter because none of the ordering was done it's a little bit all over the place and I'm still in negotiations with my landlord over the rent I have to pay for the period I was closed," she says.
"Planning ahead is almost an impossible task, thinking about the economy and hoping there won't be another lockdown. We are finishing up looking and buying for Spring/Summer 2021 and I'm hopeful for the future," she adds.
During the period she was closed Adams kept in touch with her customers and was able to send stock to her regular customers who's sizes she knew, and in turn they have supported her since reopening which has been an uplifting experience for the shop.
"People are lovely, even just people walking past or regular customers just popping their head in and saying hi, they are all glad to see me open and it's a just nice vibe," says Adams.
"Since I opened again it has been all bra fittings – it's all business as normal, only with the safety precautions."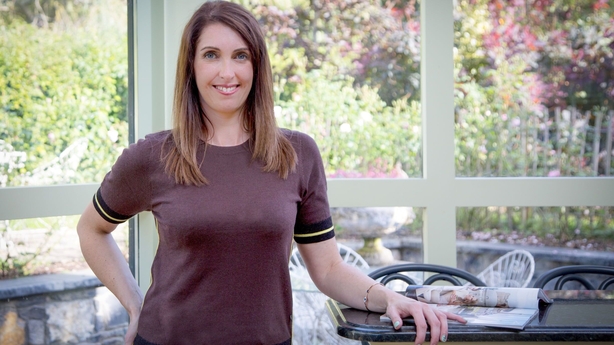 Another boutique who relies on a niche market is Your Style Your Story owned by Sharon Kearns.
"My boutique is only online," says Kearns. "My focus is workwear - trying to encourage my customers to buy better, buy less. My collections are really all about teaching people to have a capsule wardrobe, and instead of following fashion trends it's buying things that would transcend the seasons."
Since we all were sent home to work the market for office wear disintegrated as we all took on our own working from home styles. But there was one area where we still needed to look our best and Kearns tapped into it.
"I saw quickly that my customers were struggling to make the transition to online, they actually didn't know what to wear on Zoom calls. I was basically teaching women, who were now at home, easy ways to dress for at home and that went really well," says Kearns.
"My 11 year old became my videographer and photographer and we did lots of videos to give our customers that feel of retail therapy and a feel for the new products that came in."
Kearns has really seen how the lockdown period has had a positive impact on her business.
"I think during Covid, if anything we've got closer to our customers because we spent so much time online and trying to entertain - we were just so conscious that everybody was just fed up and we were all stuck inside," she adds.
Portmarmock's Fi & Co were just about to sign a lease on a second store in Drogheda before Covid squashed their plans. The women's boutique celebrated their first birthday in the Portmarnock store, and were ready to make their other pop up shop more permanent, when the restrictions came into place so they had to change their plans.
"We were really new online so when we were closed, during Covid, we had an opportunity to learn a bit about our online store and push that a little bit more," says owner Fionnuala Kelly.
"We did style boxes for our customers so if people reached out to us online we would engage with them and see what it was they were looking for. I would then do up a personal style box and deliver to them, and it worked really well," she says.
When they reopened the store initially, they brought friends and customers together.
"We did appointments which were gatherings of close friends or family and we'd serve them a champagne and they could shop and have a little catch up together," she explains.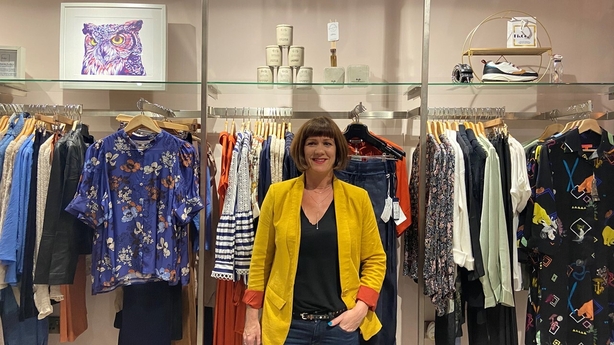 One thing that did surprise Kelly about her sales was the stock customers were still buying.
"I'm still selling occasion wear, I can't believe it. I thought that would be the most challenging but most of my occasion wear did sell. Considering the situation, I was very surprised that we managed to get through it," she says.
"A lot of my customers are particularly positive people - they just obviously loved dressing up and they don't see fashion as a function."
Fi & Co have plans to open a pop up in the Swords Pavilion in the coming weeks.
Laura May Corry owns Elmay Boutique in Dundalk Co, Louth.
Since reopening she has made a few changes to her shop making way for an upstairs styling room for her customers to avail of a personal shopping service.
"It's something I think you have to offer people now because of the way things are changing, it's just it's very different out there now," says Corry.
Her offering has also changed slightly now too as they have made changes to the occasion wear, they are known for stocking.
"We are still doing dresses but these are dresses that you can maybe put with boots and tights and trainers, and then you can still wear them with a nice heel if you do have an occasion," she explains. "But definitely we are steering away from the wedding guest wear for another while until we find out how things evolve – it's a happy medium I suppose."
"In the summer I did have a lot of dressy wear for communions and weddings and that type of thing and a lot of them haven't sold because nobody's going anywhere," she adds.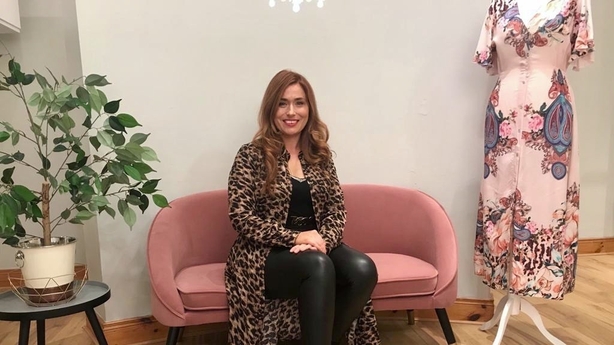 Since the restrictions Corry has featured a lot more of her store online and came up with some unique ideas to expand her reach.
"I do online fashion shows and that type of thing. I've collaborated with a well-known stylist, Gails Rails, and have done a fair few fashion shows with her which have been very successful," she says.
"It's actually got me a lot of new clients from around the country which is lovely. That's another thing we'll be focusing on a lot more now for the new season," she adds.