The stress and strain of the last six months in business has impacted everyone's mental health. Through such trying times it really can be difficult to 'stay positive' or 'keep fighting' and hopefully what we have learned during these times is that it's ok not to be ok.
The Boost My Business Spotlight is on a new clothing brand who are challenging people to start the conversations that are badly needed to help save lives.
Fiona Alston spoke to Mark Donnelly, founder of HUH Clothing, who supports Irish mental health charities through the sale of his thought-provoking products.
Donnelly launched his company while was in the US on an 18-month work visa. He returned to Ireland in July and has continued the business from his home in Co Meath.
The concept was something he had noticed for a while and he drew on his own experiences for inspiration for the brand.
"It was more so personal experience through football teams, work and friends, family, communities all over the country who are affected by it on a daily basis," says Donnelly.
"If 25 year olds Mark from Ashbourne in Co Meath  can talk about it, maybe it'll encourage someone who's not as extroverted or confident and they could reach out to someone or could talk to someone about their mental health," he says.
Starting a business when you are out of the country and in a different time zone is rather challenging, but Mark was up to the task and with the help of family and friends he got the company to where he needed it for his return.
"My brother Dave did a lot of work here for me getting lots of different suppliers and different samples so coming home I had the website already to go and we had a social media following slowly building.
"It was difficult because of the time difference, that was a big pain, because I was getting out of bed in the morning and people in Ireland were halfway through their day but I used one or two friends who I knew I could rely on for honest feedback."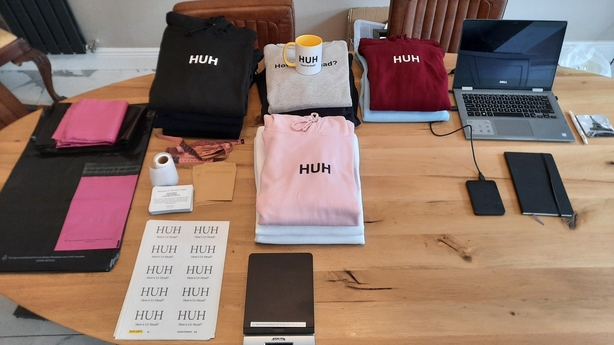 The items currently on sale are hoodies, t-shirts, mugs and masks with a new crew neck top on its way.
All items carry the HUH (How's Ur head?) logo on them, something Donnelly hopes will get the conversations started.
"People always ask me, like, how did I get the name HUH for how's ur head? I just realised that it's short and it's sweet. It would look good on clothing," he says.
"It's something where people say, huh? what does that mean? And so the whole idea behind that was just initially to get the conversation started - you've started a mental health conversation in the most casual setting possible," he continues.
"Hopefully, that resonates with the person and subconsciously they think about it for the day, the week or the month after."
One of the things Donnelly was keen to implement into his company was meeting the right price point for his customers while still ensuring it was an all-Irish affair and sustainable.
"I went through loads of different suppliers and loads of different avenues to find the right quality and the right price for people," he says.
"We're working with all Irish companies - everything from our packaging, which is 100% recyclable, our hoodies, and we work with An Post to get the packages delivered to everyone."
"From every single sale we're donating 10% to local Irish mental health charities but we're not just picking one, we're going across the board," he adds.
Before he launched his products, he took an alternative route to gathering brand awareness. He walked 40,000 steps a day for Pieta House for a week – run, walk, crawl. "It was just to get the ball rolling and get the awareness out there and start raising some money."
Entrepreneurship has been always been part of what makes up Donnelly. He was the kid at school you knew you could buy the latest mobile phone accessories from or was the one getting the awards for business and innovation.
He has his sights set far with HUH Clothing, he wants to get Ireland talking about mental health but has also tested his concept Stateside.
"I did test the concept if it would take off in for example, Milwaukee or Chicago and it was successful. It gave me hope this concept will work worldwide when the time comes, if the time comes," he says.
"Everyone deals with mental health at some stage, whether it's on a big or small scale, and it doesn't really matter where you are, where you're from," he adds.