A resort island off Singapore has been chosen as the venue for next week's summit between US President Donald Trump and North Korean leader Kim Jong-un.
The island is now called Sentosa, meaning peace and tranquility, but once housed a prisoner of war camp run by wartime Japanese forces and was named "Rear Death Island".
The two leaders will meet next Tuesday in the Capella Hotel, a refurbished British Royal Artillery mess, where, according to legend, there may be silver buried under the lawn.
Security personnel and workers are preparing the luxury sprawling hotel for the summit.
The hotel is honouring existing guest reservations but no new bookings are being accepted.
While Singapore has hosted major summits in the past, none have been held on Sentosa, better known for its beaches, hotels, casino and a Universal Studios theme park.
"That means having to plan the security strategy from scratch," said Toby Koh, group managing director at Ademco Security Group, which provides security systems to businesses in several Asian countries.
Mr Koh is not involved in security for the summit.
The United States and North Korea are technically still at war, being the signatories along with China of the armistice that ended the 1950-53 Korean War.
President Trump has indicated that he will try to sign a document that formally ends the war.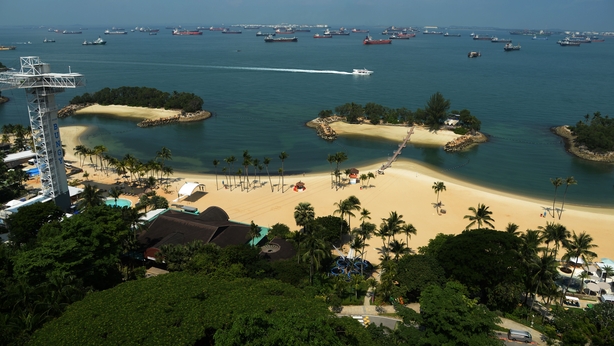 Even though hotels and other establishments on the island are preparing for disruptions for several days next week, the government agency that handles its management said it would be"business as usual."
But those who live in the multi-million dollar homes on the island, linked to Singapore by a causeway, monorail and cable car, are braced for delays.
"Sentosa has only one entrance and if the entrance is blocked completely, it will definitely be a major inconvenience," said Patricia Siswandjo, a Sentosa resident.
Once a graveyard and named Pulau Belakang Mati, which roughly means "Rear Death Island" in Malay, it was developed as a tourist attraction in the 1970s, when it was enlarged through land reclamation.