It seems Suella Braverman could hardly have done more to raise tensions ahead of the latest pro- Palestinian protest in central London.
In a city with large Jewish and Muslim populations, the controversy over the attack on Gaza is reaching fever pitch.
Against this backdrop the British Home Secretary even invoked Northern Ireland in a controversial newspaper article in which she accused the Metropolitan Police of pro-Palestinian bias in allowing the march to go ahead.
There was speculation that Ms Braverman wanted Prime Minister Rishi Sunak to sack her in the hope that it would strengthen her future leadership ambitions.
Her newspaper article had not been cleared by No 10 Downing Street.
She softened her stance when she had a meeting with the Met Police Commissioner Mark Rowley and expressed her "full backing" for the police, according to a source close to her.
However, Ms Braverman's future remains in the balance as Downing Street carries out an investigation into how the article came to be published in The Times without changes that the Prime Minister's Office had requested.
There is no doubt that there is a lot of genuine concern among Conservative Party grassroots at the fact that the march by the Palestinian Solidarity Campaign is going ahead on Armistice Day.
This is despite both the prime minister and the police commissioner asking the organisers to postpone it.
This concern is reflected in the right-wing press which has published stories about threats posed by some elements among supporters of the Palestine cause.
It is reported that people are afraid to take part in the Poppy Appeal this year after an incident in which one seller was kicked and punched by protesters in Edinburgh train station.
And two teenagers have been arrested in connection with a graffiti attack on a Cenotaph war memorial in Rochdale, Greater Manchester.
These incidents would worry many British people, especially as their army served in Afghanistan and Iraq and given the history of terrorist attacks from Islamic extremists.
The Jewish community in London is reported to be living in a fear.
It's long-established with concentrations in the north west of the city.
Members tends to be highly visible as they traditionally reside within walking distance of a synagogue and given the distinctive dress of the ultra orthodox.
The Muslim community has grown quickly in recent years, particularly with migration from Arab countries such as Iraq and Syria following those states' violent upheavals.
The tension is not imaginary as the Met Police have confirmed a rise in hate crime since the Hamas attack on Israel on 7 October.
There have been 188 arrests with 98 of these classed as antisemitic and 21 as Islamophobic.
However, it is generally accepted that the overwhelming majority of pro-Palestinian protesters are simply calling for a ceasefire in Gaza.
They have been supported in their right to march by TV presenter Gary Lineker and actor/broadcaster Ross Kemp - the ambassador for the British Legion who launched this year's Poppy Appeal.
Mr Kemp pointed out that British service personnel had fought in defence of democracy which includes the right to protest.
And Suella Braverman has come under attack from some Tories and former police chiefs for her accusation against the police.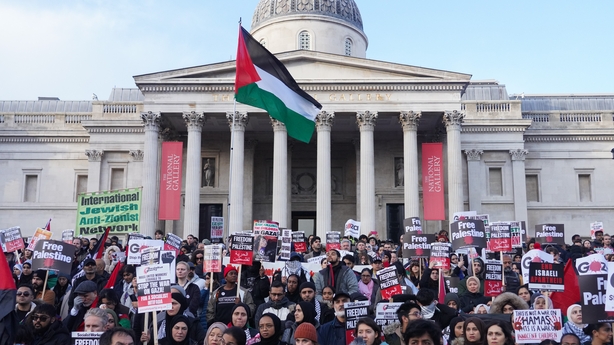 The UK's former head of counter-terrorism Neil Basu said that police have to be able to act independently in accordance with the law and on behalf of the entire population.
He said they should not be directed by a politician who is acting on behalf of their supporters.
Ms Braverman was also heavily criticised for comparing the London marches with those in Northern Ireland, although many were confused about whether or not she was referring to Orange marches.
Ian Paisley Junior had no doubts that she was referring to Republicans and gave Ms Braverman his full support.
Speaking in the House of Commons he said: "Hand wringing hypocrisy and the pant wetting that we're seeing over someone criticising the police, correctly, is amazing".
The North Antrim MP was referring to those who had previously criticised the police for their handling of protests concerning the murder of Sarah Everard by a policeman.
In that case, officers did move in to arrest demonstrators for breaching lockdown regulations.
Then there was the case of a woman arrested for standing on a street with her eyes closed.
Police acted because she was in the vicinity of an abortion clinic which was the subject of a protection order and she was suspected of being in silent prayer.
These incidents have been cited over the past week to ask why police do not act when a march has people chanting "Jihad" and "From the river to the sea Palestine will free" - both of which are considered by some to be incitement to violence against Israel.
Then, there was the march planned by the far-right English Defence League that was banned by then home secretary Theresa May at the request of the police in 2011.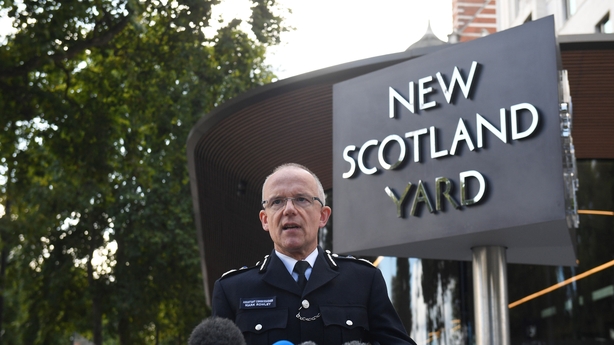 Far-right groups have called for their supporters to come to London today to "defend" the Cenotaph in Whitehall and Winston Churchill's statue.
A similar call made by Tommy Robinson - founder of the English Defence League - led to disorder during Black Lives Matter protests.
It has been pointed out that police have taken action concerning pro-Palestinian marches.
They arrested 29 people at an event last Saturday after four officers were injured when fireworks were thrown at them.
And it was revealed that a third woman was arrested under anti-terrorism legislation for displaying images of paragliders at a previous pro-Palestinian march.
However, Met Commissioner Mark Rowley has said that according to its intelligence the risk posed by today's march as not enough to justify a ban.
The protest is not expected to interfere with the Armistice ceremony as it will be at least 1.6km away and will be starting long after that event finishes.
However, a section of the British public will feel there is still an uncomfortable level of proximity between that march and one of their most solemn events.