When Volodymyr Zelensky met Ursula von der Leyen in Kyiv last May, he pressed upon her the importance of Ukraine joining the EU.
Zelensky had formally applied for candidate status just five days after Russia invaded on 24 February.
The European Commission President demurred, insisting that while member states were stricken by Ukraine's suffering, joining the EU was a merits-based process that could not necessarily be accelerated.
According to a first hand account of the meeting, Zelensky said: "While my soldiers are dying, they need to know that their children will be able to live in the EU."
As the first anniversary approaches the EU is having to balance such emotional force with the high politics of member state scepticism about whether Ukraine is too big and too poor to join, and the dismay of candidate countries in the Western Balkans whose membership applications have languished for years.
Brussels is also having to cope with maintaining EU (and western) unity on sanctions and tens of billions in financial and military support, coax the global south into not swallowing the Russian narrative, figure out how to bring Putin and his generals to some kind of war crimes tribunal, and how to reconstruct a shattered country.
It is a gargantuan challenge that has consumed so much of the EU's time and energy, at a time when citizens are labouring under high energy prices and a cost of living crisis.
"We need to continue to strengthen our efforts globally, but also signal to the rest of Europe that we will be working on this as long as it takes," says a senior EU official.
"The ramifications of this conflict will go far beyond Europe. The alternative scenario is where Russia wipes Ukraine off the map, as it continues to attempt to do, because in our understanding of Putin's mindset, that mindset has not changed an inch from the beginning."
Officials point to the dire warnings as the war unfolded about EU unity cracking and popular fatigue setting in to Putin's advantage.
While public opinion varies from region to region, and some of the sanctions packages have taken a long time to adopt, EU unity has proven surprisingly resilient, most likely because governments realise the stakes are desparately high, and that a Kremlin victory would lead to further conflicts.
"The combined effect of self-sanctioning by companies and the G7 sanctions will massively deteriorate the Russian economy over time."
Yet, neither that resolve nor a year of sanctions has stopped Putin in his tracks. The consensus is that Russia's GDP has not collapsed or even shrunk dramatically despite a year of export bans, asset freezes and the targetting of Kremlin-friendly oligarchs and their families.
However, senior EU figures say sanctions, especially export controls, are a slow acting poison which will eventually take its toll, as Russia is deprived of technologies which will erode its industrial and military base.
While Moscow has been adept at circumvention, with China, India and Turkey allegedly backfilling products which are notionally sanctioned, Europe is now targetting "dependencies" - goods, like certain tools that maintain oil refineries, for example - which can only be produced in Europe.
Those German-made refinery tools need to be renewed every six months, meaning that at a certain point the EU will know when Russia will start to have a problem maintaining oil refineries.
Officials say the Ukrainian military has also been diligently collecting the remnants of Russian and Iranian drones to identify components whose provenance is western (sources were alarmed to discover Iranian drone rotors which were made in Austria).
Since Putin is turning Russia more and more into a war economy this targetting will deepen to hit products once deemed civilian-use only. These include drones and their software, semiconductors and advanced electronics, as well as police equipment and camouflage gear.
The tenth sanctions package due to be announced around the first anniversary of the invasion will be the biggest yet, potentially hitting €10 billion worth of products (so far export controls have corresponded to a volume of up to €5bn in exports to Russia based on 2021 figures).
"The combined effect of self-sanctioning by companies and the G7 sanctions will massively deteriorate the Russian economy over time. Sanctions are a long game, and export controls will cut into the system even more," says an EU official.
"If you're running out of critical components, you will, over time, feel the effort even more. The longer Russia continues, the deeper that will cut into the system, and the more difficult it is to fix supply chains."
---
Read more on Russia's invasion of Ukraine
---
The EU believes the price cap on Russian oil agreed with the G7 is starting to cost the Kremlin €160 million per day. Countries like India which have not joined the price cap are still unlikely to pay a higher price for Russian oil than that paid by G7 countries.
During the summit, President Zelensky urged the EU to target the Russian nuclear fuels company Rosatom because Russian occupiers in the Zaphorizhzhia facility had mistreated, and even kidnapped, staff.
Given that European nuclear plants, especially in Finland, are desperately dependent on Russian fuel (which is not a huge earner) it would be more advisable to put sanctions on senior Rosatom personnel instead.
The European Commission has urged Finland and others to start looking urgently for other sources of nuclear fuels.
Russia is increasingly reluctant to publish economic figures, but it's clear the constraints are not yet deterring Putin from deepening the war, or at least maximising conquered territory in the east and south in order to turn the war into a frozen conflict that will perpetually destabilise Ukraine.
During the two day meeting in Kyiv, President Zelensky is understood to have told the EU side that in the most horrendous fighting in the east, Russian commanders would send three or four waves of untrained and poorly equipped conscripts into the breach to be mowed down by Ukrainian guns, but then send the more brutal and effective Wagner Group mercenaries in on the fifth wave at the moment defenders' morale is faltering.
"Anything we can do to facilitate and help the Ukrainian economy is critical."
Despite that, the message conveyed was one that Ukrainian generals had a good sense of where Russia would attempt to break through in the much anticipated offensive and that the Ukrainians are prepared. Officials are hoping for a wet spring, which would hamper any Russian attack.
Yet, the first anniversary comes towards the end of a critical month: Ukrainian troops have suffered huge losses, meaning there is a window of further losses to be sustained and ground to be held before the storied battle tanks start to arrive.
So far the winter has been relatively mild, meaning Putin's attempt to subdue Ukrainians by destroying sources of heat and light has not worked. But it is taking a worrying toll on the economy.
The EU has finally - after months of wrangling and hold ups - approved €18bn in macro-financial assistance which will mean public sector salaries and pensions can be paid and hospitals can keep running.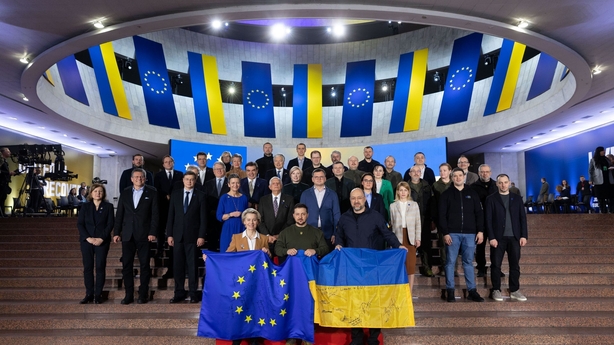 Some of the funding is being spent on rolling repairs to the energy grid (Presiden Von der Leyen also launched a joint plan to distribute 35 million energy efficient light bulbs to Ukrainian homes as a way to help rebalance the grid after missile strikes).
There is frustration in Brussels that the IMF and World Bank have not given more, although The Financial Times reported yesterday that IMF officials are due to meet a Ukrainian delegation in Warsaw in mid February to discuss a loan worth between $14bn-16bn.
US support is due to be reviewed in September when Congress debates the issue, but the anxiety in Brussels is that Ukraine needs predictability.
Part of the negotiations in Kyiv this week were about more deeply embedding Ukraine into the EU's single market, almost as if it were a member state.
"Anything we can do to facilitate and help the Ukrainian economy is critical," says one source close to the discussions. "Every dot of GDP growth is helping them sustain themselves to make sure that Ukraine can continue to pay for the expenses they have."
The real money issue will come when Ukraine has to be rebuilt, which the World Bank estimates could cost in the region of $349bn.
EU officials are determined that the bill will not fall on European taxpayers alone, but getting Russia to pay is clearly fraught with difficulty. One scenario is that reparations would form part of any peace negotiations, but that is so far off that Ukraine is already pushing for frozen Russian sovereign and private assets to be put towards reconstruction.
EU officials say seizing such assets is legally difficult (they point to Afghan assets which were seized as one example where it was possible). Europe is constrained by rule-of-law principles regarding an individual's right to have private assets protected, and seizing sovereign assets might discourage a range of countries from investing assets in the Federal Reserve or ECB. Such a move could also destabilise the financial system, warn EU finance ministers.
Yet because Russia has been deliberately targetting civilian infrastructure and residential buildings, every day pushing the reconstruction costs higher, officials believe this is a conversation that simply has to happen.
The growing belief that Putin will deepen his resolve to secure some kind of territorial victory at all costs has altered the temper of the debate on Ukraine's accession to the EU.
Senior Commission officials acknowledge member states are dividing into two camps, one pushing for an accelerated process, the other concerned that Europe cannot absorb such a huge population with a GDP well below the EU average (or at least not at speed).
Last July, in response to the decision by EU leaders to grant Ukraine candidate status, the Commission set out seven steps Kyiv would need to meet in order for formal accession negotiations to begin.
These include reforms on selecting judges for the Constitutional Court and on vetting the integrity of judges for other legal bodies, strengthening the fight against corruption, tightening anti-money laundering laws, implementing anti-Oligarch rules, tackling vested interests in the media and protecting minorities.
Officials say Kyiv has done a surprisingly robust job since last July and quickly, even in the teeth of a war.
President Von der Leyen is understood to have impressed upon President Zelensky the importance of implementation (as opposed to promises) as the key to convincing countries like France and the Netherlands to drop their scepticism.
Still, despite the Ukrainian prime minister Denys Shmyel reportedly saying his country could manage to join in two years, EU leaders carefully avoided any talk of dates or timelines when in Kyiv.
The Commission will present a verbal report to EU leaders in the spring on Kyiv's progress on the seven steps, but a fuller report in the autumn will be key. President Zelensky told reporters that he believed a unanimous commitment by EU leaders at their summit in December to launching accession negotiations will be justified.
Many member states will be sceptical - and unanimity is required.
Optimists say that war can provide a once-in-a-lifetime moment to take on big challenges and simply get them done. According to one official, when President Von der Leyen asked Commission staff to come up with a plan to connect the Ukrainian grid to the European one they replied with horror that it would take at least two years.
In the event, it was done in two weeks.
Likewise, the war presents Zelensky an opportunity to push through reforms as vigorously as possible at a time when public support for EU membership is soaring, and when his own popularity is unassailable.
EU officials came away with the sense that Ukraine's determination is as strong as ever, but with a greater sense of grim realism. One source said Zelensky still spoke of winning, but that it would be a hard and bloody fight which would cost "a hell of a lot of suffering and destruction".
Indeed, in an answer to a question from Ukrainian journalists at yesterday's news conference, President Zelensky warned that city-dwellers were perhaps not as vigilant and prepared for a fresh Russian offensive as they should be.
One EU source believed that what Zelensky was getting at was that taking life as seriously as possible increased your ability to be alert.
As the war dragged on last year and the first subzero temperatures hit Kyiv, just as Russian missiles hit energy infrastructure, resilience became the watch word.
Senior EU figures now speak of "stamina" and "endurance", both for ordinary Ukrainians in the acutest sense, but also for EU capitals in the political sense.
As we approach the one year mark there is a prevailing realisation that Putin has eradicated all and every aspect meaningful opposition, and entranced the majority of Russians into an upside-down narrative of righteous victimhood, fuelled by an relentless diet of World War II comparisons and the ghoulish dehumanising of Ukrainians on state television.
The war will only end, say senior officials, if the Putin system reaches exhaustion.
For the future of democracy and the legal order, was the clear message in Kyiv, it simply must be Russia that reaches that point, not the West, and certainly not Ukraine.