Never has the royal proclamation "the King is dead, long live the King" seemed so apt in a political context.
Boris Johnson has dominated the daily news cycle in British politics for three years in a manner that no other prime minister has managed in recent times.
Now he is being quickly pushed to one side as the contest for a new leader gets under way.
As Mr Johnson himself wryly observed in his resignation speech, the "Darwinian" system will produce another leader.
History will judge Mr Johnson's legacy but, at the moment, it is not looking good.
Rishi Sunak served as his number two, but last Tuesday he refused to continue any longer.
Mr Sunak opened his leadership campaign by promising to "Restore Trust, Rebuild the Economy and Reunite the Country".
In other words, after Mr Johnson's premiership, trust in government is broken, the economy is damaged and the country is divided. And that is according to someone who served as chancellor of the exchequer.
So bitter is the legacy that many want Mr Johnson gone immediately instead of staying on as prime minister until a new leader is elected - as is normal procedure.
In fact, former prime minister John Major wrote to the Conservative Party's backbench 1922 Committee to say that Mr Johnson cannot be trusted to remain in power.
On Wednesday night when Mr Johnson was refusing to step down despite evidence that the majority of MPs were against him, it looked like Britain was edging towards a constitutional crisis.
Mr Johnson was claiming he had an electoral mandate from the public that apparently superseded that of his MPs.
Mr Major was so worried about what Mr Johnson might do if left in No 10, that he felt he had to issue a public warning to the 1922 Committee.
Geoffrey Clifton-Brown, the 1922 Committee treasurer, said in an "ideal world" deputy prime minister Dominic Raab would take over for a few weeks, but "that ship has sailed".
Essentially he was saying that the country is stuck with Mr Johnson.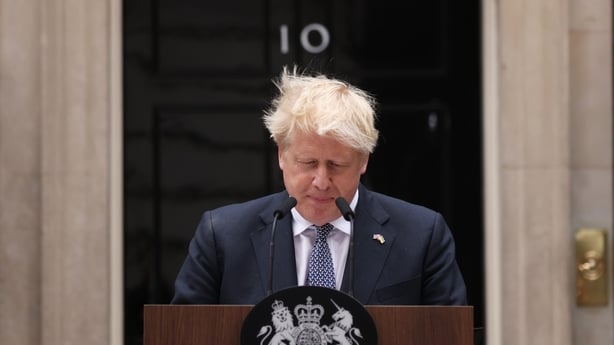 But not for too much longer, MPs are hastening to add. There is a general wish to get the leadership contest over as quickly as possible with a new leader in place by September instead of letting it drag on for up to three months. In other words, they cannot wait to get rid of him.
Under the Tory system the nominated candidates go through a number of rounds of voting among MPs before the two final candidates go before a vote by around 200,000 party members.
In the meantime and seemingly in response to concerns about him remaining in power, Mr Johnson has promised there will not be any new policy shifts during the final days and he has cancelled public briefings.
A planned wedding party for himself and his wife Carrie in Chequers - the countryside retreat for British prime ministers - has been moved after news of the event caused an outcry.
There is a pattern in Conservative leadership elections that the next leader contrasts sharply with the previous one
However, the Northern Ireland Protocol Bill which is part of Mr Johnson's legacy remains on the legislative agenda. The Irish Government and EU officials are hoping that this will disappear along with Mr Johnson.
It might. There is no argument about Brexit anymore in Britain - it is a reality. The issues remaining are about future relationships. The argument that easing trade barriers will help the economy could have some traction among voters. A recent IPSOS poll found that 45% of British people now think they are worse off after Brexit. That is up from 30% last year.
The hardline Brexiteer European Research Group (ERG) has a maximum of 90 MPs behind it but a hard core of only about 20. That is out of a total of 358 Conservative MPs. It has been able to wield power out of all proportion to its numbers much like its allies, the DUP.
They would doggedly oppose any EU-UK veterinary deal as proposed by the British Labour Party. Such a deal would go a very long way to remove the need for checks between Great Britain and Northern Ireland which is the crux of the problem for the DUP. Such a deal would mean alignment with EU regulations and some oversight role for European Court of Justice which is an anathema for the ERG.
However so far, hardline Brexiteers like Attorney General Suella Braverman and Steve Baker MP are not running high in opinion poll surveys of Conservative members for the leadership. Foreign Secretary Liz Truss who consulted the ERG before publishing the Northern Ireland Protocol bill is doing better.
However, more moderate voices like Ben Wallace, Rishi Sunak and Tom Tugendhat are in the leading group at the moment.
And there is a pattern in Conservative leadership elections that the next leader contrasts sharply with the previous one - like John Major following Margaret Thatcher.
Maybe the current distaste for Boris Johnson among most Conservative MPs will be matched by a repudiation of some of his policies - in particular that the crisis threatened by the NI Protocol Bill can be averted.