Today is projected to be the hottest day recorded, this early, here in France.
It poses significant health risks to the elderly, but for others too, those with medical conditions that are exacerbated by extreme heat.
The elderly and others at risk in France have been advised to remain indoors and stay well-hydrated with the latest extreme weather.
Elderly people are only going out early in the morning, or late evening to shop, exercise, or to get cool.
The south west of France was projected to see 41.4C degrees today, while region on the border with Spain was expected to reach as high as 42 degrees.
Where I am in the Côte d'Azur, thermometers showed that in direct sunlight, it was 38C at noon.
All week it has been getting warmer.
The World Health Organization has warned that rapid rises in heat gain, due to exposure to hotter than average conditions, compromise the body's ability to regulate temperature, and can result in a cascade of illnesses, including heat cramps, heat exhaustion, heatstroke, and hyperthermia.
A study in The Lancet medical journal last August found that hot ambient conditions and associated heat stress can increase mortality and morbidity, as well as increase adverse pregnancy outcomes and negatively affect mental health.
High heat stress can also reduce physical work capacity and motor-cognitive performances, with consequences for productivity, and increase the risk of occupational health problems.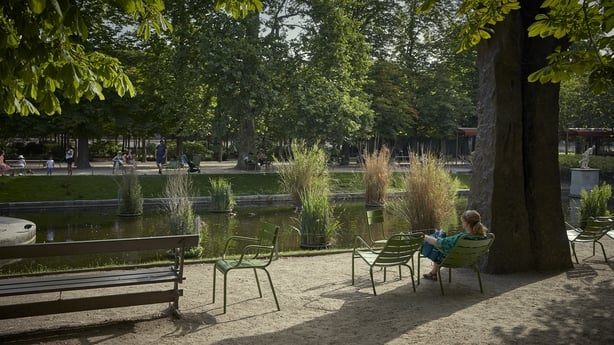 Park opening hours have been extended in France to deal with the extreme conditions.
People are seeking out the coolest places, by the sea or rivers, or staying indoors.
In the city of Châteauraux in central France, an outbreak of bacteria in the water supply there due to the heat has meant that tap water cannot be used.
People are relying on bottled water, with free deliveries for those at risk.
I was in France in late June 2019, six months before any of us first heard about Covid-19.
Even then, Europe was facing another heatwave, and parts of France saw a record temperature of 46C.
Where I was then, the thermometer hovered 33-37C during the day. It is hotter now, earlier in the season.
The heatwave and drought in France is more intense and has arrived much earlier than before, a further signal of the pace of global climate change.
While hot weather can of course be fun, especially for children, it poses dangers to health too.
The Health Service Executive says that over 13,000 cases of skin cancer are diagnosed in Ireland each year.
It is twice the number compared to ten years ago, and is projected to more than double again by 2045.
Cancer experts says that most skin cancers could be prevented by protecting skin from the sun, using precautions, and not using sunbeds.
Whether people are enjoying the sun in Ireland, or elsewhere - the golden rules are the same: put on cover clothing, wear strong suncream of factor 30 or more, wear a hat, seek shade, and use sunglasses to cut the exposure to eyes of dangerous rays.