€2.7 billion has been agreed for homeowners affected by defective concrete blocks under the redress scheme signed off by Cabinet today.
But despite this being one of the largest state-sponsored compensation deals ever, homeowners remain unhappy, convinced they will have to make up a shortfall.
What's clear from the Government today is that it aims to push on with the enhanced scheme as quickly as possible as a further delay is likely to lead to higher costs.
Tánaiste Leo Varadkar has insisted Ministers want to get the scheme up and running by the end of the year and that today's decision is pretty much final.
To that end, the Cabinet has also agreed to request the Oireachtas Housing Committee to waive pre-legislative scrutiny of the Defective Concrete Blocks Bill.
A faster passage through the Oireachtas means fewer amendments and less time for the Opposition to advocate for a better deal.
Homeowners are now digesting the details and doing their own calculations on what it means for them.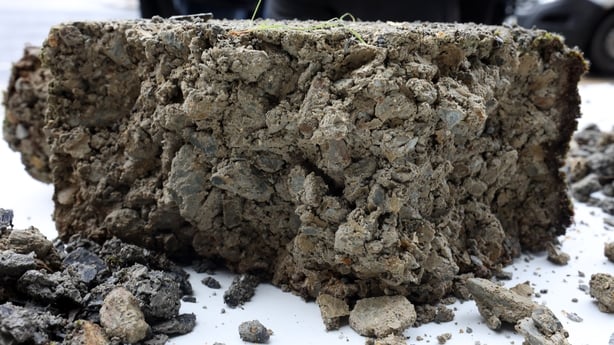 However, the numbers have not fundamentally changed since an enhanced scheme was announced last November.
The overall cap of €420,000 remains below the demand from the Mica Action Group for an upper limit of €460,000. In addition, each claim is also subject to square footage limits.
Michael Doherty of the Mica Action Group told RTÉ's News at One that the scheme is not acceptable and it also does not take account of inflation so the numbers are "well out of date".
What does that mean for the Government and for TDs in affected counties? The group is likely to continue its campaign and has openly targeted local representatives of Fianna Fáil and Fine Gael.
In the constituency of Donegal, the Government is already vulnerable as Sinn Féin will be targeting three Dáil seats.
Fine Gael deputy Joe McHugh has already announced his decision not to run there in the next election.
Today, as it has done many times before, the group is demonstrating outside Leinster House reminding the legislators of the pressure it is exerting.
Most Opposition parties have been out to talk to homeowners and to pledge their continued support.
Campaigners are making plans to take the protests to the local offices of Government TDs with one member saying "the stomach is there for the fight".
For the Government, the question is whether it can hold the line and contain the ballooning costs.
And with more counties likely to be added in the future, the €2.7bn estimate is certain to rise.