French voters head to the polls on Sunday in the first round of a two-round presidential election, the second vote taking place two weeks later.
Outgoing president Emmanuel Macron is seen as the likely winner, in an election campaign that's been underwhelming.
The next big challenge for the 26th President of France will be legislative elections in June and a predicted reconfiguration of the growing right-wing movement.
There are 12 candidates in the field ranging from a Trotskyist to the extreme far right intending to ban non-French names and expel foreigners. In the birthplace of left vs right politics, there is a huge amount of flux.
Dr Emmanuelle Schön-Quinlivan, lecturer in European politics at UCC, says the campaign has been somewhat lacklustre and that no one issue has stuck or galvanised voters.
Immigration seemed to dominate discussion towards the end of last year, brought to the fore by political newcomer Éric Zemmour, with his fervently anti-immigration stance.
While security used to be a big issue, that's faded in recent weeks as the cost of living has soared, especially since the outbreak of war in Ukraine.
A major feature of this election campaign has been the so-called "Droitisation", where many candidates have shifted to the right, including President Macron.
Dr Schön-Quinlivan says he started his movement, LREM (La Republique En Marche), with a claim of being neither right nor left, but he appointed a very hard-line interior minister, has implemented some conservative fiscal measures and has certainly poached some voters on the right.
She believes the real interest will be after the election, as the next president, who she says is likely to be Mr Macron, will face parliamentary elections in June.
LREM performed dismally in the local elections last June, and Dr Schön-Quinlivan says the party has failed to build up a strong grassroots movement.
She says in comparison, the Socialist Party, which has performed poorly in recent polls, has deep roots and performed well regionally last year.
While Mr Macron has strong support, particularly in urban areas, he has failed to suggest any lieutenants in the party or signal a possible successor after his potential second and final term.
A major issue facing the next president will also be voter apathy. In last year's local elections, turnout was abysmal, with almost two thirds of voters abstaining.
While presidential elections generally benefit from stronger turnout, around one third of voters is predicted by Ipsos to stay at home. That would be a record for a presidential vote in France and exceed the number voting for any one candidate.
The collapse of the left is also concerning to some, with efforts made for a unity candidate failing due to a lack of support among the heavy-hitters on the left, like Jean-Luc Mélenchon.
In the end, the winner of the so-called "People's Primary," Christiane Taubira, failed to garner the 500 endorsements necessary to run for president, and her supporters decided to endorse Mr Mélenchon instead.
The latest polls from Poliverse show Mr Macron in the lead, with Ms Le Pen a relatively close second.
Jean-Luc Mélenchon is in third place, followed by Éric Zemmour and then Valérie Pécresse.
In distant sixth place is the Greens' Yannick Jadot, followed by Anne Hidalgo, Mayor of Paris and Socialist Party candidate.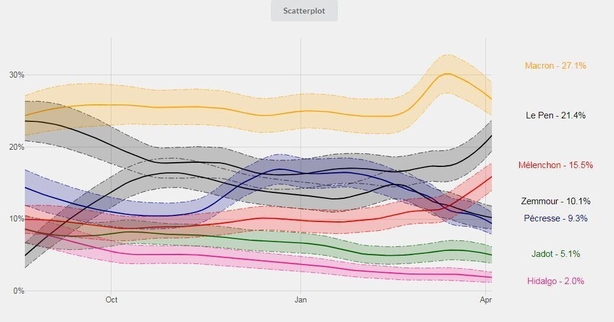 Let's take a look at the main candidates:
President Emmanuel Macron, La République en Marche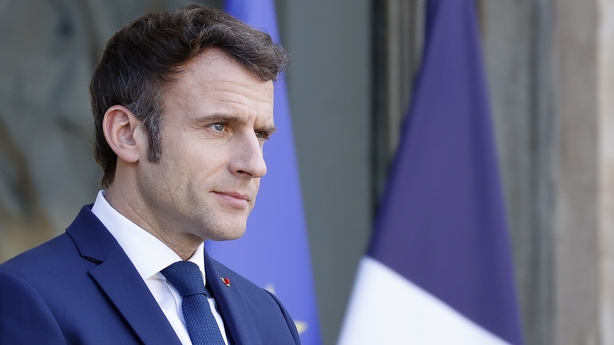 Emmanuel Macron swept onto the scene in 2017 as somewhat of an outsider, head of a newly-formed movement, En Marche, later; La Republique en Marche (The Republic on the Move).
Having previously served as Economy Minister under Francois Hollande, Mr Macron had also worked as a banker, and was seen as a breath of fresh air eventually becoming the youngest president since Napoleon Bonaparte, aged just 39.
Dr Schön-Quinlivan recalls the 2017 election as exciting with Mr Macron bursting onto the scene, forming a new party and winning the election in a matter of months, "it was a real heist." But five years on, there is much criticism of President Macron, who polls repeatedly say is out-of-touch and a president for the elite.
Nevertheless, his popularity ratings have remained mostly steady, improving at the start of the war in Ukraine, before dropping back slightly more recently.
LREM, the movement he founded, was first described as neither left nor right, but Mr Macron has veered towards the right, especially in terms of fiscal and security policy. This is seen as part of the Droitisation of French politics, more on which later.
Mr Macron was criticised by some for not officially declaring his candidacy until virtually the last permissible moment, on 3 March, as it meant he could continue to use the office of President to bolster his status, while other candidates would face broadcast limits.
Furthermore, some say Mr Macron has benefited from the additional platform provided by France's presidency of the European Union until June.
Should Mr Macron win again, it will be the first two-term President in 20 years, but he will not be able to run again.
Dr Schön-Quinlivan says a potential second term would be dogged by issues he faced the first time round, such as the yellow vest movement and the dreaded pension reform.
Marine Le Pen, Rassemblement National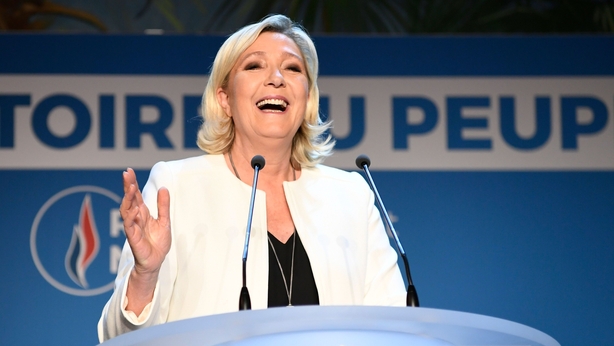 On the far right, Marine Le Pen has in recent years tried to distance herself from the anti-semitism and racism of her father Jean-Marie Le Pen's Front National party, which changed its name to Rassemblement National (National Rally) in 2018.
Ms Le Pen has been reaching out to voters on the left for at least a decade, and ironically has recently lost some of her support on the right to Éric Zemmour, who's even more extreme in his views on immigration.
As well as losing some supporters, Ms Le Pen's niece, Marion Maréchal, once a rising star in the RN party, has defected to Mr Zemmour's team. Ms Le Pen has said Mt Zemmour has a problem with women, as he's been vocal in his opposition to feminism.
Dr Schön-Quinlivan says whatever you think of her politics, Ms Le Pen has run an amazing campaign and managed to keep a low profile when baited by Mr Zemmour. She says that Ms Le Pen, like Mr Macron, has benefited somewhat from the war in Ukraine, as voters' focus changes.
Of benefit to Ms Le Pen, Mr Zemmour has long been a fan of Russia's Vladimir Putin, which has not gone down well with would-be supporters.
Ms Le Pen has promised to restore law and order to France and in recent weeks has been focusing on the rising cost of living, which has become a major issue for voters.
Earlier this year, she was neck and neck with Mr Zemmour, with Valérie Pécresse narrowly behind them, but she has since surged ahead, and is now firmly in second place.
It's likely that she will face off in the second round of voting against Emmanuel Macron. If, as predicted, Ms Le Pen loses to Mr Macron, she will likely face revolt within her own party.
Dr Schön-Quinlivan says that between disquiet in the party and the "external assault" she predicts Mr Zemmour and her niece Marion Maréchal will launch after the election, she doesn't expect Ms Le Pen will run for the presidency in 2027.
"It doesn't mean she'll disappear from political life, I just find it difficult to see her being a candidate again," she said.
Jean-Luc Mélenchon, La France Insoumise (France unbowed)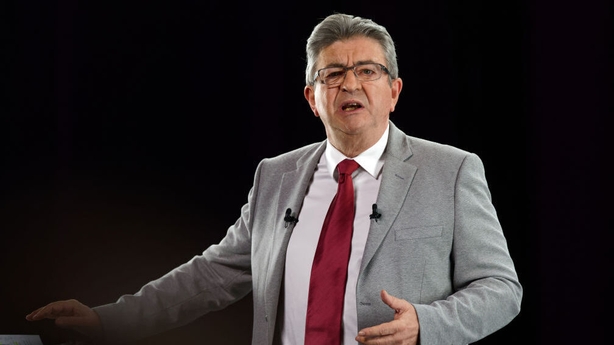 Like Marine Le Pen, this is Mr Mélenchon's third consecutive run for the presidency, but there the similarity ends.
The far-left politician left the Socialist Party in 2008 to form a coalition of left-wing politicians including Communists.
With the traditional centre-left Parti Socialiste (Socialist Party) verging on irrelevance and the Greens struggling to galvanise a wide support base, the 70-year-old's campaign appeals to undecided voters and those who might otherwise abstain to back him.
Among his campaign promises, Mr Mélenchon wants to liberalise immigration, guarantee jobs for all, cut public sector debt, legalise cannabis and withdraw from NATO.
He would lower the retirement age to 60 from 62 (unlike Mr Macron who says it must be raised to 65 to balance the pension bill.)
Despite being 70 years old, he's managed to attract younger voters, and was previously compared to US presidential candidate, Bernie Sanders.
He pioneered the use of holograms on the campaign trail, in January even using scents as part of an immersive campaign rally in Nantes.
The latest polls show the far-left septuagenarian in third place, having climbed steadily up the polls in March.
Dr Schön-Quinlivan says he could be the surprise, "because you never know what's going to happen in the last 10 days", but she expects a re-run of the 2017 election with Mr Macron facing Ms Le Pen in the second round of voting on 24 April.
Éric Zemmour, Reconquête (Reconquest)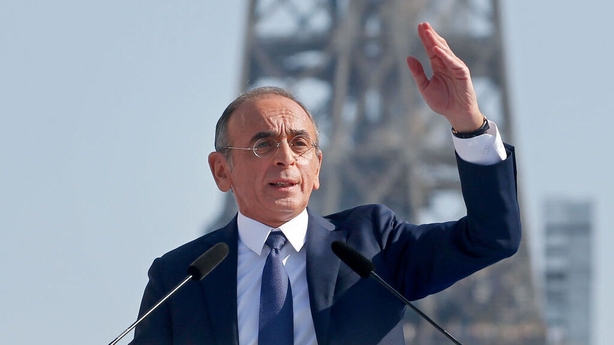 The extreme-right pundit is new to politics, but a familiar name in France as a TV commentator and long-time columnist for conservative daily Le Figaro.
Last year, the historian threatened to upend the French election when he threw his hat in the ring, but his ratings have since dropped, putting him in fourth position in the latest polls.
The 63-year-old has been convicted of hate speech on more than one occasion and is best known for his anti-immigrant, anti-Muslim stance.
While many balk at his religious and racial provocation, his focus on immigration set the agenda in the early part of the campaign. He has said he would ban non-French names (including Mohammed), drastically restrict immigration, and engage in mass deportations.
He speaks fervently of the 'Great Replacement' theory that white people are going to be replaced by non-white immigrants from Africa and the Middle-East, although Mr Zemmour tends to focus on religious, rather than racial lines.
He has managed to pick up supporters from Valérie Pécresse's conservative Les Republicains as well as from Ms Le Pen, in particular her niece, Marion Maréchal.
Oft-compared with Donald Trump, Mr Zemmour is not seen as a likely contender for this election, but he will play a key role in the expected overhaul of the far-right movement, and the presidential election in 2027.
Dr Schön-Quinlivan says Mr Zemmour is the only candidate who failed to welcome the arrival of Ukrainian refugees to France in recent weeks, and that his admiration for Vladimir Putin has also hurt his chances.
Valérie Pécresse, Les Républicains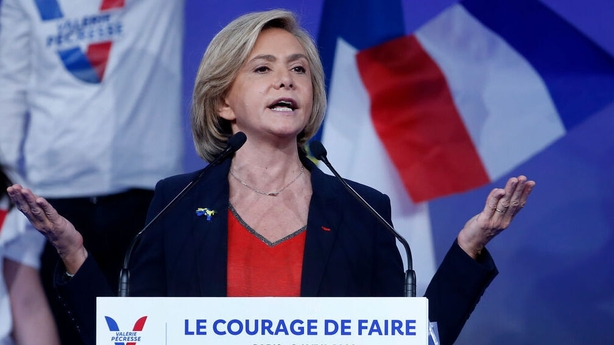 Valérie Pécresse is the first female presidential candidate for Les Républicains, France's mainstream centre-right party, having been selected ahead of Brexit negotiator Michel Barnier.
A former Minister for Higher Education and budget under Nicolas Sarkozy, Ms Pécresse has described herself as two thirds Angela Merkel and one third Margaret Thatcher.
Fiscally conservative, she has vowed to slash public spending and earned the nickname of "the bulldozer".
Initially seen as the greatest threat to Mr Macron, she is politically closest to him. Ms Pécresse is now languishing in fifth position, just behind Mr Zemmour.
Dr Schön Quinlivan says she had an impossible task, of trying to unite voters across the spectrum of the right from the liberal-leaning centre-right to the fringes of the Le Pen vote.
Furthermore, her first major campaign rally in February was universally panned, damaging her campaign and leading her to be roundly mocked online, with the hashtag #Pécresseshipwreck trending.
No stranger to the rough-and-tumble of politics, Ms Pécresse has twice been elected head of the Ile-de-France regional council around Paris.
She has been disappointed by a lack of support from her former boss, Nicolas Sarkozy, who has not endorsed his former party's candidate.