With mid-term elections just months away US President Joe Biden was leaving no room for subtlety as he stood "shoulder to shoulder" with New York City Mayor Eric Adams this week.
The president spoke of the need for increased investment in local police departments, combined with social services, as he addressed the issue of violent crime in a city which has been rocked by a series of shootings and violent attacks.
Biden and Adams were presenting a united front on recent events in New York, but there was also a wider message in this election year.
Biden does not want Republicans to electorally tap into the considerable public concern over increasing crime rates, not just in New York, but also in many other cities across the US.
His decision to visit New York is seen by many as a clear indication that he believes Mayor Adams' approach to violent crime is the right one.
New York has become symbolic of a spike in gun violence over the last two years, with many voters now citing it as one of their primary concerns.
So far this year six NYPD police officers have been shot, four of those in less than one week in January, two of whom lost their lives.
One of those killed, Wilbert Mora, was buried earlier this week following requiem mass at St Patrick's Cathedral in Manhattan. His partner Jason Rivera was buried a week before.
Our heads are bowed and our hearts are heavy
NYPD Commissioner Keechant Sewell described Mora as a three time hero.
"For choosing a life of service. For sacrificing his life to protect others. For giving life even in death through organ donation."
In what has been a devastating month for his department, Sewell added that "our heads are bowed and our hearts are heavy".
Officers Mora and Rivera had responded to reports of a domestic dispute in Harlem on 21 January when the shooting happened. A third officer, also responding to the call, shot the gunman who died a few days later in hospital.
Officer Rivera died the night of the shooting, while Officer Mora died days later having been put on life support, so that his organs could be donated after his death to five recipients.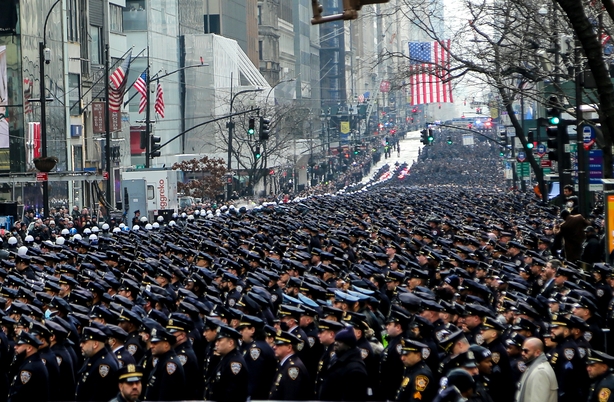 Officer Mora's funeral was held just hours after another police officer was shot and wounded in the borough of Queens, when two suspects tried to steal his car while he was on his way to work.
Many New York inhabitants remember the bad old days of the '70s, '80s and '90s when crime was rampant in the city. That is why a considerable rise in crime rates during the pandemic has signalled alarm among some, fearful of a return to those times.
While the current figures are still not near those levels, homicides in the city are up a staggering 53% from 2019, before the pandemic began. And New York is by no means alone. Philadelphia, Chicago, Atlanta and Portland are among many US cities which have also seen spikes in violent crime, making this an issue of importance to a lot of urban voters.
The rise has been blamed on a number of pandemic related issues, from the hollowing out of city centres as office workers moved to working from home, to the social and economic deprivations brought by Covid-19 lockdowns and restrictions.
It is no accident that President Biden chose to give a speech on this issue flanked by the New York City Mayor.
A black man who spent 22 years as a New York city police officer, Eric Adams retired from the force at the rank of Captain, before running for political office. He based much of his mayoral campaign on improving public safety and has spoken of how he believes he and Biden can work together on the issue.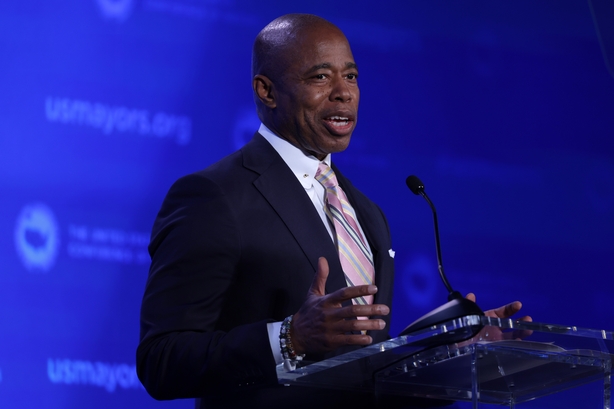 Since taking up his post last month, Mayor Adams has pledged to roll back some criminal justice reforms brought in by previous Mayor Bill de Blasio, as well as re-introducing a controversial plainclothes police unit, which was disbanded in 2020 amid accusations that it used excessive force.
He has also sought help from the federal government in stemming the flow of weapons into New York, as well as seeking a Congressional ban on assault weapons. The US is the most heavily armed country in the world, and sales of guns to first-time buyers soared in 2020.
Some of Mayor Adams' proposals, particularly the re-instatement of the plainclothes unit whose tactics had been declared unconstitutional, have caused disquiet among liberals who fear they are a step too far.
Mayor Adams has promised greater oversight and controls on the unit, saying it will have body cameras and will impose tough sanctions on any officers who overstep their remit.
Stanley Fritz, political director for Citizen Action of New York, a liberal advocacy group, told the Reuters News Agency that he wants to see President Biden press for a broader approach to tackling crime by targeting poverty and homelessness.
"Hiring more cops and giving them more money is not going to solve the problem," he said.
That issue of police funding is key. Republicans have accused the Democrats of supporting the "defund the police" movement, which sprang up during the Black Lives Matter protests.
Advocates of the movement wanted reduced police funding in order to focus resources on social programmes instead.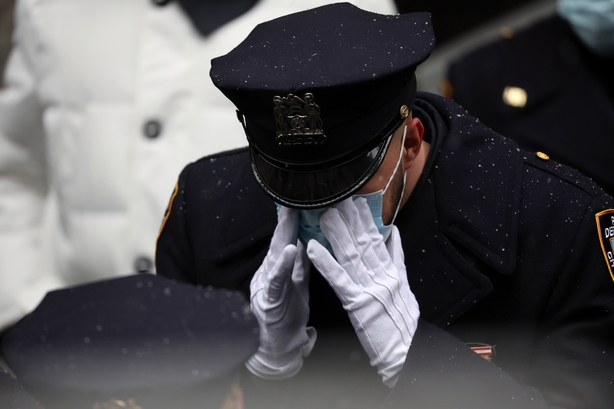 Mark Riddle, executive director of Future Majority, a moderate Democratic research firm, dismisses the idea that the party supported defunding police forces.
"Democrats at large and the president are frustrated that we continue to get tagged on this 'defund the police' nonsense that the large part of the Democratic Party does not agree with," he says.
It was a message Biden was keen to get across during his 2020 campaign, and keen to reiterate in New York this week, saying "we're about funding, not defunding".
Many Democratic led cities have seen funding increase for police forces, as crime rates have risen over the last two years.
Republicans know that issues like crime cut through with voters across a range of demographics, and are determined to be seen as the party of law and order ahead of November's Congressional midterms.
They will want to intensify the argument that Democrats are the problem, not the solution, as the political tit-for-tat on the issue continues.