The US President Joe Biden turns 79 today. As he blows out the candles on his cake this weekend, what will his birthday wish be?
He may well ask for an improvement in his approval ratings which have hit new lows in recent weeks.
On Thursday, Quinnipiac University released a poll showing that just 36% of Americans approve of the president's performance in the White House, a fall of one percentage point from last month.
He received low marks from voters on key issues such as his response to the pandemic, climate change, the economy and foreign policy.
In July, around 53% of Americans approved of Joe Biden's performance, according to FiveThirtyEight's average of polls but by August those numbers had started to dip and have continued to fall.
The Virginia governor's race earlier this month was seen by many as a referendum on Mr Biden's first year in office.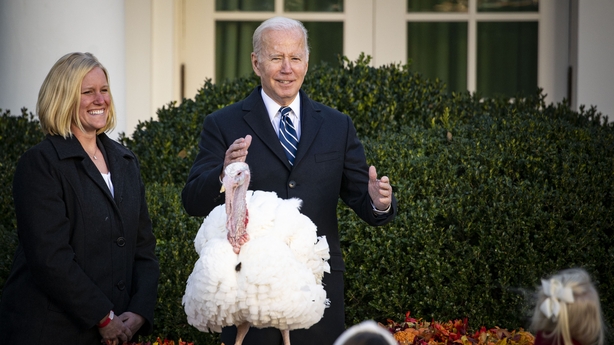 He comfortably won the state in the presidential election but twelve months on, voters there backed a Republican candidate for Governor.
The result was a major blow to the president with people clearly unhappy with the chaotic withdrawal from Afghanistan, rising inflation, a slow recovery from the pandemic and a legislative agenda that had stalled on Capitol Hill.
Joe Biden has had some badly needed wins this week. On Monday, he signed his long-promised infrastructure bill and on Friday the House of Representatives passed his Build Back Better Act, a massive $1.8 trillion spending package that includes climate change measures and family supports.
But will this be enough to improve his poll numbers?
"$3 trillion to fortify the country's infrastructure backbone and shore-up the future of American families through social programs still gets hearty support from Americans. But from the character issues to the broad swath of national and international concerns, that ship continues to take on water," according to Quinnipiac University Polling Analyst Tim Malloy.
The White House has pointed to Covid fatigue as a major factor in the president's falling approval ratings.
"We see that in poll after poll ... people are sick and tired of Covid and the impacts on the economy," the White House Press Secretary Jen Psaki said on Monday.
"We understand that, we're tired of it too. That's why this is the number one priority – continues to be – getting Covid under control."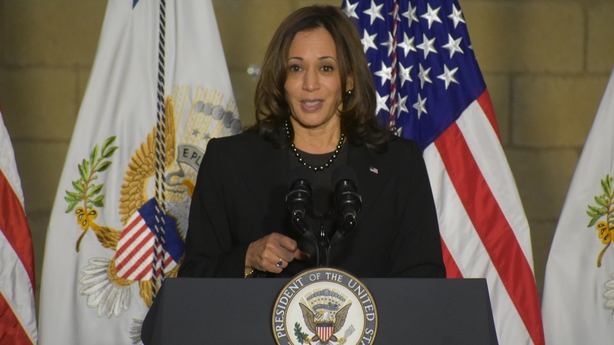 On Friday, history was made when Kamala Harris became the first woman to assume US presidential powers.
It was only for 85 minutes and it came about when President Biden temporarily transferred power to his Vice President while he was under anaesthesia for a routine colonoscopy, which was part of his annual physical.
The president/vice president relationship has been in the spotlight of late.
Kamala Harris' critics say she has been too low-key and ineffective. While Joe Biden's poll numbers may be low, her approval ratings are even lower.
The US president has said he will be running for re-election in 2024, but if he were to step aside some Democrats are now questioning if Kamala Harris would be the best candidate.
It comes amid speculation that the Transport Secretary Pete Buttigieg could launch another run for the White House.
Ms Harris has been tasked with handling controversial and difficult challenges such as the migrant crisis at the US-Mexico border and tackling efforts to restrict voting rights.
In a recent interview with ABC News, she denied that she was being "underused", and insisted they were getting things done.
"I'm very, very excited about the work that we have accomplished. But I am also absolutely, clear-eyed that there is a lot more to do, and we're going get it done," she said.
She also claimed that she and the president had not discussed plans for the 2024 election.
Next year's Midterm Elections are far closer and while the president and vice president won't be on the ballot, if their approval ratings remain this low it could cause big problems for Democratic candidates as they try to retain control of Congress.
As Joe Biden turns 79 this weekend, an uptick in the polls is the best birthday gift he could hope for.