The small Danish island, which this week won a UN Global Climate Award, was not always destined for prominence.
Just 114 square kilometres in size, Samsø is nestled in the Kattegat Sea, surrounded by the big islands of the Danish archipelago.
Around 15km to the west is the Jutland Peninsula and to the east is Zealand, the largest and most populous of the Danish islands.
It is pinched in the middle to a width of just 500 metres (technically a canal has created a North and South island).
The sparsely spread population of 3,324 traditionally survived on growing vegetables - red cabbage, potatoes, beetroot, strawberries - but in the 1990s maintaining that number was becoming a struggle.
"Society was in crisis," said Marcel Meijer, the island's mayor.
"Unemployment was high. It could be 16% in winter, maybe 7%, 8% in the summer. We had lots of depopulation and people wondering, well, how can we create a future for the island?"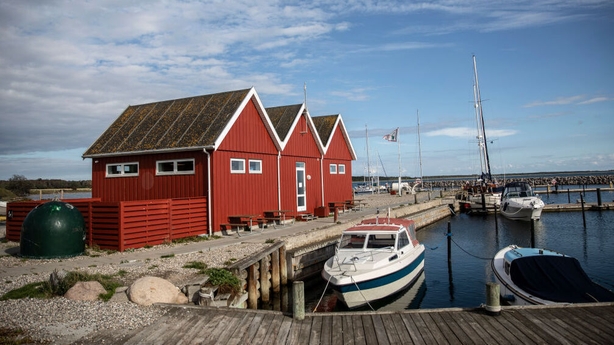 The future that beckoned was highly unlikely. In 1997, the Danish environment minister launched a competition to see which municipality could become carbon neutral within ten years.
Samsø considered entering, but people were sceptical. Green activism was a fringe pursuit on the island.
Locals relied on imported oil and coal, while the daily ferries crossing from Jutland and Zealand were powered by diesel.
But some in the SME sector thought they should give it a try. Metal workers wondered if they could turn their hands to building solar heating systems or even wind turbines.
In reality, this was (literally) a pipe dream.
"They built some very small wind turbines that don't exist anymore," recalls Mr Meijer.
"But their dream of building big wind turbines never got anywhere. I mean, the companies that build wind turbines in Denmark now have as many employees as we have inhabitants on Samsø."
But the locals persevered and focused on two big ideas: wind energy, and district heating plants using biomass.
"This pride became a kind of culture. Instead of being sceptical about the green issue, they wanted to be part of it."
If they could not make stuff themselves, they could still raise money. Some 50 farmers gathered together to build wind turbines on their land, taking out loans from the bank to do so.
One farmer, Jørgen Tranberg, borrowed the equivalent of €800,000.
Just because it was in the competition, Samsø was not entitled to any special treatment when it came to subsidies. Grants for building wind turbines were available to anyone in Denmark at the time.
But the island got a break when a big energy company from Jutland agreed to invest in a district heating plant in Norby, the furthermost village on the north island.
Then the locals established their own heating plant in Onsbjerg on the south island. As the projects gathered momentum, the Samsø municipality bought five offshore wind turbines, to complement the ones the farmers were building on their land.
Another local company was formed to build more wind turbines at sea and in which locals would typically invest around €2,000 each.
"Some locals were prosperous, and some could buy half a wind turbine," said the mayor.
"Now, an offshore wind turbine is quite an investment. Others took out loans from the bank to buy shares."
Banks were supportive, said Mr Meijer.
The benefits accrued more quickly than people had expected. The competition was to become carbon neutral by 2007, but the island reached that target by 2004.
Within five years, Jørgen Tranberg was making profit on the investment in his turbine, actually a relatively modest 100 metres high.
"It provides enough electricity for 500 households," said Mr Tranberg.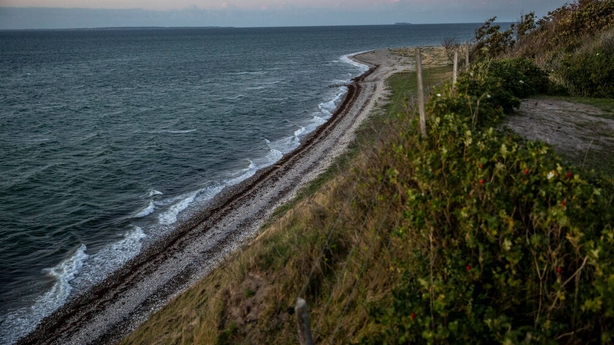 Suddenly Samsø was getting noticed. TV crews from the US and Japan began to appear. The islanders clubbed together to build an energy academy, which the then Irish President Mary McAleese visited in October 2010.
"You could see a pride in the islanders because of this attention," said mR Meijer.
"This pride became a kind of culture. Instead of being sceptical about the green issue, they wanted to be part of it."
This meant individuals were investing more in their households. People started buying heat pumps, regarded as a breakthrough technology in domestic energy, and today the number of heat pumps on the island is double that across Denmark.
Similarly, the number of electric vehicles on the island is the highest per capita in the country.
The island has also been fortuitous in its agriculture profile. When the competition was launched in 1997, emissions from farming were not as well understood as they are today.
While Samsø had some beef and pig farming, which is the key sector in Denmark, it was struggling to export product to the rest of the country because of its island status. As a result, Samsø's only slaughterhouse closed in 2000.
As well as wind turbines, district heating systems have given Samsø a big advantage.
These are common throughout Denmark. Following the oil shocks of the 1970s the country decided to wean itself off imported coal and oil.
Denmark also pioneered the concept of generating power for electricity that could also re-circulate the heat created to households for warmth and hot water.
When we talk of cooling towers at power stations, those are structures to get rid of the heat created by power generation, which according to Søren Hermansen, of the Samsø Energy Academy, represents a 30% loss of energy.
"When you produce energy there's a heat loss, there's a cooling of the generator, of the boiler and all the other things," he said.
"In Denmark, we've had a tradition that we put the generator system near a big city, so the cooling water can be used as a district heating system."
This was linked to the problem of what is known as the "base load". Traditional power stations need to have a base load, or minimum amount of energy, which is always on standby in order to keep the frequency and voltage steady.
By using the generated heat as a by-product that could then heat water that would be pumped to houses in the district, the system was able to maintain the base load.
In Samsø, locals built cooperative district heating systems, largely thanks to the skills of local metalworkers and blacksmiths. Then they entered a contract with farmers to supply 42 heating systems with straw (Jørgen Tranberg, who owns the wind turbine, sells 350 tonnes of straw to the facility each year).
The straw is burned to generate hot water, which is pumped into up to 75% of households on the island much like a central heating system. When the demand is there, the district heating system revs up, and when the demand isn't there, it simply idles.
Houses tap whatever hot water they need, and when the water is returned cool it is reheated.
"In the past year we've had 90 extra inhabitants. That's never happened in our history."
"When the thermostat calls for more heat than this machine revs up and produces enough heat to supply the demand in the consumer area," said Mr Hermansen.
"And when everything is heated, then it stops again. So, it's actually a very efficient system."
The straw is regarded as a carbon neutral resource, since it stores carbon. Farmers also collect ashes, which contain minerals like phosphorus, from the district heater and then use it as fertilizer.
Mr Hermansen, who travelled to Glasgow to collect the climate award, admits that burning straw is still not ideal. But when the islanders were on a race to meet the targets, it was the best option available, and better than oil.
"Now 15, 20 years later, we're looking into the next paradigm, which is more heat pumps, more intelligent energy systems. But this has helped us in this race to a more intelligent system."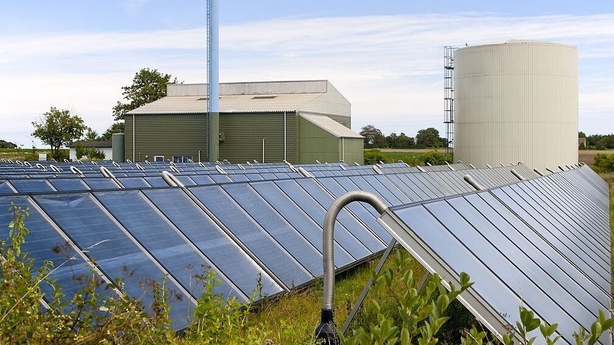 However, the early success was a challenge in itself. Once Samsø had become carbon neutral, what next?
Individuals were putting up solar panels, buying electric vehicles and investing in district heating plants. But leveraging big ideas like they had done in the 2000s was starting to become more difficult.
"We bought two heating plans that the electricity company had set up, to make it even more effective, and make heating cheaper for people as well," said Mr Meijer.
"But now it's becoming really hard to make more of the bigger projects."
One example is the ferry to Jutland. Islanders are keen to run the vessels on biogas but the only subsidies available are for locations where there is already a gas network, and that does not exist on the island.
Also, to further develop wind turbines islanders would face the cost of installing turbines that are 150m to 200m high.
Undaunted, Samsø is looking at whatever projects they can muster. The municipality is creating a climate forest using private donations by turning agricultural land into woodland.
"We've just started small again, but we're the first in Denmark to do it," said Mr Meijer.
Meanwhile, the Energy Academy began looking at ways for houses to become more energy efficient.
The goal was to save 20% per house per year. Locals were asked to look at their attics and windows to see if energy could be saved.
"People then saw that the savings in energy costs would pay for the cost of insulating the home," said Soren Hermansen, of the Energy Academy.
"So they didn't have to take a new mortgage or a bank loan because it was paid for by thinking rationally. Carpenters and house builders were happy about it too, because it created quite a lot of work and jobs for them."
The new ferry route to Jutland has given the island another lifeline. It runs right into the centre of Aarhus (President McAleese made a speech at the university there before visiting Samsø), which has a population of 330,000.
That means it has become tempting for people to live in Samsø and commute to major employment centres in Aarhus. That's helping to reverse depopulation.
"In the past year we've had 90 extra inhabitants," said Marcel Meijer. "That's never happened in our history."
Ironically, the ferries to Aarhus and Kalundberg, on the Zealand side, remain the biggest carbon culprits, accounting for 40% of the island's emissions.
The island is applying to the ministry of transport for funding to make the two main routes carbon neutral by 2025 using biogas and electrification.
"It's not capitalist but social ownership. So, if there's any profit made in this system, then it will be used to reduce the cost of energy."
There is frustration, however. Islanders feel somewhat piqued that their success does not give them the right to shape the green transition in Denmark proper, or that the island is still subject to a lot of centralised legislation.
The municipality wants to put a lot more solar panels on public buildings but they're prohibited by a national law which says that only the private sector should get involved.
The mayor, who is actually a member of the ruling Social Democrat party, also said that popular resistance to solar farms in Denmark for aesthetic reasons could be overcome if local cooperatives were allowed to create such farms and sell the electricity.
Again, he said, there is resistance both from the government and electricity providers who say that too many people with solar panels means the grid cannot cope with a surge at the same time.
No doubt Samsø was able to achieve its goals because Denmark itself was such a world leader in wind energy, dating back to the 1970s (the first wind farm was created in the 1990s).
The islanders can also call upon a venerable tradition dating back to the 19th century of a consensual approach to problem solving, combined with a flinty belief in personal ownership and responsibility.
Back then the island produced one of the first associations of smallholders in Denmark as a bulwark against emigration and the privations of big landowners in the way of 18th century agricultural reforms.
Søren Hermansen, who is regarded as the driving force behind the island's success, has worked closely with a number of island communities in Ireland, and is a regular visitor.
He has frequently been asked if the Samso model can be copied.
"I usually say no, I don't think you can. Because we have special conditions here. But what you can be inspired by is the process of change. So, you have the tools on one side, the technology, the history, the heating, the wind turbines, the solar.
"But what is more important is that on the other side of that equation are a lot of very urgent questions raised by local communities: how do we create the next jobs? Where's my next school going to be built because there are more kids? How do we make people move to this place and live here?"
Underpinning Samso's model is the acceptance of social ownership where it works. Locals have had to build the piping infrastructure for the district heating systems knowing it would take ten years before it paid off.
But they also knew that it would be cheaper than each house setting up its own heating system.
"This is a traditional way of organising in Denmark," said Mr Hermansen.
"It's not capitalist but social ownership. So, if there's any profit made in this system, then it will be used to reduce the cost of energy. Or, the owners can put in a new boiler or maybe exchange this with a heat pump in the future.
"So, it generates possibilities, not profit."